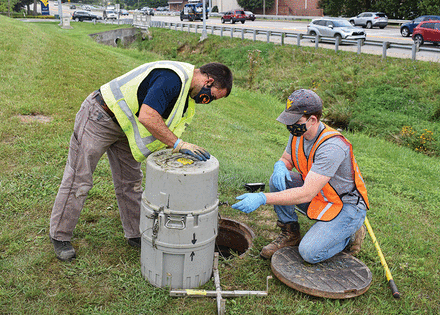 Wastewater surveillance has been a valuable tool during the COVID-19 pandemic and warrants further development and investment, according to a new report from the National Academies of Sciences, Engineering and Medicine.
In 2020, the Centers for Disease Control and Prevention launched the National Wastewater Surveillance System to help track and contain COVID-19. Such systems test local wastewater samples for biomarkers such as DNA and RNA to track known diseases and detect new ones. As of fall, the National Wastewater Surveillance System included more than 1,250 sampling sites in 42 states and covered a population of 133 million U.S. residents.
The January NASEM report — "Wastewater-based Disease Surveillance For Public Health Action" — assessed the usefulness of wastewater surveillance during the COVID-19 pandemic and offers a vision for creating an equitable system that can track multiple pathogens at a time and quickly identify novel ones.
"As COVID-19 clinical testing and reported case data became less reliable in recent months due to many factors, including increased at-home testing, wastewater surveillance provided continued information on where the virus was circulating and the degree of exposure risk," report authors wrote.
According to the report, public health departments that invested in wastewater surveillance found it beneficial in a number of critical ways.
For example, the data were used to inform local policy decisions, such as mask mandates, and to help allocate local health resources, such as vaccine and testing sites. The surveillance work also helped local health officials understand and track the spread of COVID-19 variants.
Wastewater surveillance is important because it provides a way to passively assess population disease trends, regardless of testing access or people's testing behaviors, authors noted.
"The emergency response to the COVID-19 pandemic spurred innovation and rapid development and implementation of wastewater surveillance," the NASEM report said. "The challenge is now to unify sampling design, analytical methods and data interpretation to create a truly representative national system while maintaining continued innovation."
Authors urged CDC to consider three criteria when picking locations for future wastewater surveillance: public health significance of the disease threat, analytical feasibility and usefulness of the resulting data to inform public health action.
The report also addressed the ethics of water surveillance and privacy concerns. Authors said they believed the benefits of "responsibly managed" wastewater surveillance outweigh related ethical concerns. But they encouraged CDC to address privacy fears with clear communication and by convening an ethics advisory committee. There should be a "strong firewall" that prevents the use of wastewater surveillance data by law enforcement, the report said.
In its vision for the future, the NASEM report calls for a national wastewater surveillance system that is "flexible, equitable, integrated, actionable and sustainable." For example, the report urges the system to work directly with underrepresented people and, when possible, extrapolate findings to assess risk for places without sewage systems. The system should also coordinate and collaborate across sectors, generate actionable data and be "fiscally and operationally sustainable. Importantly, the effectiveness of the National Wastewater Surveillance System will depend on predictable and sustained federal investments," the report said.
"The COVID-19 pandemic emergency spurred many researchers and utilities to volunteer their labor and donate resources in support of the effort, but the vision of a sustained national wastewater surveillance system necessitates a shift from volunteerism to a strategic national plan with well-defined roles supported by federal investments."
For more information, visit www.nationalacademies.org.
Copyright The Nation's Health, American Public Health Association