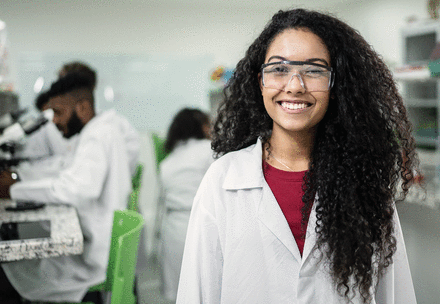 To support diversity and equity in the science, technology, engineering, mathematics and medicine fields, organizations and higher education institutions should be intentional about dismantling barriers built by systemic racism, according to a new report from the National Academies of Sciences, Engineering and Medicine.
The report, released in February, recommends a multi-tiered approach to such work, with related policies and practices enacted at the leadership, team and individual levels.
"The concepts of antiracism, diversity, equity and inclusion are not goals for which a simple checklist will indicate success," said Gilda Barabino, PhD, president of Olin College of Engineering in Massachusetts and co-chair of the report's authoring committee, in a news release. "Rather, the goal is to create environments that focus on inclusive excellence, where all participants have access to educational and professional opportunities, feel included and have the resources to actualize their full potential."
At the individual level, the report recommended creating systems of accountability that can identify gatekeepers' behavioral patterns.
On the team level, gatekeepers should be intentional about creating environments in which all team members are supported, heard and respected.
"While a common narrative is that diverse teams perform better, simply having a numerically diverse team does not automatically result in positive performance outcomes," a NASEM news release said. "Numerous challenges can threaten performance, including anxiety about working with people from other racial and ethnic groups and prevalent mistreatment targeting minoritized individuals," Barabino said.
At the leadership and organizational level, the report urges leaders to review evaluation criteria and decision-making practices at key points of access and advancement, such as in admissions, wages, hiring and promotion. Hiring managers and supervisors should examine acceptance rates for signs of racial and ethnic discrimination.
The report also urged predominantly white higher education institutions to look to historically Black colleges and universities, as well as tribal colleges and universities, as guides in their diversity, equity and inclusion efforts.
It called on federal funding agencies, philanthropies and other grant-making organizations to play a role as well. Specifically, it urged groups to increase support aimed at better understanding how Black and tribal higher education institutions support their students and faculty.
"STEMM organizations will require ongoing leadership, resources and commitment to ensure that these values become part of an intentionally maintained organizational culture," Barabino said.
For more information on "Advancing Antiracism, Diversity, Equity and Inclusion in STEMM Organizations: Beyond Broadening Participation," visit www.nationalacademies.org.
Copyright The Nation's Health, American Public Health Association