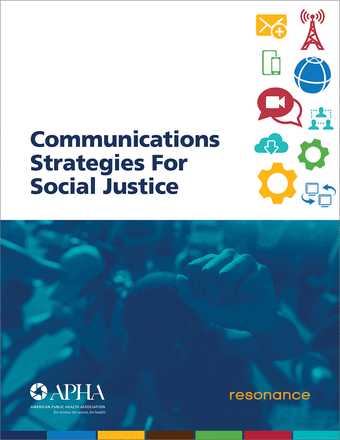 A new APHA-supported communications guide can help organizations working toward social justice develop inclusive messaging that resonates with their audiences and drives action.
"Communications Strategies for Social Justice," which is available online now, was created to share best practices, sample communications and storytelling examples. The guide prepares organizations to develop a communications strategy, plan for its execution and create a messaging framework. It also includes interactive activities that help users identify and profile their audiences.
The guide showcases specific environmental justice examples, such as that of a community in Baltimore that wanted to get local leadership on board for a zero-waste plan. But the guide can be used by any organization working toward social justice, according to Victoria Bortfeld, MPH, program manager for environmental health at APHA's Center for Public Health Policy. Users can learn how to conduct interviews with community members and craft effective op-eds, stories and communications.
"Magnifying these stories can highlight communities and people affected by social injustices and show how everyone will benefit when facing these problems together," Bortfeld told The Nation's Health.
One of the communications strategies highlighted in the guide is audience profiling. By determining what they want their audience to do, what they care about, who they trust and where they receive information, for example, messengers can have better success with their communications.
"Determining your target audiences allows you to establish a communications plan that is truly strategic, because it can be tailored to reaching your audiences with your messages and moving them to action," according to the guide. "Profiling your audiences allows you to identify opportunities to meet these audiences where they are."
The guide also showcases the importance of "ethical storytelling," which is inclusive and mindful of differing cultures.
"Reclaiming storytelling is part of the bigger fight for justice and dignity," Debayani Kar, co-founder of Resonance, the organization that created the guide, told The Nation's Health. "To build narrative power for social justice, it's important to share messages and tell stories that amplify not only the problems vulnerable populations face, but also how communities themselves are designing and carrying out solutions."
The new guide is an outgrowth of a workshop held with five environmental justice organizations that are supported through the National Environmental Health Partnership Council. Awardees from the council's Advancing Environmental Justice through Technical Assistance Mini-Grants Program — representing California, Georgia, Hawaii, Maryland and Michigan — are receiving assistance to work on human rights, affordable housing, children's health and natural resource protection.
Among those is Organización en California de Líderes Campesinas Inc., based in Oxnard, California. The organization is working to increase leadership among farm-working women so they can influence the social, economic and political factors that affect their human rights.
Through community outreach, Líderes Campesinas has supported public health initiatives, including a mobile art contest that featured artwork showing how communities came together during the COVID-19 pandemic. Winning designs were turned into vehicle wraps, and mobile billboards were used to promote vaccinations.
Each of the grantees in the program — which is supported through the Centers for Disease Control and Prevention's National Center for Environmental Health and the Agency for Toxic Substances and Disease Registry — receives technical assistance and $10,000 toward their work.
For more information and to download the free guide, which is also available in Spanish, visit bit.ly/socialjusticecomms.
Copyright The Nation's Health, American Public Health Association