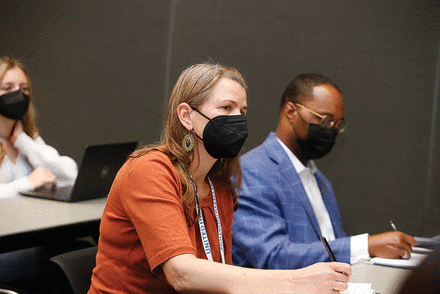 Educational and learning opportunities will abound at APHA's 2023 Annual Meeting and Expo in Atlanta this fall.
To be held Nov. 12-15, APHA 2023 will feature more than 1,000 scientific presentations on topics that span the field of public health and offer continuing education credits. For public health professionals who want to gain new skills, stay up on what is happening in the field and grow their careers, APHA's Annual Meeting is the go-to event, according to Mighty Fine, MPH, CHES, deputy director of APHA's Center for Professional Development, Public Health Systems and Partnerships.
"APHA's Annual Meeting helps you gain practical skills you can use in your community and in your job," Fine told The Nation's Health.
One of the easiest ways to earn continuing education credits during the Annual Meeting is to attend and evaluate scientific sessions. Through the meeting's continuing education program, participants can gain 1.5 credits for each scientific session they attend and evaluate. A list of CE-eligible sessions is available in the Annual Meeting program, which is online now.
Public health professionals can also earn continuing education credits during APHA's Nov. 11-12 Learning Institutes, which offer opportunities for in-depth, hands-on education. The half-, full- and two-day courses will cover a range of topics, from scientific writing and program evaluation to community engagement and public health leadership. Professionals can prepare for the Certified in Public Health exam through a two-day Learning Institute course.
Personalized learning will also be offered at the APHA Annual Meeting Social Media Lab. Hosted in collaboration with JSI, the lab shares technical assistance and best practices for using social media to advance public health. Lab-goers will be able to take part in a free one-on-one consultation with an expert or attend short talks. Reservations for Social Media Lab appointments, which are available to all meeting registrants, are now open at www.apha.org/social-media-lab.
Meanwhile, the Annual Meeting Leadership Lab will provide useful advice for established and emerging public health leaders. The lab will offer tips to advance careers and achieve goals.
Public health professionals who cannot make it to Atlanta can learn at home through the APHA 2023 Digital Meeting. While the digital option does not offer continuing education credits, it is a great choice for those who want to learn from presentations, Fine said. People who register for the digital event will have live access to select major sessions and to recordings from hundreds of scientific sessions.
APHA's Annual Meeting provides more public health educational opportunities than any other event, Fine noted.
"We're committed to helping public health professionals build their skills and advance their education," he said. "The APHA Annual Meeting is by far the best single event to do that."
APHA offers continuing education credits for nurses, certified health education specialists, continuing medical education and the CPH credential. For more information on earning continuing education credits at the meeting, visit www.apha.org/annual-meeting-ce. Registration and fees for the Learning Institutes are separate from the Annual Meeting, and space is limited.
To register for APHA 2023, visit www.apha.org/annualmeeting. Attendees who register by Sept.18 are eligible for the discounted advance registration rate.
Copyright The Nation's Health, American Public Health Association