Special section: Advancing climate justice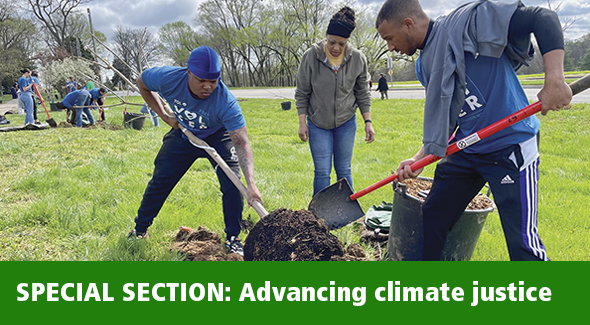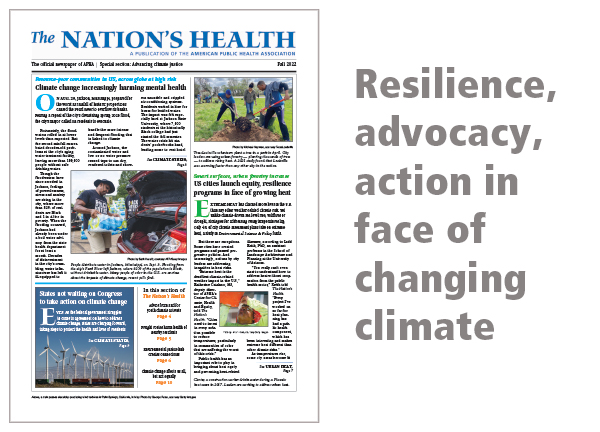 Download a PDF of the special section now!

Read and share articles from this section
Climate change increasingly harming mental health
The world's climate is changing at an alarming and unprecedented rate, and numerous studies show that the mental health impacts caused by heavier rains, flooding, hurricanes, wildfires, poor air quality and extreme heat and cold are not experienced equally.
States not waiting on Congress to take action on climate change
Even as the federal government struggles to come to agreement on how to address climate change, states are charging forward, taking steps to protect the health and lives of residents.
US cities launch equity, resilience programs in face of growing heat
Extreme heat has claimed more lives in the U.S. than any other weather-related climate risk. Yet unlike climate-driven sea level rise, wildfires or drought, strategies for addressing rising temperatures lag. But there are exceptions. Some cites have created programs and passed progressive policies. And increasingly, actions by city leaders are addressing inequities in heat risks.
Wanted: Advocates who speak up for climate justice, vulnerable people
Now is a critical time to engage policymakers on the importance of climate justice, health advocates say.
In their own words: Advice from and for youth climate activists
When it comes to advocating for climate justice, what do youth need to know? To answer that question, APHA's Center for Climate, Health and Equity asked youth themselves.
Freight routes harm health of nearby residents
Seventy-two million people in the U.S. live in neighborhoods near ports, rail yards and freight routes. Fossil-fueled transportation of the goods creates dangerous levels of air pollution in nearby neighborhoods.
JEDI principles offer playbook to improve climate readiness
As public health professionals work to build climate resilience, they are keeping justice, diversity, equity and inclusion in mind.
SciCAN offers collaboration, resources for justice advocates
Public health workers have a new platform for sharing resources on environmental justice.
Editorial: Building support for advocacy on climate can boost community health
Climate change is arguably the greatest threat to public health facing our world.
Editorial: Climate change affects us all, but it doesn't impact us equally
With conversations on climate change so focused on congressional gridlock, rulemaking technicalities, CO2 emission numbers and Paris agreement goals, it's important that we remember what all of our work in the climate and health space is really about: people.
Vote for climate justice: Questions to ask candidates for office
APHA's Center for Climate, Health and Equity is sharing questions health advocates can pose to candidates, whether they are at the local or congressional level.