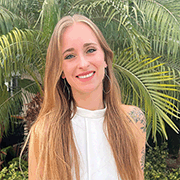 With conversations on climate change so focused on congressional gridlock, rulemaking technicalities, CO2 emission numbers and Paris agreement goals, it's important that we remember what all of our work in the climate and health space is really about: people. It's you, your family, friends and neighbors who are already experiencing the harmful impacts of climate change across this nation, whether that's food insecurity from drought, aggravated asthma symptoms from worsening air quality or a concern for your safety in the wake of severe storms, wildfires and heat waves.
These dangers are all too real and getting worse year after year, particularly for people and communities who are more vulnerable to climate impacts, such as children, older adults and those with preexisting conditions. Also at risk are those whose resilience has been hampered by decades of disinvestment and exclusion from policy decisions, such as low-income people, those from tribal nations and other people of color. That's why APHA's Center for Climate, Health and Equity, thanks to the support of the Kresge Foundation, is bringing you news and information on climate justice right here in The Nation's Health.
Climate justice recognizes that while climate change affects us all, it does not affect us all equally. It recognizes that those most impacted, both in the U.S. and globally, are usually those that are least responsible for the problem and have benefited the least from industrialization and the burning of fossil fuels.
According to Mary Robinson, former U.N. high commissioner for human rights, climate justice shifts the focus from "greenhouse gases and melting ice caps into a civil rights movement with the people and communities most vulnerable to climate impacts at its heart."
Over the next three issues of The Nation's Health, you'll read about problems, solutions and actions of acute importance to environmental justice communities across this nation. Hopefully you'll emerge with not only a better understanding of the urgency and magnitude of this climate crisis, but also greater comfort in talking about issues of climate justice as they relate to public health and health impacts.
I hope that you'll be able to look at solutions and climate policies critically and ask questions, such as "Does this emissions reduction strategy reroute pollution into vulnerable communities?" "Will this disaster relief effort leave anyone out?" and "Were low-income people and communities of color meaningfully engaged in the development and evaluation of this solution?"
We're going to need to make a lot of changes in this country's policies, and fast, if we're going to avoid climate catastrophe. It's going to take solutions at every level of government, across all sectors of the economy. From policies that support new technologies and solutions, to those that support the emerging green economy, to regulations that keep emissions in check, to adaptation and resilience efforts that work to address health harms.
As we keep working to push this movement forward, it is important to remember that there is no place for climate action that does not also address structural inequities and human rights, and it's up to all of us to continue fighting for a just and livable world.
Copyright The Nation's Health, American Public Health Association