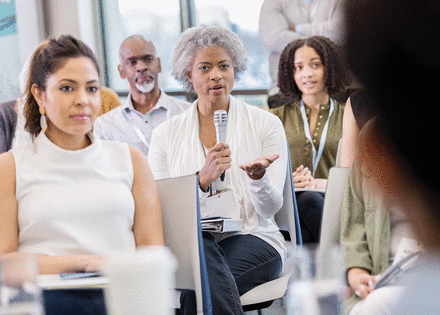 With election season here, knowing where candidates stand on key issues of importance for public health, such as climate justice, is vital. One of the best ways to find out is to ask directly.
APHA's Center for Climate, Health and Equity is sharing questions health advocates can pose to candidates, whether they are at the local or congressional level.
The center recommends asking questions at a town hall meeting, by phone, on social media, via email or in other interactions with any candidates to find out where they stand on climate justice and equitable health outcomes.
After a candidate answers a question, Katherine Catalano, MS, APHA's deputy director of climate, health and equity, recommends following up with "Why is that important?" or "How can we help?"
"Share the answers you receive with your family, friends and local leaders so they can be informed as well," Catalano says. "You'll be raising awareness of needs in your community they may not be aware of."
Public health supporters can also raise awareness about climate justice issues that matter to them by meeting with their leaders, sharing messages on social media or writing an op-ed. APHA has resources and tips at www.apha.org/speak-for-health. For more information on climate justice and tools from APHA, visit www.apha.org/climate.
Climate justice questions for candidates
How will you protect our community from the health impacts of climate change?

Will you support climate change policies that are backed by science?

How will you work to reduce greenhouse gas emissions in a way that also reduces the outsized burdens of climate change experienced by communities of color and low-income communities?

How will you work to help build equitable, climate-resilient communities?

Will you ensure that communities have a leading voice in decisions that impact their health, their environment, and their quality of life?
Copyright The Nation's Health, American Public Health Association