In the marathon of healthy living, Wyandotte County, Kan., placed near the bottom of the state in 2010. Factors such as high obesity and low high school graduation rates put Wyandotte — home to Kansas City — at the low end of about 100 ranked Kansas counties.
The ranking was a reminder to then-city mayor Joseph Reardon to fix the issues brought to light in the County Health Rankings, an annual health assessment of all U.S. counties.
Healthy Communities Wyandotte, created by Reardon, an APHA member, and the Wyandotte County Public Health Department, used the rankings and Kansas Health Institute data to show a need for public health initiatives, such as a sidewalks and trails master plan adopted by the Unified Government of Wyandotte and Kansas City, Kan., in 2012.
Wyandotte is just one of many counties nationwide using data from the County Health Rankings to improve the health of residents. Developed by the Robert Wood Johnson Foundation and University of Wisconsin Population Health Institute, the annual rankings are a comprehensive database of health trends in every American county. Data was collected on topics such as tobacco use, obesity rates and access to medical care. Instead of measuring counties against each other nationwide, the annual assessment ranks them state by state, allowing comparison among peers.
The rankings were the "catalyst" to move Wyandotte County forward, said Joseph Connor, MBA, director of the Wyandotte County Public Health Department and an APHA member.
"The message that it sent resonated for everyone," Connor told The Nation's Health. "We were able to rally around that and not spend time being defensive."
National trends from 2013 rankings, released in March, include a 50 percent drop in violent crime in the last two decades and no improvement since 2000 in reducing the number of children living in poverty, said Bridget Catlin, PhD, MHSA, director of the County Health Rankings and Roadmaps program and program director of the Mobilizing Action Toward Community Health at the University of Wisconsin Population Health Institute.
Other factors such as low graduation rates, high teen birth rates and a low rate of college attendance continue to be much higher in unhealthier counties, said Catlin, an APHA member. Rates of obesity and tobacco use continue to be worse in lower-ranked counties compared to healthier ones, she said.
One of the reasons the County Health Rankings is important is because it shows there is no singular factor that makes a community healthy or unhealthy, said Abbey Cofsky, MPH, a senior program officer with the Robert Wood Johnson Foundation's public health team and an APHA member.
"When we look at the message around the county health rankings, it's not just about the data but it's about how the communities are using the data to move into action," Cofsky told The Nation's Health. "In many cases, that means bringing stakeholders around the table to look at the data and say 'Wow, look at the place in the country we're doing well' and say 'Look at the opportunities for improvement.'"
In Genesee County, Mich., those stakeholders in public health are the Greater Flint Health Coalition. A nonprofit since 1996, its members span General Motors officials, local hospitals and school districts, who came together to address access to health care.
But when 2010 County Health Rankings highlighted the county's struggle to reduce unhealthy behavior such as smoking and poor nutrition, the group realized it had work to do, said coalition CEO and President Kirk Smith, MHSA. In 2010, Genesee County ranked last out of 82 Michigan counties for health behaviors. Today, 71 percent of Genesee County residents are obese, said Smith, an APHA member.
"What we realized is we needed to have a shared conversation, to engage everybody who lived or worked here that being active and eating well and making personal healthy choices was a good thing to do," Smith told The Nation's Health.
The coalition began the Commit to Fit campaign, which since 2011 has launched a series of healthy living challenges such as Fall 4 Fitness. The challenge, which was intended for county business employees, asked participants to exercise for 30 minutes each day and log their exercise time at www.commit2fit.com. Prizes included cash and trophies.
"We thought we'd get 10 businesses," Smith said of the 2011 challenge. "We ended up getting 50 — about 5,000 people. We knew we were on to something at that point."
In January, the coalition began offering free year-long physical activity classes such as Zumba and nutrition classes five days a week at four locations in Flint, Mich. The nutrition classes teach residents how to select, cook and eat healthy foods on a budget, he said. Most classes have 30 to 35 attendees, Smith said.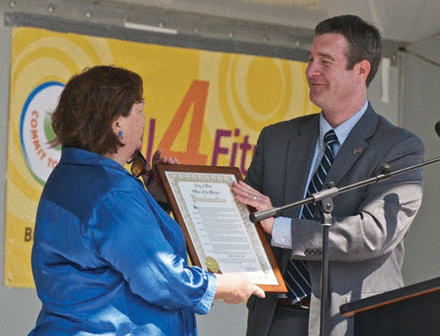 Since the 2010 County Health Rankings, Genesee County has moved from 82nd to 77th for health behaviors in Michigan counties, based on 2013 data. But Smith knows that changing the lifestyle of each resident will take time.
"It's not easy," Smith said. "It's not going to happen overnight and it's going to take a longer commitment to engage one another."
Across the nation, counties are constantly working to keep public health on their radar screens.
Back in Wyandotte, the local government is leveraging its assets to improve community health. When a casino group wanted to develop in the county, the developer agreement stated the business would donate $500,000 annually to the government for social and charitable services. Elected officials designated that $500,000 as a pot of available grant money that only Kansas nonprofit groups in good standing could use to fund community health projects, Connor said.
Nonprofits had the opportunity to apply for $10,000 to $50,000 for a year-long project and the first group of grant winners will be announced in the middle of May, Connor said.
"We'll be awarding money for our community only, and the primary issues were active living and healthy eating," Connor said. "Those are pretty big accomplishments for any community, especially to have it dedicated to community health improvement."
Cofsky said the broad definition of health is a key message of the County Health Rankings.
"There's so much we can do at a local level to make change and make our communities healthier," Cofsky said. "The County Health Rankings champions what can be done in cities and counties and towns around the country."
For more information on the County Health Rankings, visit www.countyhealthrankings.org
Copyright The Nation's Health, American Public Health Association