Middle school principal Sean McElhaney was already sold on the idea that children needed a nutritious breakfast to succeed in school. But what cemented his desire to expand the breakfast program in his Anne Arundel County, Md., school was one student who, during a standardized test, wrote "I don't care," and then refused to complete the test.
The student, sent to McElhaney's office for disciplinary action, said he could not concentrate because he had not had anything to eat since lunch the previous school day.
"We always say breakfast is the most important meal, and yet, this was a kid living (without it)," said Molly McCloskey, MEd, Maryland director of the No Kid Hungry campaign.
McElhaney implemented an alternative breakfast program that brought the morning meal out of the cafeteria and into the classroom. Discipline problems at Old Mill Middle School North are now at an all-time low, and academic achievement has improved.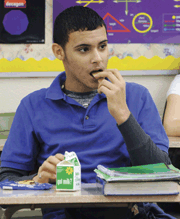 Ensuring that low-income students have access to a healthy breakfast has the potential to improve not just their health but their academic success and long-term future, according to a national analysis released by the No Kid Hungry campaign in February. If 70 percent of the elementary and middle school students who qualify for free or reduced-price school lunches also ate breakfast at school, that could result in 4.8 million fewer school absences per year and 807,000 more students graduating from high school, according to the campaign, which is part of Share our Strength, a national hunger organization. Also, 3.2 million children would achieve better math scores on standardized tests.
"Millions of kids struggle with hunger, but less than half of kids getting a free or reduced-priced lunch are getting a breakfast," Josh Wachs, chief strategy officer for Share Our Strength and No Kid Hungry, told The Nation's Health. "To end childhood hunger, we have to make sure kids are connected to the food they need during the school day."
Improving the reach of school breakfast programs often hinges on moving the morning meal out of the cafeteria, according to recent research.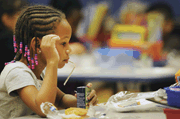 A pilot project conducted by the American Association of School Administrators has found one of the top barriers to schoolchildren eating breakfast is stigma, because one common belief if that only the "poor kids" eat breakfast in the cafeteria. Other barriers are transportation, as some children arrive to school too late for a cafeteria-served breakfast, and lack of knowledge about breakfast availability.
The association projects showed that by offering alternative breakfasts, including breakfast in the classroom, vending machines that offer a full, balanced breakfast and grab-and-go carts in school hallways, breakfast reaches far more kids in need.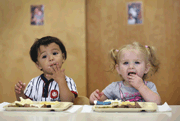 The Syracuse City School District in New York was one of four school districts to receive funding from the association to try an alternative breakfast program in 32 schools. In the district, where 83 percent of students are eligible for free and reduced-price lunches, only 40 percent were also eating breakfast at school. By offering alternatives, including breakfast via vending machines, the participation increased to 54 percent in one year.
The vending machine choices follow federal guidelines for nutrition, and on a typical school morning they include an oatmeal breakfast bar, fruit, milk, cereal or a whole-wheat blueberry muffin.
One key to the program's success was allowing individual schools to have a voice in the process, said Annette Marshbanks, assistant director of food and nutrition for the Syracuse City School District and leader of the school breakfast team.
"No matter what you do, you have to have the principals' support, 100 percent," Marshbanks told The Nation's Health. "Principals and their team leaders decide what they're going to do in individual buildings. We have some schools where maybe school starts at 8 o'clock, but because in this particular neighborhood most parents work, they drop their kids at 7 o'clock."
Another important aspect was communication, Marshbanks said.
"It surprised me how much talking to the parents and getting the parents' input was important," she said.
As a working parent who must drop her child off at a sitter's at 6:30 a.m., Marshbanks said she would love her child to have breakfast in the classroom. Yet other parents were concerned about allergies, for example, or that a meal in the classroom would disrupt instructional time.
All four school districts in the adminstrators association pilot program used school breakfast teams made up of the superintendent and food service director but also principals, a communications representative, students, parents, custodians and local community experts.
"We saw that by the districts working on an interdisciplinary team, they were able to roll out the program much more smoothly than if this came straight from food service or the superintendent's office," Kelly Beckwith, MPH, CHES, project director for child nutrition, hunger and obesity for the American Association of School Administrators, told The Nation's Health.
Schools in all four of the pilot project districts saw increases in school breakfast participation, with the most dramatic rise occuring in New York's Brentwood Union Free School District. After implementing an alternative breakfast program in 17 schools, participation in the school breakfast program rose from 17 percent to 42 percent.
Maryland added 30,000 school kids to the breakfast program by offering alternatives to the cafeteria and increased the participation rate from 40 percent to about 56 percent, McCloskey told The Nation's Health. With support from Maryland Gov. Martin O'Malley, teachers unions, the state department of education, food service directors and area food banks, the goal is to reach 70 percent of eligible kids in the next two years. The move is expected to result in 8,000 more high school graduates due to improved attendance and academic achievement.
"The fact that the political community and the education community and the hunger community have united to make breakfast a priority speaks volumes about what we believe is important for the future of Maryland's kids," McCloskey said. "The reality is, childhood hunger is solvable."
An August 2012 survey of 1,000 public school teachers found three in five said some students regularly come to school hungry. The most prevalent consequences, the teachers said, were inability to concentrate, poor academic performance and headaches and stomachaches.
"Overall, we have one in five kids in this country who struggle with hunger, yet this is a country of an abundance of food," said Wachs of No Kid Hungry. "There exist food programs to help kids in need, and we believe that part of the challenge is that kids are not accessing that food and those food programs."
Alternative breakfast programs can succeed via a variety of funding sources, according to advocates who work on the issue, including start-up grants from groups such as No Kid Hungry and the American Association of School Administrators and state initiatives such as Maryland's Meals for Achievement program.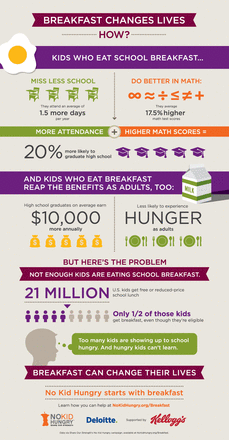 The No Kid Hungry analysis found children who eat school breakfast are 20 percent more likely to graduate from high school, meaning they will earn an average of $10,000 more annually than their peers who do not graduate, and they will be less likely to experience hunger as adults.
"The simple act of feeding a child breakfast can be a really strong predictor of their future success in life," Wachs said. "The argument, really, is making sure that kids are fed isn't just the right thing to do, it's really the smart thing to do for the future of the country."
Read about the American Association of School Administrators pilot projects at www.aasa.org and view the No Kid Hungry report, "Ending Childhood Hunger: A Social Impact Analysis" at www.nokidhungry.org/breakfast.
Copyright The Nation's Health, American Public Health Association