From diverse panels of public health experts and intimate online discussions with public health leaders to hundreds of other events held nationwide, this year's National Public Health Week was a success.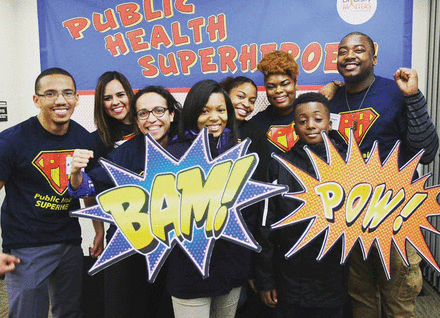 Nearly 400 partners at the national, state, local and federal levels joined APHA in celebrating NPHW April 4-10. National Public Health Week is the country's celebration of public health and highlights issues that are important to improving the nation. For more than 20 years, APHA has served as the lead organizer of NPHW, bringing together public health professionals and advocates each April.
"This year, we had the most events and partner submissions in APHA history," Kimberly Moore Smith, MHSA, director of APHA's Affiliate Affairs, told The Nation's Health. "From the presidential proclamation to the Maryland Public Health Association's 5K Fun Run, each activity moves us closer to becoming the healthiest nation in one generation. We appreciate all who recognized NPHW 2016 and look forward to building the movement."
The celebration kicked off with a bang: On April 1, President Barack Obama issued a National Public Health Week Proclamation supporting the week's events, calling on "all citizens, government agencies, private businesses, nonprofit organizations and other groups to join in activities and take action to improve the health of our nation.
"America is built on the notion that we are our brothers' and our sisters' keepers, and that we all have certain obligations to one another," Obama said in his proclamation. "Never is that idea truer than when ensuring the health of the world our children will live in long after we are gone. This week, let us treat every child as if they are our own by accepting our responsibilities to leave them with a healthier, cleaner planet than we have, and let us continue reaching for a brighter, more secure future for all the world's people."
APHA's NPHW Twitter chat, held April 6, involved more than 1,000 participants who exchanged more than 5,000 tweets with the #NPHWchat hashtag. The conversation revolved around building the healthiest nation in one generation, a take on the week's theme: "Healthiest Nation 2030."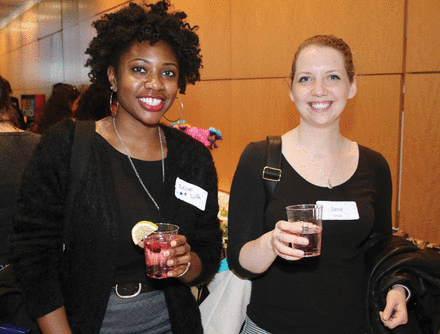 But the Twitter chat was not the only landmark for this year's NPHW. During an April 8 tele-town hall, Surgeon General Vivek Murthy, MD, MBA, answered questions from APHA's Student Assembly. Murthy addressed health disparities and barriers to health, and told students that health and education, like many aspects of life, are inextricably linked.
"If you're robbed of your health, you're robbed of your education…It's cutting off opportunities," Murthy told students. "Opportunity must be available to everyone. That is the promise of America."
APHA also hosted local events in and near its headquarters in Washington, D.C. A first this year was an NPHW Healthy Happy Hour. APHA invited local members, Affiliates and public health partners around the D.C. area for an evening of healthy snacks, nonalcoholic sparkling beverages and networking. Nearly 130 people attended the event.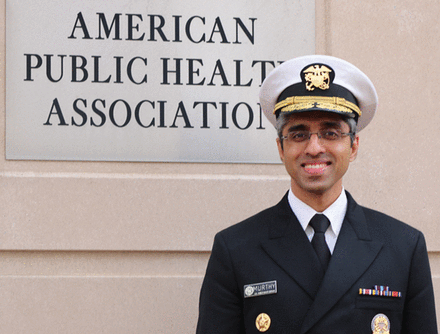 On April 5, APHA hosted its second in a series of webinars about lead and health, "Public Health's Legal Authority and Safe Drinking Water." Mona Hanna-Attisha, MD, MPH, FAAP, a pediatrician and public health advocate who first published data on the drinking water crisis in Flint, Michigan, served as a featured speaker during the webinar, and explained what role public health might play in maintaining the quality of drinking water.
Individual APHA members took action during the week as well, signing on to an APHA message supporting both House and Senate NPHW resolutions. Nearly 900 members sent messages to Congress to make National Public Health Week a priority. When Congress returned from recess on April 14, resolutions were introduced in both chambers.
More than 700 advocates also responded to an APHA action alert calling for Congress to adequately fund public health programs in fiscal year 2017, said Donald Hoppert, director of government relations at APHA.
"Action alerts are the easiest way for members to support APHA's advocacy agenda," Hoppert told The Nation's Health. "They can be an immediate way to make a difference, as well as a good way to dip a toe into advocacy waters for the first time."
NPHW made a splash in the media, with editorials and blog posts via APHA's American Journal of Public Health, Research!America, the Robert Wood Johnson Foundation and more. In his April 4 blog post for Research!America, APHA Executive Director Georges Benjamin, MD, described NPHW as a national movement of people, communities and organizations working to ensure conditions where everyone has the opportunity to be healthy.
"While maintaining a healthy lifestyle and having access to health insurance are critical components toward reaching our goal, we also know that they are only part of a much bigger picture," Benjamin said in his blog post. "A growing body of research also tells us that social and environmental determinants — such as education, income, housing and childhood trauma — not only shape people's risk of disease and poor health throughout their lifetimes, but help shape the risk of disease and poor health into the next generation."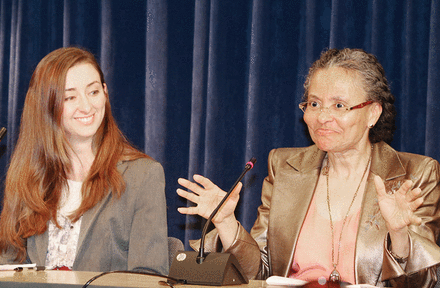 APHA also debuted a new public health infographic during NPHW. The infographic, which is on the NPHW and APHA websites, breaks down life expectancy, quality of life and health issues based on health investment.
One aspect of National Public Health Week was still going strong at press time in May. APHA's 1 Billion Steps Challenge, a nationwide movement to get people moving, launched during NPHW. With a goal of 1 billion steps by May 31, the challenge was a friendly competition among APHA members and others who want to be healthier.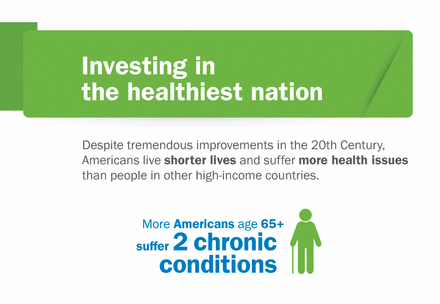 "Walking is one of the most effective ways to prevent chronic disease, and we also know walking improves quality of life, mental health and healthy aging," Moore Smith said in the challenge's announcement. "National Public Health Week is all about making communities healthier. We believe the 1 Billion Steps Challenge will create a healthier nation by inspiring you to walk — and getting others to walk with you."
Next year's National Public Health Week will be observed April 3-9.
For recaps of both NPHW and the NPHW Twitter chat, visit www.storify.com/apha. To watch the forum or tele-town hall, visit www.nphw.org/news/media-kit. To share the infographic, visit www.apha.org/investinhealth. All four episodes of the lead webinar series can be watched online at www.apha.org/lead-webinars.
Learn more about NPHW at www.nphw.org.
NPHW forum addresses determinants of health, kicks off new challenge
Addressing social determinants of health is necessary to remove barriers to health, according to a panel of health advocates that kicked off National Public Health Week with a Washington, D.C., forum.
Led by APHA, the April 4 forum tied into NPHW's theme of "Healthiest Nation 2030," which supports APHA's goal of making the U.S. the healthiest nation.
To address the social determinants of health, APHA Executive Director Georges Benjamin, MD, noted the need for cross-sectoral partnerships, a cornerstone of the Healthiest Cities & Counties Challenge, which Garth Graham, MD, MPH, a panelist and Aetna Foundation president, launched during the forum.
The challenge is a partnership of APHA, Aetna Foundation and the National Association of Counties to award $1.5 million in prize money to cities, counties and federally recognized tribes for building collaborations to improve community health.
Led by area health departments and universities, a number of cities and counties have signed on as early adopters of the challenge: Cleveland and Cuyahoga counties, Ohio; Durham and Cabarrus counties, North Carolina; Kansas City, Missouri; New Haven, Connecticut; San Diego County, California; and Tulsa, Oklahoma. Participants in the challenge will be announced July 31.
To view the forum online, visit www.nphw.org/news/media-kit. For more information about the challenge, visit www.healthiestcities.org.
— Natalie McGill
Copyright The Nation's Health, American Public Health Association