First in a series on the role of social determinants of health. Visit www.thenationshealth.org/sdoh for related content.
Several years ago, public health workers in Wayne County, Michigan, embarked on a new endeavor to tackle infant mortality, an issue that affected the community's black newborns at more than twice the rate of white newborns.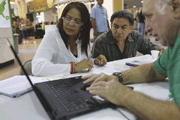 But instead of looking to medicine for answers, workers headed upstream to confront social determinants that put black babies at a disadvantage long before conception occurs.
"We wanted to focus on education, employment, social isolation, structural racism — all those factors combined correlate to an unfavorable birth outcome and the chances of a child not celebrating his or her first birthday," APHA member Mouhanad Hammami, MD, director of the Wayne County Department of Health, Veterans and Community Wellness, told The Nation's Health. "What happens from the time a girl is born to the time she has a child?"
The Wayne County approach is complex, slow moving and requires buy-in from multiple sectors, but Hammami said public health "cannot continue to do business as usual." Among the first steps, he said, was reaching across sectors to educate public officials about their role in health. For instance, when Hammami first asked local transportation authorities for help in reducing infant mortality, he said "they laughed — they said 'we're not a health department.'" But Hammami persisted, explaining that for many women, transportation was a major barrier to prenatal care. Now, health and transportation officials work together to make women aware of their transportation options, such as shuttles that can be scheduled in advance.
However, the infant mortality effort was just the beginning. Today, the Wayne County health department is in its first full year as a restructured agency in which social determinants of health inform everything it does. Hammami called the new working philosophy "no wrong door." In other words, regardless of why people visit the health department, staff can assess their social needs and help them access services, such as Head Start or housing assistance. The agency also has a newly established Social Wellness Program, which is charged with creating a delivery model that acknowledges and confronts the health impacts of racism and discrimination.
"We can't approach a person in sections and siloes," Hammami told The Nation's Health. "We've become so overspecialized…we've lost the authority to be truly what we should be: the guardians of people's health. Our plan is to reclaim that authority."
Wayne County, which encompasses Detroit, is far from alone in its work to both zero in on social determinants of health and broaden its focus on creating social conditions that promote health and longevity. In fact, public health agencies from the local to federal levels are increasingly turning their attention far upstream to social conditions that perpetuate poor health, premature death and disease risk from one generation to the next.
"Public health was founded on principles of social justice," Richard Hofrichter, PhD, MA, senior director for health equity at the National Association of County and City Health Officials and an APHA member, told The Nation's Health. "Now we need to focus on how to link those two back together again…When we talk about the future of public health, it's not just about shifting numbers; it's about a new way of doing the work of public health."
Moving from diseases toward determinants
While public health has a long history of confronting social conditions such as sanitation, healthy housing and safe workplaces — factors referred to today as social determinants of health — much of the field's work in the past century focused on understanding and preventing diseases, building on enormous advances in science and medicine.
Fast forward to 1988, when the then-Institute of Medicine released "The Future of Public Health," which concluded that public health is "neither clearly defined, adequately supported, nor fully understood." In its recommendations, the report's authors defined the mission of public health as "fulfilling society's interest in assuring conditions in which people can be healthy." Twenty years later, the World Health Organization's Commission on Social Determinants released "Health Equity Through Action on the Social Determinants of Health," which stated "social injustice is killing people on a grand scale." The report called on governments worldwide to take action on social determinants of health, which WHO defines as "conditions in which people are born, grow, work, live and age, and the wider set of forces and systems shaping the conditions of daily life."
Today, the evidence base on social determinants gets bigger every day, from studies that link poverty and shorter life expectancy to those that document how unconscious bias leads to lower quality health care for black Americans. In fact, a meta-analysis published in 2011 in APHA's American Journal of Public Health found that in 2000, 245,000 U.S. deaths were attributable to low education, 176,000 to racial segregation, 162,000 to low social support and 133,000 to individual poverty. Such social determinants have become so prominent in health improvement discussions that they even secured a greater role in the nation's most recent health objectives. Healthy People, which sets health goals for the nation across a 10-year period, included social determinants as a stand-alone topic area in its 2020 round.
"Healthy People has always included areas relevant to the social determinants," said APHA member Carter Blakey, deputy director of the U.S. Office of Disease Prevention and Health Promotion and director of its Division of Community Strategies, which oversees Healthy People 2020. "But this decade, we deliberately elevated the importance of social determinants. That, in part, came from a growing recognition that to improve health, you really have to reach beyond the traditional boundaries."
The 2020 round of Healthy People was also the first time the initiative offered a "place-based" organizing framework that reflects several key social determinants of health: economic stability, education, social and community context, health, health care, neighborhood and the built environment. Social determinants are also reflected in Healthy People 2020's leading health indicators — for example, one indicator calls for increasing the number of students who graduate with a traditional high school diploma within four years of starting ninth grade by 10 percent. Research shows that education is consistently linked with longer, healthier lives.
Blakey reported that work on Healthy People 2030 is already underway and she predicts social determinants will remain front and center.
Brian Castrucci, MA, chief program and strategy officer at the de Beaumont Foundation, which works to strengthen capacity and effectiveness within state and local health departments, said the public health shift upstream parallels changes in U.S. morbidity and mortality, from acute diseases to chronic diseases with underlying social causes. Castrucci pointed to a 2014 report from the Public Health Leadership Forum that envisioned what a "high-achieving" public health department of the future would look like. That report concluded that such an agency would step into the role of community health chief strategist, with a greater focus on designing policies rather than providing direct services and on convening multisector coalitions rather than working alone.
"It won't be a pill or a vaccine this time around — Jonas Salk won't save us," Castrucci told The Nation's Health. "The answer isn't going to come out of (the) lab, it's going to come from real social change. That is much, much harder. But we need to find a way to get behind it and make the value clear to everyone."
A big barrier to such change within public health is funding, Castrucci noted, which has traditionally been disease-centric with relatively little focus on upstream social factors. That funding reality makes building cross-sector partnerships and promoting a health-in-all-policies approach even more critical, he said.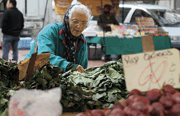 "The biggest threat (to future health improvements) is not pushing upstream enough," he said.
APHA has joined the chorus of advocates focusing on social determinants of health, incorporating them into its strategic plan and work to support health in all policies.
New tools bring new ways of thinking
A health-in-all-policies approach may be one of public health's most effective tools in raising awareness about social determinants and in bringing nontraditional partners to the table. Linda Rudolph, MD, MPH, a principal investigator on a Public Health Institute project to integrate a health-in-all-policies approach in local jurisdictions around California, noted that reaching across sectors is not new territory for public health. For instance, she pointed to decades of tobacco control work that involved partnering with local businesses and restaurants to change smoking policies, as well as work with traffic engineers to improve road safety.
But where health in all policies diverges, she said, is that it offers a way to institutionalize the consideration of health impacts across systems. Such work is well underway in California, where a 2010 state executive order created the California Health in All Policies Task Force, which brings together 22 state agencies, departments and offices. Among the task force's projects is work to improve active transportation, promote land-use decisions that increase healthy food options and support green spaces within urban communities, all of which can have positive health impacts.
In 2015, the Public Health Workforce Interests and Needs Survey — a large workforce survey conducted by the Association of State and Territorial Health Officials and the de Beaumont Foundation — reported that 86 percent of respondents believed health in all policies is "somewhat" or "very important" to public health. But just 52 percent had heard of it as an approach.
"If we know that the social, physical and economic environments are fundamentally shaping our health outcomes, then we have to ask what's shaping those environments," Rudolph, an APHA member who also serves as director of the institute's Center for Climate Change and Health, told The Nation's Health. "And what's shaping those environments are largely decisions being made by people outside the health sector."
Fortunately, public health workers are increasingly finding partners in the health care arena, where providers treat the end results of upstream factors. For example, in March, the American Academy of Pediatrics issued new recommendations urging pediatricians to screen patients for poverty and to advocate for public policies that reduce the effects of poverty on children. Benard Dreyer, MD, FAAP, president of the academy and professor of pediatrics at New York University School of Medicine, said that with so many preventive and well-child visits in a child's first five years, pediatricians are uniquely positioned to intervene and help put children on a healthier trajectory.
"We know that at least 50 percent of health outcomes are due to the social determinants and only 20 percent are due to the clinical care we give them," Dreyer told The Nation's Health. "The other 30 percent has to do with health behaviors and many of these are related to social determinants…We know exactly how the social determinants impact children. We see it happening before our eyes every day."
Tackling social determinants on the ground is "not as easy as people think," said APHA member Roderick King, MD, MPH, CEO of the Florida Institute for Health Innovation. Last year, the institute, along with partners such as the Florida Department of Health in Miami-Dade County, received a challenge grant to engage residents of the Liberty City neighborhood in developing a block-by-block strategy to identify the root causes of violence and improve community health.
Liberty City, a historically and predominantly black neighborhood in Miami, has been struggling with high rates of crime and poverty for years. The neighborhood's median household income was just $19,000 as of 2000, and disproportionate numbers of its teens and young adults are the victims of gun violence, said King, who is also an associate professor in the University of Miami Department of Public Health Sciences.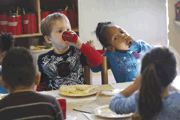 As the work moves forward, collaborators will measure progress on juvenile violent charges, youth firearm injury rates and adult and youth asthma-related emergency department rates. While the issues seem unrelated, King noted that many of their root causes — poor housing, high poverty, a lack of safe outdoor spaces — are the same. As such, tackling the root causes of those indicators will hopefully result in significant co-benefits for overall community health.
"Inevitably, whatever health problem you pick to address, once you start digging into the social determinants, you're tackling the same issues," King told The Nation's Health. "And if you can't build the infrastructure to do this work within public health, then partner with it…No other organization has the potential to do this type of work like public health does."
To learn more about public health and social determinants, visit www.cdc.gov/socialdeterminants. For more on Healthy People 2020's role, visit www.healthypeople.gov.
For a new infographic on how social determinants can influence health, visit www.thenationshealth.org/sdoh.
Copyright The Nation's Health, American Public Health Association