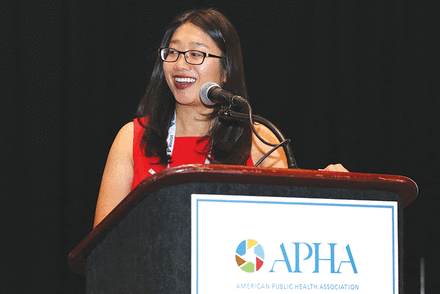 APHA's next president will be Chris Chanyasulkit, PhD, MPH, members decided in October.
The Association's Governing Council chose Chanyasulkit as APHA president-elect during its session at APHA's 2021 Annual Meeting and Expo. She is an adjunct assistant professor at Temple University.
After the election results announcement, Chanyasulkit tweeted that she was "beyond overwhelmed with gratitude."
"I'm buoyed by your messages for the work that lies ahead as we come together to speak for health," she said.
The Governing Council additionally elected three APHA Executive Board members: Moose Alperin, EdD, MPH, MCHES; Bryan O. Buckley, DrPH, MPH; and Amy Lee, MD, MPH, MBA, CPH.
During its business meeting, the Executive Board elected Hope Rollins as chair and Charlene Cariou, MHS, as vice chair.
Governing Council members also elected four members to the APHA Nominations Committee, which develops the slate of candidates for APHA's annual elections. The newly elected members are Nick Collins, MPH, MCHES; Christa Cook, PhD, MS; and Durrell Fox. Allison Casola, PhD, MPH, CHES, is the new committee chair.
In other elections, leaders were chosen for APHA's honorary vice president positions. Gail Christopher, PhD, DN, ND, was elected vice president for the U.S.; Benita Cohen, PhD, MSc, RN, was elected vice president for Canada; and Ramón Anulfo López, MD, was elected vice president for Latin America and the Caribbean.
APHA's Intersectional Council Steering Committee elected Sandy-Asari Hogan, DrPH, MPH, CPH, as chair-elect; the Council of Affiliates elected Sarah Rines as chair-elect; and the Student Assembly elected Lauren Joyce as chair-elect.
Also now serving are Shirley Orr, MHS, APRN, NEA-BC, chair-designate of the Action Board; Kusuma Schofield, MSEd, MPH, co-chair of the Education Board; and Apryl Brown, MD, MPH, chair-designate of the Science Board.
Throughout APHA's member groups, committees and other bodies, many leaders started new terms after the close of the Annual Meeting. Among those who are now serving leadership terms are Elaine Archie Booker, EdD, MSC, ICPS, chair of the Education Board; Celeste Monforton, DrPH, MPH, chair of the Action Board; Jessica Boyer, MPH, MSW, chair of the Council of Affiliates; Danielle Campbell, MPH, chair of the Science Board; Thomas Doker, DVM, DACVPM, MPH, chair of the Intersectional Council Steering Committee; and Haley Moss, MPH, chair of the Student Assembly, each of whom also serve as ex officio members of APHA's Executive Board.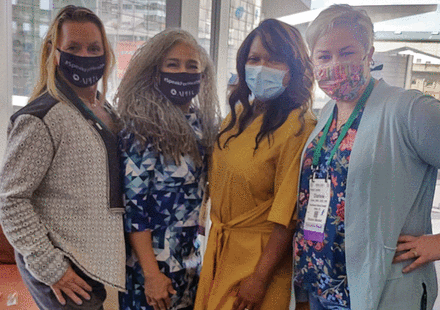 Also serving in leadership roles are Juanita Booker-Vaughns, EdD, MEd, chair of the APHA Caucus Collaborative, and Kelechi Ibe-Lamberts, collaborative chair-elect.
Kaye Bender, PhD, RN, FAAN, began her role as APHA's new president at the close of the Annual Meeting. Her first column as APHA president is published in this issue of The Nation's Health.
For information on elections within APHA's Sections, Special Primary Interest Groups and other member groups, visit www.apha.org/apha-communities.
Nominations are now being accepted for roles on APHA's committees and boards as well as for elected leaders. For more information on the APHA leadership process, visit apha.org/About-APHA/Governance.
Copyright The Nation's Health, American Public Health Association