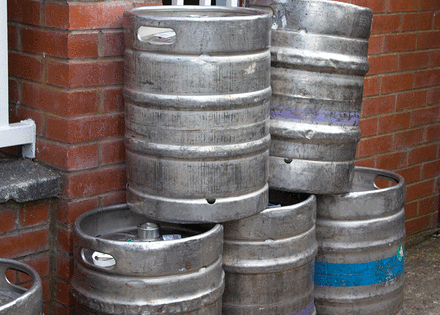 During the COVID-19 pandemic, many state and local governments scrambled to enact policies at a rapid pace. Unfortunately for public health, some of those swift changes made it easier to consume alcohol.
As businesses struggled to stay afloat and people were urged to stay apart, laws restricting alcohol sales eroded in many places across the U.S. during the pandemic. Public health was often blindsided by the rapid changes, according to Sean Haley, PhD, MPH, chair of APHA's Alcohol, Tobacco and Other Drugs Section.
Home-delivery services for alcohol, "to-go" drinks and legal outdoor public drinking districts became increasingly common.
The changes were "a pretty dramatic increase," said Haley, a health policy and management professor at City University of New York, during APHA's 2021 Annual Meeting and Expo in October.
Haley and his fellow researchers interviewed alcohol policy leaders in 48 states to track both legislative changes and gather first-hand accounts of how substance use professionals engaged with elected officials. Participants said they had observed an increase in relapses involving alcohol.
Now that the changes are in place, it may be difficult to remove them, Haley said. Measures introduced as temporary are already becoming permanent in states such as Iowa and Michigan.
National surveys have charted troubling trends in alcohol use during the pandemic. A Harris Poll conducted in spring 2021 found that about 17% of adults reported heavy drinking, defined as two or more days in a recent week when they had more than four drinks. A third of survey participants said that they continued to drink even if it made them feel anxious or depressed. And nearly a quarter said they continued to drink after a memory blackout.
Alcohol sales also increased during the pandemic. A Columbia University study published in Alcohol in November found that alcohol sales in retail stores increased 20% in the first seven months of the pandemic as compared to the same period the previous year.
"Our results appear to substantiate an increase in home drinking during the period, which could potentially lead to higher alcohol consumption and alcohol-related adverse health outcomes," said study author João Mauricio Castaldelli-Maia, MD, PhD, a postdoctoral fellow at the university, in a news release.
More than 95,000 deaths in the U.S. each year are caused by excessive alcohol use, according to the Centers for Disease Control and Prevention.
For more information on alcohol and public health, visit www.cdc.gov/alcohol.
A version of this story was published on APHA's Annual Meeting Blog.
Copyright The Nation's Health, American Public Health Association