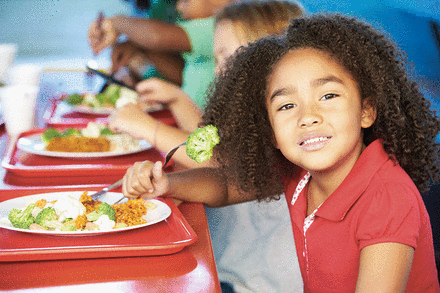 APHA supports US nutrition standards
Government-funded school meals in the U.S. offer an important source of nutrition for children that have proved indispensable during the COVID-19 pandemic.
In a July 1 letter to Congress, the National Alliance for Nutrition and Activity, of which APHA is part, urged the reauthorization of federal child nutrition programs. U.S. schools are currently required to meet a nutrition standards rule authorized in January 2012. But nutrition science has advanced since that time and new standards need to be adopted.
For example, salt uptake and sugary drinks, including flavored milks, should be limited and whole grains emphasized, according to the 2020 Dietary Guidelines for Americans. Also, attempts to roll back school nutrition standards must be vigorously opposed.
In a second letter to Tom Vilsack, secretary of the U.S. Department of Agriculture, APHA and partners praised the agency for its $1 billion proposal for school nutrition efforts in the American Families Plan but also urged further action on nutrition priorities.
APHA: Tobacco excise taxes reduce use
Levying higher taxes on tobacco products can reduce their use and help save lives, APHA told members of Congress this summer.
In a July 16 letter to Dick Durbin, D-Ill., majority whip of the Senate, and Ron Wyden, D-Ore., chair of the Committee on Finance in the Senate, APHA and other health organizations supported S. 1314, the Tobacco Tax Equity Act of 2021. The bill would increase the federal excise tax on cigarettes and set federal tax rates for other tobacco products at an equivalent level.
This bill would double the federal cigarette tax, generating benefits to public health by helping deter young people from taking up the habit while motivating current users to quit.
At the same time, it would increase federal revenues by closing existing tax loopholes that have created incentives for tax avoidance.
Decades of studies and surgeon general reports show that cigarette excise taxes can reduce smoking and prevent others from taking up the habit, APHA and the other advocates said.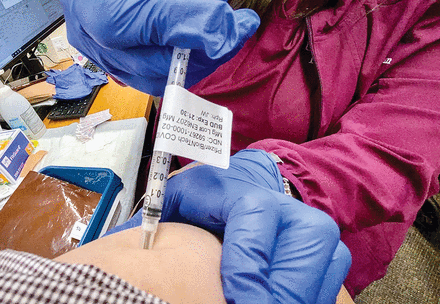 Health workers need vaccines, APHA says
As the highly infectious delta variant continues its spread across America, COVID-19 vaccinations must be mandated for all U.S. health workers, APHA said this summer.
"We call for all health care and long-term care employers to require their employees to be vaccinated against COVID-19," said APHA and other health advocates in a July statement.
To reach people with vaccine hesitancy, including health workers, officials must work to understand their concerns and effectively communicate to them about vaccines, the advocates said. It is also important to work with trusted messengers to improve vaccine acceptance.
APHA urges funding for climate change
Any discussion on U.S. infrastructure improvement and funding must also consider measures that reduce the impact of climate change, according to APHA.
In a July 30 letter to congressional leaders, APHA, several APHA-affiliated state public health associations and other health groups urged lawmakers to include key climate change-related measures in infrastructure legislation. Major investments are needed in energy and transportation sectors to reduce temperatures by reducing greenhouse gas emissions by half by 2030, the advocates said.
Among the provisions the groups advocated for in July were more investment in clean, non-combustion renewable energy and establishing long-term clean energy tax incentives.
In addition, vulnerable communities often live with dangerously polluted air due to close proximity to factories and busy high-ways. Infrastructure legislation should ensure funding to clean up the air near such communities.
Prior to leaving for its August recess, the Senate passed a fiscal year 2022 budget resolution that included so-called budget reconciliation instructions for various congressional committees that instruct the committees to develop proposals to address many of the provisions outlined in President Joe Biden's American Jobs Plan and American Families Plan. Provisions relating to combating climate change are expected to be a major component of the forthcoming legislation.
APHA supports maternal health
The U.S. consistently has more maternal deaths each year than any other wealthy nation, an issue that needs immediate attention, according to APHA.
In a July 8 letter to leaders of the Subcommittee on Labor, HHS, Education and Related Agencies, APHA and partners called for funding for U.S. programs that protect the health of mothers, children and families.
One such program is the Title V Maternal and Child Health Block Grant, a partnership between the federal government and states. In 2019, the Health Resources and Services Administration, which oversees Title V, funded dozens of states and jurisdictions to provide health and public health services, with most of the funds going to health services for pregnant women. The program reached 60 million people.
"Providing strong and sustained funding…is critical to addressing our nation's maternal health crisis," they said.
To take action, visit www.apha.org/advocacy. New state fact sheets on public health funding available.
Copyright The Nation's Health, American Public Health Association