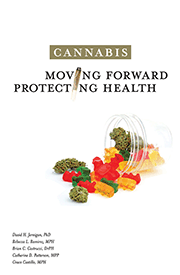 With marijuana use now legal in 18 states and the District of Columbia, and with other states considering legalization, a strong evidence-based public health voice on the drug is needed.
A new book from APHA Press, "Cannabis: Moving Forward, Protecting Health," is filling that void by helping state policymakers make informed decisions about regulating marijuana, also known as cannabis, for adult use.
Among the book's authors are David Jernigan, PhD, a professor in the Department of Health, Law, Policy and Management at Boston University School of Public Health; Rebecca Ramirez, MPH, a public health consultant; and Brian Castrucci, DrPH, MA, president and CEO of the de Beaumont Foundation.
The book examines ways states can regulate cannabis use in a manner that protects public health. It also looks at how federal and state governments failed to regulate tobacco and alcohol, such as by not doing more to keep youth from purchasing the products and not better restricting where the products are sold.
"Cannabis is not as deadly as those, but it can still have serious health sequelae," Jernigan told The Nation's Health. "It would be really nice if we didn't make the same mistakes with cannabis that we made with alcohol and tobacco."
The book does not take a stance on legalizing cannabis use, instead sharing science-based information on its public health pros and cons. For example, more research is needed to understand and regulate cannabis impairment and traffic crashes, according to book authors. And preliminary studies reveal potential harm to youth using the drug, which is why the book only focuses on adult nonmedical use. Over 22 million Americans ages 12 or older use cannabis non-medically, with the most prevalent users ages 18 to 25, according to the National Institutes of Health.
Among the book's recommendations for regulating cannabis are to require child-resistant packaging, and cap how many cannabis sellers can operate in an area based on population. Policies and practices are also needed to ensure that enforcement operations and priorities are not influenced by revenue and cannabis industry pressures, as happened with tobacco and alcohol sales.
Given the known and potential harms to public health of cannabis, robust monitoring and surveillance should be in place during rollout. But infrastructure for this is lacking, the authors said. For example, there is no national legal database tracking cannabis policies, and no interstate seed-to-sale tracking systems for cannabis production and sales.
"The bottom line is that states and we as a country are so not ready for this drug in the marketplace," Jernigan said. "We don't have the systems in place."
Book authors will be signing copies of "Cannabis: Moving Forward, Protecting Health," on Oct. 24 during APHA's 2021 Annual Meeting and Expo in Denver.
For more information, visit www.aphabookstore.org.
Copyright The Nation's Health, American Public Health Association