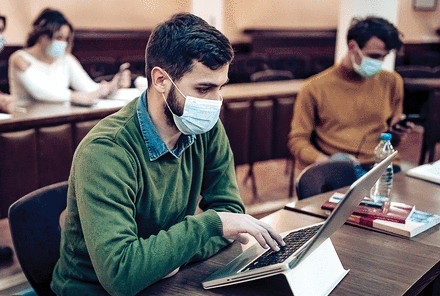 Continuing education opportunities abound at APHA's 2021 Annual Meeting and Expo — and some of them are free for registrants.
Whether attending in Denver or from home, APHA 2021 participants can earn continuing education credits by attending and evaluating hundreds of scientific sessions.
Credits are available for nurses, certified health education specialists, medical professionals, veterinary and pharmacy workers, and for the Certified in Public Health credential. Registrants earn free credits for one CE type, and additional categories are $10 each.
Overall, attendees can earn up to 20.5 credits by watching scientific sessions during the meeting, which will be held Oct. 24-27.
"Continuing education and professional development have always been a key component of Annual Meeting offerings, and this year is no different," said Mighty Fine, MPH, CHES, director of APHA's Center for Public Health Practice and Professional Development.
To earn continuing education credits during the Annual Meeting's scientific sessions, attendees must register for credits by Wednesday, Oct. 27, at 12 p.m. MT. Credits are available for live sessions, but not on-demand ones.
Meeting attendees can also earn credits by signing up for APHA's in-depth, interactive Learning Institute courses, which take place Saturday, Oct. 23, and Sunday, Oct. 24. This year's full-, half- and two-day institutes will be a mix of both in-person and virtual offerings.
Among this year's offerings is a session on strengthening social connectedness, which ties into the APHA 2021 meeting theme. The Oct. 23 session, which will be held online, will include practical tips and skills for working in a virtual environment.
Another new APHA institute this year focuses on infectious outbreak investigations. The virtual Oct. 23 session will teach attendees how to use outbreak resources and tools, offer practical tips for conducting successful interviews, highlight tracing techniques, and discuss the importance of environmental sampling.
Other 2021 Learning Institute offerings will focus on data visualization, health equity and public health communication.
The always-popular "Certified in Public Health Exam Review Course," which prepares public health professionals to take a test for the CPH credential, is also offered again this year.
Learning Institutes offer a maximum of 12 continuing education credits. Registration and fees for the institutes are separate from the Annual Meeting, and space is limited. People registered for the in-person meeting can participate in Learning Institute courses in Denver or online. Virtual attendees can register for online institutes.
For more information, visit www.apha.org/annual-meeting-ce.
Copyright The Nation's Health, American Public Health Association