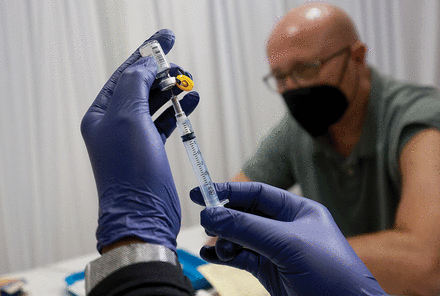 "We have to move fast, because in the absence of information, particularly coming off COVID-19, that gap will immediately be filled with misinformation."

— Sharon Bogan
The arrival of monkeypox in the U.S. came with a flood of messaging challenges similar to what public health workers had just faced with COVID-19: quickly rising case numbers, evolving science, misinformation and stigma.
But in many other ways, the new outbreak was very different. Compared to the novel coronavirus, monkeypox is a long-known disease with vaccines and treatments already developed. One of the earliest U.S. cases was identified in King County, Washington, in May, sparking a flurry of preparations at the local health department to push out prevention messaging during upcoming LGBTQ Pride events in June.
As of mid-August, most U.S. monkeypox cases, number of which surpassed 13,500, were among gay and bisexual men, with Black and Hispanic men disproportionately impacted.
"We're in a time when the expectation for information is very high and it needs to come in quickly and accurately," said Sharon Bogan, MPH, a communications specialist at Public Health-Seattle & King County. "We have to move fast because in the absence of information, particularly coming off COVID-19, that gap will immediately be filled with misinformation."
Similar conversations were happening around the country, as health departments rushed to educate residents about the virus, which can spread via close, personal, skin-to-skin contact. Out of the gate, Bogan said a top communications priority was raising awareness about the signs and symptoms of monkeypox, and urging people to seek care if they had unexplained symptoms.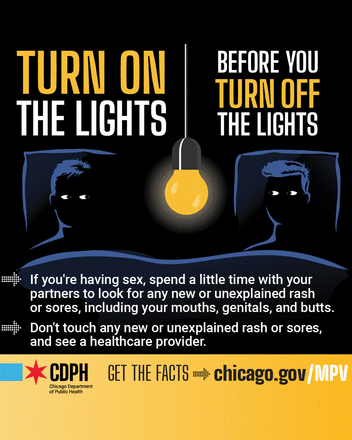 The agency created a variety of outreach products, such as Instagram posts and palm cards, and leaned on longtime partners in the LGBTQ community to act as trusted messengers. Avoiding any stigma was a priority. On that point, Bogan said response staff kept in regular contact with organizations serving LGTBQ residents, including clubs and bathhouses, to answer questions, ask what they needed and gather feedback on which messages were resonating.
"My approach is to say we need more voices, not less, when we're trying to figure out the best ways to communicate, be effective and not do further harm," she told The Nation's Health.
Outbreak response involves four "Cs:" cases, contacts, communication and coordination, said Allison Arwady, MD, MPH, commissioner at the Chicago Department of Public Health, during an August news conference on monkeypox response. Public health knows what to do about cases and contacts, though having adequate resources can be a hurdle, she said. The last two Cs is "where outbreaks go wrong."
"Communication and coordination are the ones that are typically more challenging and that every single day we have to adjust our approach to," she said.
Like Seattle, the Chicago agency works with local partners to adapt monkeypox messaging to different at-risk groups and settings, such as sex workers and students at universities. It can be a difficult balance: Arwady said she wants to be transparent that scientists are still learning about the outbreak while also rapidly translating new data people can use to protect themselves.
She noted that for the first time, thanks to emergency COVID-19 money, the health department has a graphic designer on staff, which has been "life-changing" for its ability to quickly get out effective messages on social media.
Among the agency's monkeypox prevention slogans: "Turn on the lights before you turn off the lights," urging people to look for new sores or rashes with their sexual partners.
Massimo Pacilli, MPH, MS, deputy commissioner for disease control at the Chicago health department, said a lot of work also went into educating local medical providers on how to identify monkeypox and collect specimens for testing and about the importance of providing affirming care to all patients.
"We need to be clear (about who is at risk) while reminding people that there is nothing about this virus that would select one population over another," he told The Nation's Health. "All outbreaks begin somewhere."
Like COVID-19, monkeypox messaging is also complicated by the uncertainty of vaccine supplies and changing immunization strategies. In August, for example, the Biden administration announced a plan to switch to a new monkeypox vaccine protocol.
In Washington, D.C., where monkeypox was first identified June 4 and case counts had exceeded 300 by August, reaching at-risk residents with information about vaccine eligibility and availability as well as treatment were priorities, said Anil Mangla, PhD, MPH, MS, state epidemiologist at the D.C. Department of Health. Both are key to containing the outbreak, he said.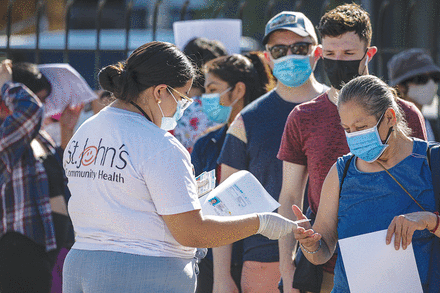 By late August, the agency had vaccinated nearly 19,000 D.C. residents. Mangla said vaccine clinic locations were chosen specifically to reduce access gaps, such as setting up near transit stations.
The health department's longtime working relationship with the city's LGBTQ community is making a big difference in efforts to get ahead of the virus, underscoring the importance of relationship-building to outbreak readiness. People have been very forthcoming during disease investigation efforts, Mangla said, noting that "they want to help protect their fellow community members."
While some people have compared the monkeypox outbreak to the HIV epidemic, Mangla said he had misgivings about that characterization.
"HIV was new," he told The Nation's Health. "We had no medications, no vaccines. No one knew why people were dying. We're in a very different place today."
Arizona had 220 monkeypox cases as of mid-August, the majority in Maricopa County. Sonia Singh, marketing communications supervisor at Maricopa County Public Health, said the agency is leveraging many of the tools and lessons of COVID-19 to deal with monkeypox.
For example, the agency is using the same channels and networks created to keep physicians up to date on COVID-19 to blast out information on the monkeypox outbreak and what to look for. A call center set up to answer people's questions about COVID-19 still gets hundreds of calls a day. As of mid-August, about two-thirds of them were about monkeypox, Singh said.
Communications staff hit back quickly to correct monkeypox misinformation on social media. At vaccine clinics, nurses and doctors are on hand to answer people's questions, a lesson learned during vaccine events for COVID-19.
"People just need someone they can talk to, to ask questions and have their concerns heard, so they can feel good about their decisions," Singh told The Nation's Health. "People just want to understand more."
Money-wise, the monkeypox outbreak is another reminder — still relevant even after years of COVID-19 — that health departments need more flexible funding streams, said Arwady in Chicago. For example, she cannot use unspent COVID-19 funds to deal with the monkeypox outbreak. As of August, her agency had not received any additional money to address the new outbreak.
"In Chicago, we actually don't need significantly more money," she said. "But we need flexibility to use the funding that we have right now."
For more on monkeypox, visit www.cdc.gov/monkeypox. For a monkeypox infographic from APHA, visit www.aphagetready.org.
Copyright The Nation's Health, American Public Health Association