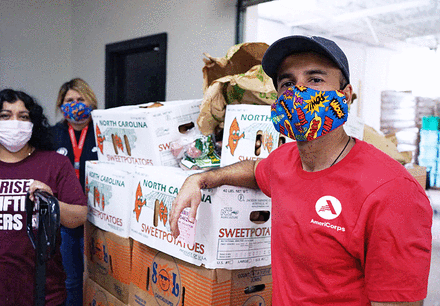 "I think the pandemic itself has underscored the need to enhance public health resources across the country."

— A.J. Pearlman
Public health americorps is recruiting 3,000 people in the U.S. to respond to public health needs brought about by the COVID-19 pandemic and other issues. The initiative is a partnership between the Centers for Disease Control and Prevention and AmeriCorps, which for decades has brought expertise and staffing power to disaster response and other U.S. crises. The public health corps is supported by a five-year, $400 million investment from the American Rescue Plan Act. A.J. Pearlman, JD, started in May as the public health corps' first director. She spoke with The Nation's Health about the initiative.
How does the public health corps operate?
We provide grant funding to local organizations who then work with us to recruit members who serve locally in communities. So at the national level, we have the CDC in their corps partnership, and then we provide grant funding to those local organizations.
As of August, where is the corps in reaching the goal of hiring 3,000?
With our first year of funding, we do have a goal of recruiting 3,000 members. But that's actually just the start of where we are with our first round of grantees. We're also excited to get more organizations involved with the next round of grants.
All Public Health AmeriCorps members are full-fledged AmeriCorps members, such that each of them completes a one-year-service term. During that time, they receive benefits like living allowance, health benefits, etc.
We want to be flexible enough to meet the needs of local communities, and it really sort of depends on what each grantee needs. Members come from really diverse backgrounds, and importantly, they don't actually need to have previous public health experience.
What we're looking for is folks who have a desire and ability to work in the communities where our grantees are serving.
Why is the corps needed now?
I think the pandemic itself has underscored the need to enhance public health resources across the country. Although COVID has definitely taken a toll on the country directly, it's also really exacerbated so many health disparities across our country and underserved communities.
So we also have a number of grantees that are helping communities address broader public health challenges that are continuing to come up. Public Health AmeriCorps members will work across the country to really help us fulfill that promise that we have to improve the health of every community.
What are some successes at this early stage?
AmeriCorps' partnership with CDC is a huge success. This opportunity to work with CDC is just an incredible chance to bring together public health and national service in a way that our community needs in this moment.
We have 82 grantees that are supporting programs in almost every state and in Guam and Puerto Rico. Programs are responding to the needs of individual communities. While we're seeing a number of our grantees do COVID recovery work or community health worker outreach, we also have grantees that are working on behavioral health or nutrition security or general health and wellness around blood pressure control.
Our grantees are organizations of all shapes and sizes, from the Los Angeles County Department of Public Health to the American Heart Association.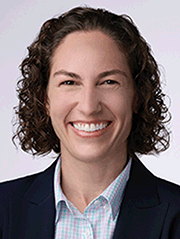 How do you keep everyone on the same page with so many partners?
We are providing information resources and support to local partners to really use as they see fit. But at the same time, we're providing overarching resources, and we have requirements of the program that are able to provide and help us achieve the goals of the program.
We're also providing additional training resources to our grantees and supervisors and members so they can choose to use it as they see fit.
How do you ensure that training at the various groups and agencies meets corps standards?
We are working closely, as we do with all of our AmeriCorps grantees, to provide training and technical assistance through our regular grants management process.
And also we will be doing and continue to do research and evaluation of all of our programs to ensure that there are successful outcomes. So that evaluation process is front and center with how we're thinking about Public Health AmeriCorps as a whole, even this early in the program.
How can you ensure that program funding continues?
The ARP funding has been incredibly helpful in expanding the work that AmeriCorps has been doing for a long time and targeting the efforts that we've been working with for many years. We'll continue to partner with health departments and community-based organizations and nonprofits through all of our AmeriCorps programs.
At the same time, we'll be lifting up the stories of our grantees and our members and their programs, and really show the successes of the programs in local communities to ensure sustainability of the program.
What is your leadership philosophy?
I'm here to support our grantees and our AmeriCorps members in responding to the needs of local communities. That's always going to be my North Star. I'm focused on ensuring that programs are working to target the health disparities affecting our most underserved individuals across the country.
We need to focus on building a diverse next generation of public health.
What would you like the corps to look like in five years?
I'm hopeful that we'll have a sustainable program that continues to fund local grantees as they tackle our community's most pressing public health needs.
We really do think that the program will accomplish its two goals around addressing needs of local communities by providing support in state and local public health settings, while at the same time creating those pathways to good, quality public health-related careers.
Learn about Public Health AmeriCorps positions at www.americorps.gov/publichealth.
This interview was edited for style, clarity and length.
Copyright The Nation's Health, American Public Health Association