Benjamin named among 100 most influential people in health care
APHA Executive Director Georges Benjamin, MD, FACP, FACEP (E), in August was named to Modern Healthcare magazine's "100 Most Powerful People in Healthcare" feature, which is compiled annually through reader nominations and votes. Benjamin has received the designation each year since 2007 and this year shares the honor with APHA members Carolyn Clancy, MD, director of the Agency for Healthcare Research and Quality; Harvey Fineberg, MD, MPP, PhD, president of the Institute of Medicine; Michael Connelly, JD, MA, FACHE, president and CEO of Catholic Healthcare Partners; and Yvette Roubideaux, MD, MPH, director of the Indian Health Service.
APHA leaders honored at Illinois event
A number of APHA members were honored by the Illinois Public Health Association recently. During the association's Friends of Public Health Dinner in March, the APHA-affiliated organization honored APHA Past President Quentin Young, MD; APHA President-Elect Linda Rae Murray, MD, MPH; and APHA member Shirley Randolph, MSPH, past president of the Illinois Affiliate, former chair of APHA's Executive Board and former speaker of APHA's Governing Council.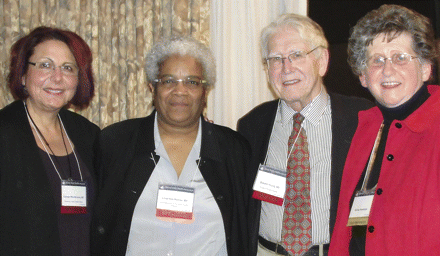 Evashwick joins Association of Schools of Public Health
APHA member Connie Evashwick, ScD, in August was named senior director of academic programs at the Association of Schools of Public Health. In her new role, Evashwick will set academic public health priorities and lead the association's academic and preparedness programs, including issues related to accreditation and certification, diversity, data and emerging educational technologies. Evashwick is a former professor and dean of Saint Louis University School of Public Health and former chair of The Nation's Health Editorial Advisory Committee.
Portier selected to be director
APHA member Christopher Portier, PhD, in July was named director of the National Center for Environmental Health and Agency for Toxic Substances and Disease Registry at the Centers for Disease Control and Prevention. Portier previously served as senior advisor to the director and principal investigator in environmental systems biology at the National Institute of Environmental Health Sciences.
Wendel named director
APHA member Monica Wendel, DrPH, MPH, MA, in August was named director of the Center for Community Health Development at Texas A&M Health Science Center School of Rural Public Health. The center supports prevention research and training on methods for improving population health.
Network of health disparities experts formed
The National Institutes of Health in August launched the Network on Inequality, Complexity and Health. The new entity will explore fresh approaches to understanding and eliminating health disparities, with a goal of bringing together experts to identify areas where policy changes could have the greatest impact. The network will operate within the Office of Behavioral and Social Sciences Research at NIH and will work in partnership with the University of Michigan's School of Public Health in Ann Arbor.
Diversity awards announced
Sandra Daley, MD; Ronald Garcia, PhD; and Jeffrey Oxendine, MPH, MBA, in July were honored as 2010 Champions of Health Professions Diversity by the California Wellness Foundation. The awards honor education leaders who have created multifaceted programs supporting students who will deliver culturally competent, language-proficient health care.
Kaplan appointed director
Robert Kaplan, PhD, in July was appointed director of the Office of Behavioral and Social Sciences Research and associate director for Behavioral and Social Sciences Research at the National Institutes of Health. Kaplan previously served at the University of California, Los Angeles, where he was a professor in the School of Public Health and the David Geffen School of Medicine.
Bernstein becomes policy analyst
Jill Bernstein, PhD, in July joined the Center for Studying Health System Change as a senior health policy analyst. In her new role, she will provide information to policy-makers about issues facing the nation's health systems.
Hobin appointed director
The Federation of American Societies in July appointed Jennifer Hobin, PhD, as director of science policy for experimental biology. Hobin will participate in strategic planning for the science policy program and will supervise the science policy staff.
Copyright The Nation's Health, American Public Health Association