The March 2011 explosion at the Fukushima Daiichi nuclear power station in Japan left many Americans wondering how the U.S. response would fare in the event of a nuclear catastrophe. The answer, according to a recent report, is not well.
"Japan was not prepared for a meltdown," said Ira Helfand, MD, North American vice president of International Physicians for the Prevention of Nuclear War and past president of Physicians for Social Responsibility, which released the March 6 report. "The U.S. remains dangerously unprepared."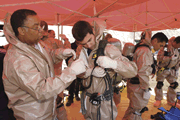 Were such an incident to take place at one of the 104 nuclear reactors in the United States, it would require an emergency response unprecedented in U.S. history. Depending on the location of the stricken reactor, responders might be called on to evacuate tens of millions of people, something that has never been done and something many emergency response officials doubt would be possible.
Nuclear power is one of the safest methods of power generation. The risk of a nuclear power plant incident that releases a significant amount of radioactivity is small, according to a fact sheet developed by the Nuclear Regulatory Commission. Plants have "diverse and redundant barriers and numerous safety systems."
But the commission admits that no industrial activity is risk free, and given the number of variables at play in a potential disaster situation, preparing for an incident is difficult, the Physicians for Social Responsibility report said.
After the Fukushima incident, the Nuclear Regulatory Commission undertook an examination of the safety of U.S. nuclear reactors. In a task force report released July 12, the commission noted a number of problems with the Japanese emergency response program and examined whether the U.S. would experience the same types of issues. Problems included difficulty assessing radiation levels and doses to humans if there were a multi-reactor event and difficulty notifying state and local governments and the public if lines of communication were out of order.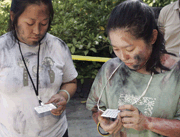 The task force report noted a belief that training and exercises "provides confidence that emergency plans are workable and that personnel would be successful in mitigating the consequences of an accident."
But it also found that current drills do not consider prolonged power station blackouts or catastrophic events at more than one plant or reactor.
"Training and exercises should explore and practice the concepts of command and control, decision-making, prioritization and contingency planning under these conditions," the task force report found. "Since licensees will likely rely heavily on offsite support during this type of event, exercising the steps necessary to identify and acquire offsite equipment and support is an important element to practice."
According to Physicians for Social Responsibility, there is evidence that even if plants themselves are prepared for an emergency, other emergency response might not be.
Current emergency evacuation plans for reactor accidents are based on a 10-mile evacuation radius that was developed after the Three Mile Island incident in 1979. That incident, in which part of the core of the Pennsylvania nuclear power plant melted down, caused the Nuclear Regulatory Commission to heighten its oversight of nuclear plants. But the report notes, for instance, that two hospitals serving the area north of Cedar Rapids, Iowa, are just five and 13 blocks outside the evacuation radius for the Duane Arnold Energy Center, a nuclear power facility.
A 2011 study in the journal Disaster Medicine and Public Health Preparedness found that states are poorly prepared to respond to radiological emergencies. It reported potential problems with staffing, surveillance and general planning.
"Furthermore, the U.S. plans do not consider severe accidents such as occurred at Fukushima Daiichi," the study said.
During a conference call discussing the Physicians for Social Responsibility report, Erik Larsen, MD, discussed the process of treating just one nuclear-contaminated patient who was brought to the hospital from New York's Indian Point Energy Center nuclear plant after an incident in the 1990s.
Larsen, the associate director of the emergency department of White Plains Hospital and a member of the National Disaster Medical System, noted that it was a weekday and that the hospital was at full capacity when doctors got the call about the patient.
He had been injured and exposed to radioactive material while pulling nuclear rods from the reactor for inspection.
The hospital drills for that kind of incident, Larsen said, so it was well prepared for the patient, but to get ready to treat him, the hospital had to act quickly.
With 30 minutes of warning that the patient was on his way, the hospital had to divert ambulances and clear the ER of all other patients. About 20 members of the engineering department had to lay out protective gear, including mats running from the ambulance entrance. Specialized stretchers that could catch and hold contaminated body fluids were set up. People with Geiger counters arrived.
"The point that struck home very clearly for me was that the level of response to respond to one patient with a relatively minor injury who was nuclearly contaminated completely overran our system," Larsen said.
While White Plains Hospital was ready for the patient, other facilities might not have the same capabilities, Larsen said.
"Things have improved since the 1990s, but not to the point where we could take care of even hundreds of patients who were nuclearly contaminated," he said.
An Institute of Medicine report released March 21 echoed some of Larsen's concerns. The report, which looked broadly at emergency preparedness, said the systems to deliver health care following catastrophic situations are "rudimentary at best."
In any large-scale disaster, there will likely be a mismatch between care and demand, said Dan Hanfling, MD, vice chair of the committee that developed the report and special adviser for emergency preparedness and response for the Inova Health System in Falls Church, Va. The IOM report seeks to encourage the development of crisis standards of care by communities. Those standards would be put in place when a catastrophic situation requires a "substantial change in health care operations and level of care that can be delivered."
Hanfling said the Sept. 11, 2001, attacks reinvigorated the emergency response field, but that he sees the country moving away from prioritizing those issues in the face of budget troubles.
"There's this dynamic tension between needing to keep marching along this marathon of preparedness," he said. "But then as soon as you fix one problem you realize how many others exist."
For the Nuclear Regulatory Commission report, "Enhancing Reactor Safety in the 21st Century," visit www.nrc.gov. The IOM report, "Crisis Standards of Care: A Systems Framework for Catastrophic Disaster Response," is online at www.iom.edu. The Physicians for Social Responsibility report, "Nuclear Power and Public Health: Lessons from Fukushima, Still Dangerously Unprepared," is online at www.psr.org.
Copyright The Nation's Health, American Public Health Association