While Colleen Hoehn, MPH, enjoyed her job as a public health nurse in Bethel, Alaska, in 2012, the rural terrain that surrounded her left little opportunity for networking with other public health professionals in her field.
Fortunately, Hoehn had access to the Northwest Center for Public Health Practice in Seattle, one of 38 U.S. public health training centers that work to keep public health workers current in management and disease prevention.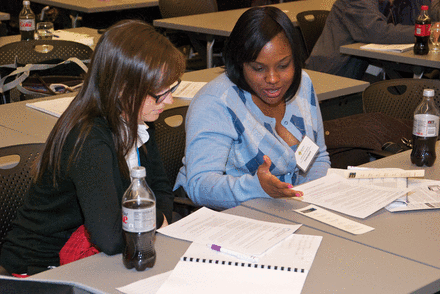 Familiar with the center and its affiliation with her alma mater, the University of Washington, Hoehn applied for and enrolled in a nine-month training institute. The institute, which ended in March 2012, grouped her with other public health workers on problem-solving hypothetical scenarios, such as a disease outbreak in a public water supply.
"Every opportunity is a learning opportunity for leadership, and as public health leaders we have to constantly be on top of reading and knowledge and be willing to partner with other people," Hoehn told The Nation's Health.
Funded in part by the Health Resources and Services Administration, public health training centers provide free in-person and Internet-based classes to public health workers who want to learn best practices in their field when it comes to topics such as obesity, violence prevention and tracking disease using social media such as Twitter. In August, HRSA awarded $23 million to 37 public health training centers — omitting one that was ineligible because of previous funding — across the country, thanks to funding provided under the Affordable Care Act. In addition to awarding grant money, HRSA also runs the Public Health Training Centers Network, which allows public health workers to search for online training and toolkits via the HRSA website.
The centers are valuable because they allow public health workers to stay current on U.S. public health needs as funding for public health services changes, said Janet Heinrich, DrPH, RN, associate administrator for HRSA's Bureau of Health Professions and an APHA member. Heinrich said from July 2011 through June 2012, U.S. public health training centers delivered more than 14,800 continuing education offerings to more than 160,000 trainees, many from local or state health departments and accredited public health schools.
There are no restrictions on who can register for courses, but applicants may be asked to list what organizations they are with and their credentials when applying online to an individual center.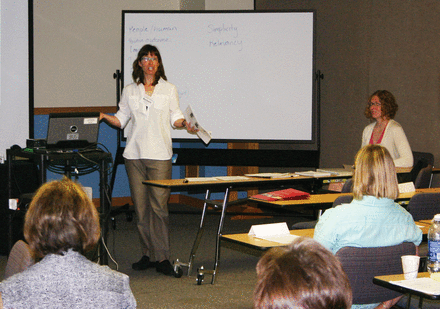 "Our hope is that the public health training centers are a flexible vehicle for addressing the needs of our country for public health services, be it a natural disaster, a (Hurricane) Sandy, a flu epidemic or even the behavioral health needs as we think about gun violence and how we address gun violence," Heinrich told The Nation's Health.
The subject matter ranges from management and disease prevention to understanding the new requirements of state and federal marketplaces for choosing insurance plans under the Affordable Care Act. The marketplaces, which go into effect in January 2014, will give Americans who are not enrolled in employee or public insurance plans multiple choices to get health insurance.
Training center courses can be as long as Hoehn's nine-month training to as short as an hour-long YouTube video.
"The public health training centers are beginning to use social media and new technologies for distance learning, so as we move forward we'll be able to reach a new number of people," Heinrich said.
The staff of doctors, public health workers and researchers at the Northwest Center for Public Health Practice are proponents of Internet learning, as they are tasked with reaching public health workers across six states — Alaska, Idaho, Montana, Oregon, Washington and Wyoming, said Missie Thurston, the center's communications and marketing manager.
The Seattle center offers about a dozen in-person courses, 31 online courses, 125 webinars and six toolkits. Because the staff has to reach a wide audience, training offerings might include anything from how to tackle a pertussis outbreak in a densely populated city such as Seattle to access to clean water in towns across Alaska or Montana that have less infrastructure, said Barbara Rose, MPH, the center's outreach training and design specialist. Thurston said the center's students are primarily government and tribal health workers but sometimes include community organizations and nonprofit leaders.
To make searching for Web courses easier, the Northwest Center for Public Health Practic implemented a "Training Finder" on its website, which allows anyone to search for 45-minute to four-hour long courses and webinars by topic. Thurston said the topic of public health communications has grownin popularity in the wake of social media such as Twitter.
"Practitioners are trying to figure out how do they evaluate if social media will help them meet their goals and if it's appropriate, how do they use it, what is their plan, and rules and regulations if they're a governmental agency," Thurston told The Nation's Health.
At the New Jersey Public Health Training Center, associated with the University of Medicine and Dentistry of New Jersey School of Public Health, staff understands there is a "diverse set of needs," but with limited funding they rely on partnerships with state organizationsto identify what necessitates a training session, said center director Mitchel Rosen, MS, an APHA member.
When the New Jersey Environmental Health Association needed help identifying ways to properly inspect body art businesses, such as tattoo parlors, they asked the New Jersey Public Health Training center staff to hold a three-day training seminar in May 2012. It covered state laws and regulations and the potential health impact if an inspector did not carry out her or his job correctly, said Colleen McKay Wharton, MA, MCHES, a project manager at the New Jersey Public Health Training Center.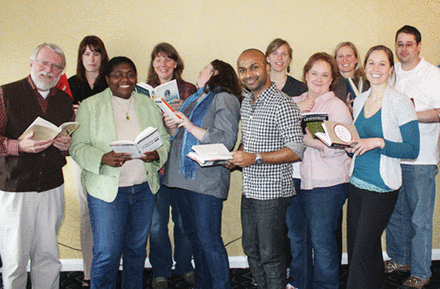 At least 200 local environmental health workers attended, as well as body artists who attended to give their input, McKay Wharton said.
"I really think that partnership made it a much better program (than) if it was just the training center," she said. "Those folks know what they need. We can guess, but we really have to base what we do on what that audience tells us is important to them. Otherwise we're not serving any real value."
Rose said the Seattle center wants to providemore training but one of the biggest challenges is finding funding. And as states lose public health staff because of budget cuts, the remaining staff are asked to do more with less.
"Taking time for training is very difficult," Rose said. "At some agencies, there are travel restrictions so people can't leave the state. Those are big barriers for people. It would be great to have more money so we could have scholarships for people to attend our program."
Thurston said the need for public health training centers grows but that she realizes they alone cannot provide all the training that is necessary.
"We have to keep our ears to the community to make sure we're providing the best return on investment we can for the funding we do get," Thurston said.
Hoehn, who has since moved from Alaska to California, said she got a return on her investment, putting what she learned at the institute into practice. Back in Bethel, she interviewed public health nurses and asked them to identify areas with high rates of sexually transmitted infections or tuberculosis to determine resources needed to tackle those diseases.
She said she learned that she did not have to be in a management position to be a leader and that the training was important because the staff brings in the "best and brightest" people as trainers.
"They keep us sharp, they know how to bring people together." Hoehn said. "So many of us…work in rural communities and the institutes really provide that for us."
For more information on public health training centers, visit http://bhpr.hrsa.gov/grants/publichealth/trainingcenters.
Editor's note: This article was corrected post-publication
Copyright The Nation's Health, American Public Health Association