Most U.S. states need to make some improvements to better protect residents against infectious disease outbreaks and ready their communities for public health disasters, according to new analyses from health groups.
On Dec. 4, the Association of State and Territorial Health Officials debuted a new National Health Security Preparedness Index. Soon after, Trust for America's Health released "Outbreaks: Protecting Americans from Infectious Diseases." The two efforts highlight the state of preparedness in the U.S., finding that although progress has been made, gaps remain, particularly at the state level.
The outbreaks report measured state public health preparedness by 10 indicators, such as whether states met the Department of Health and Human Services goal of vaccinating at least 90 percent of 19- to 35-month-olds against whooping cough. The indicators were chosen based on factors such as the availability of data, new conditions and infectious disease challenges, said Jeffrey Levi, PhD, executive director of Trust for America's Health and an APHA member.
Thirty-two states met five or fewer of the 10 indicators, which also included having a climate change adaptation plan focusing on the impact on human health and vaccinating half of the state population ages 6 months and older against influenza.
"That's lower than we've seen in the past in some of our reports and I think is an indication that in an era where we've become so much more focused on chronic diseases, which are incredibly important to focus on, that should not be made at the expense of the focus on infectious diseases," Levi told The Nation's Health.
New Hampshire met the highest number of indicators, with eight. Levi said New Hampshire has a comprehensive set of policies and strategies that reflect what public health experts believe are needed to protect residents from infectious disease. Only Connecticut, Delaware and the District of Columbia met the 90 percent whooping cough vaccination goal.
One indicator where most states missed the mark was whether they maintained or increased public health funding levels. Two-thirds of states had decreased their levels, some experiencing a third year in a row of cuts in funding that would tackle all 10 indicators, Levi said.
The report made recommendations to improve the scores. They included policies that advocate for reducing the occurrence of health-care associated infections — such as surgical site infections — and getting the most up-to-date equipment that monitors surveillance for everything from pandemics to foodborne illness.
The outbreaks report was completed over six months with help from a Robert Wood Johnson Foundation grant, Levi said.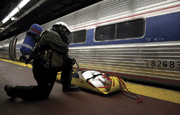 As the economy recovers Levi said he hopes federal, state and local level public health budgets will improve to mitigate the concerns. He also is looking to Affordable Care Act reform to increase coverage that would lead to more people getting vaccinated without worrying about the cost.
"But I think the biggest concern is not to become complacent," Levi said.
Index offers close-up look at preparedness
The new ASTHO index also identifies areas of concern. Created in partnership with the Centers for Disease Control and Prevention, the index involved two years of input from many individuals and groups, including APHA.
The result is a soon-to-be annual preparedness guide that informs policy decisions, reaffirms areas in which states need improvement and serves as a resource for allocating assets, said James Blumenstock, MHSA, ASTHO's chief program officer for public health practice.
On a scale of one to 10, state preparedness levels were assessed by success in five domains: community planning and engagement, countermeasure management, health surveillance, incident and information management, and surge management.
The national average score was 7.2 and more than half of 50 states scored at or above the average. Massachusetts scored the highest, with 8.1, and Nevada scored the lowest, 6.5. But overall, states needed the most work in community planning and engagement and surge management because traditionally, more public health dollars have gone toward the other three domains, Blumenstock said.
To move forward, the index identified workers who can benefit from the index, including policymakers, researchers, communications professionals and public health practitioners. The report suggested ways to use the information, such as encouraging public health practitioners to partner with universities to tackle state preparedness gaps. Blumenstock emphasized that each state has different risks, stressors and capacities.
"It doesn't necessarily mean that, overall, the states at the bottom of the list are ill-prepared compared to states at the top of the list, but what it suggests is that some states just have more work to do in certain areas," Blumenstock said.
Bruce Clements, MPH, section director for the Texas Department of State Health Services' Community Preparedness Section, who reviewed the index prior to its release, said the flexibility and the chance to view a broader preparedness infrastructure make the index attractive.
For incident and information management, Texas officials were able to affirm that they had a state emergency exercise geared toward responding to a chemical, nuclear, biological or radiological attack, a measure specified in one of the index's sub-domains. Years earlier, state personnel participated in a "dirty bomb" exercise. Clements said there was initial skepticism about whether the exercise was necessary, but that faded after the West, Texas, fertilizer plant explosion in April.
"Because we participated in that exercise, it guided us to respond more appropriately," Clements told The Nation's Health.
For more information on the index, visit www.nhspi.org. For the outbreaks report, visit www.healthyamericans.org.
Visit The The Nation's Health podcast page to download a new episode related to this news story
Copyright The Nation's Health, American Public Health Association