A new National Healthy Housing Standard could help millions of U.S. residents and homeowners make living spaces safer and healthier.
Public health and housing leaders, including U.S. Department of Housing and Urban Development Secretary Shaun Donovan and APHA Executive Director Georges Benjamin, MD, gathered to unveil the new standard on May 16 in Washington, D.C. The standard, released by APHA and the National Center for Healthy Housing, is a "health-focused property maintenance policy targeting the nation's 100 million existing homes," and serves as a guide to help homeowners, landlords and tenants maintain dwellings that are safe for people to live in.
The standard is a collaboration between APHA and the center and builds off a 1986 document by APHA and the Centers for Disease Control and Prevention that spells out the link between health and housing, along with ways to address household health issues. Included in the new document, which debuted in draft form last year, are updates with new evidence connecting homes and cancer, asthma and other health issues.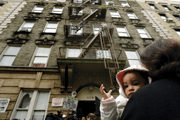 In September 2013, the center reported that 35 million metropolitan homes in the U.S. have at least one health and safety hazard, such as mold, poor ventilation or pest issues. That is 40 percent of American homes.
Up to 30 percent of U.S. asthma cases are linked to home environmental conditions, according to the Asthma and Allergy Foundation of America. And home-based radon accounts for more than 21,000 lung cancer deaths annually, according to the Environmental Protection Agency.
In addition, more than 24 million homes have lead-based paint issues, according to CDC. When children are exposed to lead, they are at risk for learning disabilities, behavioral problems, seizures, comas and even death.
At the standard's unveiling, Benjamin noted a "magical schism" between public health and housing. Healthy homes, he said, are a crucial part of public health, and the standard addresses four preventable areas of health: respiratory disease, cancer, toxins and injury.
More specifically, the standard spells out clearly what responsibilities property owners have when it comes to property upkeep, from providing trash receptacles to making sure utilities are not discontinued except for temporary emergencies or repairs. It also explains the duties of occupants, from keeping trash and recyclables in the appropriate containers to working with owners to maintain pest-free conditions.
The standard is written in plain language — directed more at property owners and residents than housing code experts. And that is the point, said Rebecca Morley, MSPP, executive director of the National Center for Healthy Housing.
"We really wrote it intentionally for it to be easy for municipalities to adopt, but also for property owners or home owners," she told The Nation's Health. "The next step is to ensure it's (as) widespread as possible."
Housing standard gains wide support
The standard's supporters, who include representatives from sectors as diverse as home inspection, city governments and environmental agencies, hope it will be adopted by state and local governments by law or by property owners. Some cities, including St. Louis and Washington, D.C., have already implemented parts of the standard, or are working to implement the entire standard.
Pierre Erville, JD, MS, associate director of the District of Columbia Department of the Environment, is responsible for the department's Lead and Healthy Housing Division. He said he has been excited about the standard since it debuted in draft form in 2013. The Department of the Environment partners with other organizations and health providers around Washington, D.C., and accepts referrals for housing inspections.
Erville said Department of the Environment staff act as consultants with property owners. They look for a range of health and safety threats within homes, including mold conditions, pest infestations and secondhand smoke issues, and draft a report based on them. Then, they sit down with property owners to describe the issues, the risks they pose and how to fix them. Department staff also give property owners a time frame in which to complete the improvements.
Due to collaboration with the District of Columbia's Department of Consumer and Regulatory Affairs, the Department of the Environment's report serves as the equivalent of a notice of a healthy housing violation in Washington, D.C. If property owners address the issue or issues within the recommended time frame, they avoid fines. That serves as good motivation, and it shows: Erville said the department has a "wonderful rate of compliance."
But that compliance rate is not just about avoiding a hit to the wallet, supporters said.
"We explain in our reports why each hazard we've identified is a health or safety threat," Erville told The Nation's Health. "That strikes home. It makes people understand why they're being asked to do certain things, and that makes all the difference. We've had a lot of very happy clients as a result."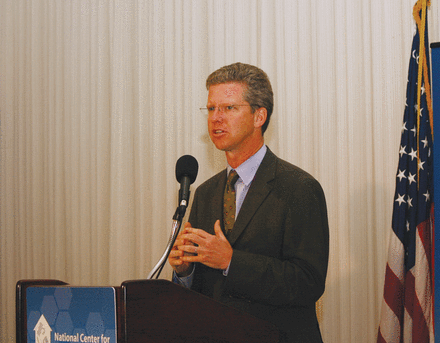 Chanell Glenn, of northeast Washington, D.C., is one of those happy residents. Her son, Stepfen Glenn, was diagnosed with asthma at 2 years old. His frequent asthma attacks landed him in the emergency room once every three months. A visit from the Department of the Environment taught Glenn what she suspected: Her home, built decades ago and not renovated since, was triggering Stepfen's asthma attacks.
Glenn said following her meeting with the department, she remodeled her kitchen and ripped out old carpeting. She started mopping her hardwood floors more frequently, and was able to get hypoallergenic pillows and pillowcases for her son. Since she made those changes, Stepfen, now 5, has not had a single asthma attack.
"When they came out, I was a little embarrassed, but they were like, 'It's OK. We're going to figure something out,'" Glenn told The Nation's Health. "They didn't look at it as a problem; they sat down and told me what the issues were, and what they were going to try to help me with. Once you get that problem corrected, I'm a... witness: It'll be fine."
The Glenn family represents the goal of the National Healthy Housing Standard: All families should live in places that keep them healthy. They should be dry, clean, pest-free, contaminant-free, ventilated, safe and maintained. From homeowners such as the Glenns to families who live in public housing, APHA and the center believe everyone should be able to live healthily.
U.S. Housing and Urban Development Secretary Shaun Donovan, who spoke at the May news conference unveiling the standard, expressed support for the standard in a statement to The Nation's Health.
"The National Healthy Housing Standard represents a needed step in improving housing conditions for all of our nation's citizens, regardless of their ZIP code," Donovan said. "This standard can serve as a model that housing and development officials can adopt to keep families safe in the home."
Donovan also praised the standard for its scope and breadth during the unveiling.
"The standard doesn't just settle for identifying minimum requirements for healthy housing," he said. "We provide flexibility with stretch provisions for owners and managers who have an interest and the means to go even further than those minimum standards."
That flexibility acknowledges the limits of finances, but also keeps property owners from settling for the lowest levels of safety, Donovan said.
And it is in everyone's interest to maintain safe and healthy housing, Donovan added. He mentioned several ways the health of the nation is good for the bottom line. In lead abatement efforts alone, every $1 spent on prevention leads to at least $17 in taxpayer savings.
But of course, money is not the root of the standard, supporters said. Health for all is.
"This work is a top priority for us," Donovan said. "That's because, to use that saying again, 'He who has health, has hope, and he who has hope, has everything.'"
To download the National Healthy Housing Standard, visit www.nchh.org/standard.aspx.
Copyright The Nation's Health, American Public Health Association