A young man walks up to a convenience store counter and asks for a pack of cigarettes. He throws some money on the counter, but the cashier says, "That's not enough." So the young man pulls out a pair of pliers, wrenches out one of his teeth and hands it over.
The disturbing scene is part of the U.S. Food and Drug Administration's first youth tobacco prevention campaign, known as The Real Cost. At the end of the tooth-pulling television ad, a voiceover asks: "What's a pack of smokes cost? Your teeth." To develop the campaign, which specifically tries to reach adolescents who are open to smoking or have already tried cigarettes, FDA researchers spent a year combing through the scientific literature, reaching out to experts, talking with young people and focus testing prevention concepts.
Eventually, two concepts rose to the top: the cosmetic health consequences of tobacco use and the idea that dependence on tobacco takes away a person's control. According to Kathy Crosby, director of the Office of Health Communication and Education within the FDA's Center for Tobacco Products, the anti-tobacco message had to be creatively wrapped to break through to kids who may be jaded and cynical. While the images of a young man pulling out his own teeth or a young woman paying for cigarettes with a piece of her smooth complexion may seem ghoulish to some, Crosby said that "what's graphic in the eyes of adults is different with teens.
"The public health community has done a tremendous job of educating on the long-term consequences of smoking," she said. "Kids know smokers can die of cancer...but because these particular youth did not identify as smokers, they just didn't believe it could happen to them. We knew that these at-risk youth needed to feel in control and independent, so we had to talk about tobacco in ways that let them see themselves."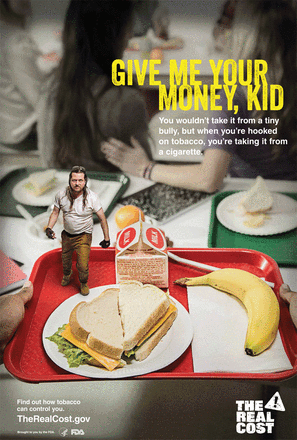 The FDA campaign, which launched earlier this year, is just one example of a creative and innovative public health messaging campaign designed to break through a cluttered media landscape and stick in the mind of audiences. And while changing health behaviors and preventing risky behavior is always a difficult messaging challenge, FDA did have one advantage — there is virtually no debate that smoking is a deadly habit. However, not all health issues are so cut-and-dried in the eyes of the public, and how and through what medium public health officials present persuasive evidence can make all the difference. Vaccine safety is one such issue, researchers said.
"Vaccines are one of the most controversial health issues and one that links up with a series of religious, political and cultural issues that can be polarizing," said Brendan Nyhan, PhD, a professor in the Department of Government at Dartmouth College. "It's an issue that's especially likely to cause people to refuse to accept corrective information."
Nyhan co-authored a study on effective vaccine promotion messaging published in the April issue of Pediatrics. To conduct the study, Nyhan and his colleagues targeted nearly 1,800 parents with four messaging interventions: information disputing the lack of evidence between the measles, mumps and rubella vaccine and autism; information about the dangers of the three diseases; images of children suffering from diseases the vaccine prevents; and a story about an infant who almost died due to measles. Despite the fact that the first intervention reduced belief in the vaccine-autism link, none of the messages actually increased a parent's intent to vaccinate a child. In fact, the study concluded that attempts to correct vaccine misinformation may be especially counterproductive.
Unfortunately, facts may matter much less than advocates would like to believe, Nyhan said. On an issue such as vaccine safety, the messenger — not the message — may be key, he said. For instance, a family physician may be much more effective at changing parental intentions than a brochure from local health officials. Nyhan also noted that while it is important to counter misinformation, health officials run the risk of framing vaccine safety in the context of a debate. In other words, a debate gives the impression that both sides offer equally legitimate evidence.
"Giving lay people scientific evidence is low on the list of likely effectiveness and might actually hurt," he told The Nation's Health. "But no one should take this study as the last word."
Framing the debate is key, as researchers with the Pew Charitable Trusts found in their work on fluoridation messaging. In testing messaging that oral health advocates could use in their communities, researchers found that framing community drinking water fluoridation as "safe" was the wrong tactic.
"Everyday people just want to be healthy, so let's start there," said Elizabeth Barajas-Román, EdM, manager of the trusts' Children's Dental Campaign. "If you're saying it's safe, then that begs the question, 'Well, is it not safe?' We shouldn't talk about whether it's safe — there's 70 years of research to say it's safe...We need to talk about the benefit to health and the impact on overall lives."
In researching fluoridation messaging, Pew researchers found that advocates need to lead with the health benefits of fluoridation, noting that many Americans are unaware that adults and children face serious oral health problems. Their research also found that advocates need to stake out a place online and in social media, where misinformation flourishes. Barajas-Román said that when advocates talked about how poor oral health impacted people's lives, such as taking time away from work and school, people became more open to discussing the issue.
"This is the more empathetic approach," she said. "It allows advocates to touch on their real passions for the health of children and families."
APHA member Patrick Remington, MD, MPH, associate dean of public health at the University of Wisconsin-Madison and co-author of "Communicating Public Health Information Effectively: A Guide for Practitioners," said public health advocates should be very active and vocal when the evidence is clear, even if there is not an effective way to translate that evidence into public health outcomes. However, he also said public health advocates should be honest when the evidence is uncertain — "one of our big challenges is communicating complex public health issues when the evidence is confusing.
"Today, the minute you publish an article or give a presentation, it's in the public domain," Remington said. "Gone are the days when professional societies can debate issues privately."
Remington noted that some of the most effective strategies tailor messages specifically for the public as well as policymakers, instead of creating one message to fit both.
"It's important that we communicate with the people who can create the conditions in which people can be healthy," he said.
Community engagement is another critical component, said APHA member Renata Schiavo, PhD, MA, past chair of the Health Communication Working Group within APHA's Public Health Education and Health Promotion Section.
All messaging activities are more effective when practitioners engage the community they ultimately want to reach in a message's development and in the planning of the overall communication intervention, she said. For example, developing a messaging campaign that simply encourages people to exercise misses the mark if the intended audience faces social and environmental barriers that impede physical activity opportunities. However, engaging residents in message development will help practitioners identify barriers and engage the correct audience, such as policymakers, in advocating for change.
"Knowledge is important, but not sufficient to create change," said Schiavo, who is also a senior lecturer at Columbia University's Mailman School of Public Health and founding president and CEO of the Healthy Equity Initiative. "To create action, we need to engage people."
Ultimately, the message should reflect the voice of the audience, said Maria Brann, PhD, MPH, an associate professor at Indiana University-Purdue University Indianapolis and affiliate faculty at the West Virginia University Injury Control Research Center. Brann and her colleagues created a social marketing campaign to improve all-terrain vehicle safety among young people in West Virginia, where the number of ATV-related deaths per capita is nearly eight times higher than the national average. In West Virginia, where riding ATVs is a way of life, involving young people in shaping the message and relaying the message was critical. Knowing that autonomy was important to their pre-teen audience, researchers eventually developed the CHOICE campaign, which takes the first letters from the campaign's six safety tips: check your gear, handle the machine, observe your environment, ignore peer pressure, coach others and enjoy the ride.
During its pilot, Brann said the campaign reached hundreds of students primarily in north-central West Virginia, and researchers are working to integrate the campaign in health curriculum across the state.
"Behavior change is a process and it takes time," she said. "The biggest lesson I've learned is that changing behaviors is incredibly hard."
For more on public health messaging, visit www.nphic.org.
Copyright The Nation's Health, American Public Health Association