Nearly 200 nations came together in Paris in December to accept a climate change agreement that is being heralded as a pivotal moment for global health and a turning point in work to mitigate and adapt to climate change.
Unlike previous international climate change accords, the agreement that came out of the Paris Climate Conference, also known as the Conference of Parties 21 or COP21, will commit nearly every nation to lowering greenhouse gas emissions, with an aim of keeping global warming below 2 degrees Celsius, the point at which scientists estimate the world will face the worst effects of climate change.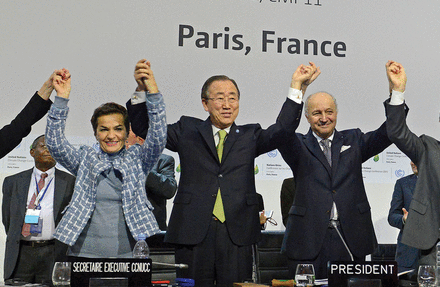 The Paris agreement also "strongly urges" developed countries to ramp up their financial support of mitigation and adaptation efforts in developing and vulnerable nations, with a goal of providing $100 billion annually by 2020. According to the agreement, nations will submit updated climate plans every five years and beginning in 2023, parties to the agreement will meet every five years to assess their progress on all fronts, including adaptation, mitigation and emission reductions.
"When historians look back on this day, they will say that global cooperation to secure a future safe from climate change took a dramatic new turn here in Paris," said United Nations Secretary-General Ban Ki-moon, MPA. "Today, we can look into the eyes of our children and grandchildren, and we can finally…tell them that we have joined hands to bequeath a more habitable world to them and to future generations."
In advance of the Paris conference, countries submitted their own greenhouse gas reduction goals, officially known as "intended nationally determined contributions." For its part, the U.S. committed to reducing its emissions by 26 percent to 28 percent below 2005 levels by 2025 and to make its "best efforts" to reach a reduction of 28 percent. According to the U.S. contributions document submitted to the Conference of Parties, U.S. officials plan to use a number of existing policy tools to reach their targets, including the new federal Clean Power Plan to reduce carbon pollution from power plants, which are the nation's single largest source of global warming emissions. It is the implementation of such emission-cutting policies — much of which will depend on the actions of state officials — that advocates such as Kim Knowlton, DrPH, will be closely watching.
Knowlton, an APHA member and senior scientist and deputy director of the Science Center Program at the Natural Resources Defense Council, traveled to Paris during the climate conference to help release the council's new toolkit for developing heat wave early warning systems — a weather event expected to increase due to climate change. She described the Paris agreement as an "enormous public health victory" and called on advocates to leverage the urgency of the agreement to support the rapid expansion of health-protective adaptation efforts, such as the Centers for Disease Control and Prevention's Climate-Ready States and Cities Initiative — an effort she called the "jewel in the crown of U.S. climate-health preparedness."
"We have to take steps to promote health in a way we've never seen before," Knowlton told The Nation's Health. "If we don't take this opportunity and be more vocal advocates, we're going to see a picture of the future so disrupted by the end of the century — we don't want our children and grandchildren to have to contend with that. It's incumbent on public health to be clear messengers and say 'we must act now.'"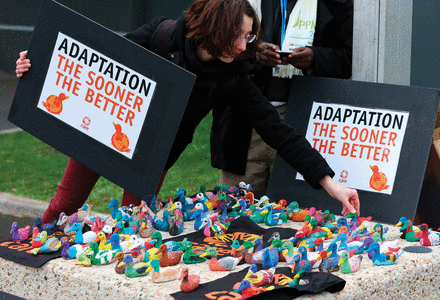 While the Paris agreement does not go into detail as to the mitigation of specific climate-related health impacts, Knowlton noted that health is presented as a central consideration and motivation for action. For instance, the agreement language specifically recognizes the health-promoting co-benefits of climate mitigation, while also noting that nations should respect, promote and consider the "right to health" when addressing climate change.
"Health was not only seen as a human right, but as an organizing principle," Knowlton said.
Assisting developing nations in climate-related mitigation and adaptation was another major outcome of the conference, especially as the Paris agreement — for the first time in international climate negotiations — does not exempt developing nations from reducing emissions. For its part, the U.S. committed to doubling its grant-based funding for adaptation by 2020. As of 2014, the U.S. had invested more than $400 million annually to support climate adaptation in developing nations.
APHA member Rachel Morello-Frosch, PhD, MPH, a professor in the University of California-Berkeley Department of Environmental Science, Policy and Management, said while the new funding pledge is a step forward, developing nations were vocal during the negotiations that more is needed to cut emissions while still fostering and protecting their communities.
Morello-Frosch, who also serves as a professor within Berkeley's School of Public Health, said ensuring climate justice in implementing the Paris agreement should be a critical indicator of progress. Climate justice refers to addressing the unique vulnerabilities among low-income and minority communities as well as the disproportionate adverse impact of both climate change and less reliance on fossil fuels for developing nations.
In the coming years, she said public health practitioners can play a key role in tracking the true effectiveness of climate-related actions and their impacts on equity. For example, she pointed to California's cap-and-trade system for reducing greenhouse gas emissions and the "incumbent" need to monitor whether major emitters are "simply buying their way out of the problem" or embarking on real pollution reductions.
"I do think climate change is the major public health challenge of our lifetime," Morello-Frosch said. "This challenge threatens life as we know it on the planet, and for some groups more than others."
Turning the Paris agreement into an on-the-ground reality will take more than action from policymakers. For example, in December, 45 additional medical, public health and nursing schools around the world signed onto the Health Educators Climate Commitment, bringing the total number of schools to 118, ranging from schools in Canada to India to South Africa. In signing the commitment, schools pledge to educate and train their students on the health effects of climate change.
Also in December, the White House announced that a total of 154 companies had signed the American Business Act on Climate Pledge, in which companies pledge to reduce their own emissions, among other measures.
"I really do think this is a turning point for our country and, quite frankly, our public health voices have contributed greatly," said APHA member Nsedu Obot Witherspoon, MPH, executive director of the Children's Environmental Health Network. "We need to take full advantage of this moment and do all that we can to protect the most vulnerable. We have a lot to do."
For more on the agreement, visit http://newsroom.unfccc.int.
Copyright The Nation's Health, American Public Health Association