Next month, the Supreme Court will consider whether a Texas law that would close about 75 percent of the state's abortion clinics harms women's health and puts an undue burden on those seeking abortion care.
The court case, Whole Woman's Health v. Cole, is just the latest in a series of legal and social measures working to preserve the health protections afforded to Americans by Roe v. Wade. But 43 years after the landmark case legalizing abortion, public health advocates are still fighting to protect reproductive health care and access.
In January, APHA issued a friend-of-the-court brief in support of the plaintiffs in the Texas case, noting that H.B. 2, the 2013 Texas law that required abortion providers to have admitting privileges at a hospital no more than 30 miles from the clinic and clinics to have facilities equal to an outpatient surgical center, puts "substantial and unconstitutional obstacles to the exercise of a constitutional right…and create(s) a grave risk to public health." Fifty-nine deans, chairs and scholars signed onto the brief, APHA's second in the case.
"Access to reproductive health services, including abortion, are absolutely integral to the health and well-being of individual women and to the broader public health," said Nicole Burda, MPH, APHA's deputy director of government relations. "H.B. 2's requirements are harmful and medically unnecessary. They do not improve quality of care to women seeking abortion and must be struck down."
At APHA's 143rd Annual Meeting and Exposition in November in Chicago, APHA's Governing Council concurred, approving a policy statement opposing admitting privilege requirements. Another 2015 policy statement called restricted access to abortion a human rights violation that demanded public health intervention.
Despite this, abortion access nationwide faces risks. The Texas case is an example of targeted regulation of abortion providers laws, which aim to restrict abortions by limiting where they can be obtained. Such laws are being proposed across the country on local and state levels. Meanwhile, the fiscal year 2016 Omnibus Appropriations Act, a two-year budget agreement enacted in November, included a 7 percent reduction in funding for international abortion providers.
Reproductive health also came under attack last year by the release of edited and misleading videos designed to undercut Planned Parenthood, leading to calls from opponents to strip federal funds from the organization. Indeed, the first House vote of 2016 was to defund Planned Parenthood, the eighth vote of its kind in the past year. President Barack Obama vetoed a bill with the language in January.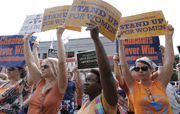 Abortion rates are on the decline across the country, according to the Centers for Disease Control and Prevention. In the Nov. 27 Morbidity and Mortality Weekly Report Surveillance Summary, CDC reported that just over 699,000 abortions were reported for 2012. The number represents a 17 percent decrease in abortion since 2003, according to the report. That might seem like a win for antichoice advocates, but the data covers a time when laws targeting providers were not as prevalent, according to a 2015 report from the Guttmacher Institute. Instead, a reduction in overall abortion numbers could be related to more and better use of contraceptives, as unintended pregnancy was the main reason given for abortions, according to the CDC summary. The MMWR findings showed that use of intrauterine devices and hormonal implants had increased. Research cited by MMWR showed that providing no-cost contraception for women increases its use and can reduce the number of unintended pregnancies and abortions.
The landscape is not all bad for 2016, said Jessica Arons, JD, president and CEO of Reproductive Health Technologies Project in Washington, D.C. Both in health care and legislation, Arons said there were things to be hopeful about.
The introduction of H.R. 2972, the Equal Access to Abortion Coverage in Health Insurance Act, or EACH Woman Act, in 2015, called for the federal government to ensure coverage for abortion care in public health insurance programs, including Medicaid, Medicare and the Children's Health Insurance Program, and to ensure abortion care is covered by employer or health plan sponsored insurance programs. The bill had 70 co-sponsors, and a similar bill is expected to be introduced in the Senate this year.
Public support for the bill is heartening, Arons said. Supporters include All Above All, a nonprofit organization working to lift bans denying abortion coverage, such as the Hyde Amendment that restricts federal funds from being used for abortion care. But she said that public health advocates need to join in the fight to protect health care.
"It's really important to see the public health sector stand up for evidence-based policies…and not allow certain segments of health care to be siloed," Arons told The Nation's Health. "If you care about public health, abortion has to be your issue too."
The Supreme Court will hear arguments on Whole Woman's Health v. Cole on March 2. In the meantime, Texas continues to have just 15 abortion providers, down from more than 40, to serve those seeking care, said Nan Kirkpatrick, executive director of the Texas Equal Access Fund, a nonprofit organization that helps people pay for their abortions in the Dallas-Fort Worth area. The restrictions have led to waiting periods averaging 23 days from making an appointment to getting an abortion, Kirkpatrick said — making abortion more expensive and complicated than it needs to be.
Despite the restrictions, Kirkpatrick said she was "cautiously optimistic."
"We're not against the ropes necessarily," Kirkpatrick told The Nation's Health. "We saw there were 45 briefs supporting Whole Woman's Health, including a brief from the Obama administration, so clearly there's a lot of widespread support. So I'm hopeful."
For more information, visit www.supremecourt.gov and www.apha.org/repro-health.
Copyright The Nation's Health, American Public Health Association