Advocates who support reproductive health are worried. With the new White House enacting policies that undermine women's health, and Congress reviving its quest to defund Planned Parenthood's health centers, reproductive rights are under attack, in the U.S. and globally.
On Jan. 23, President Donald Trump signed an executive order reinstating the Mexico City Policy, also known as the global gag rule, which prohibits U.S. funding for international health organizations that offer family planning options that include abortion. The executive order expanded the global gag rule, however, from the one that Republican presidents have enacted since it was first issued in 1984. Trump's order applies to "global health assistance furnished by all departments or agencies." That means nongovernmental organizations could be stripped of U.S. funding if they even mention abortion as an option.
"Limiting support for comprehensive reproductive health services takes us back to failed policies that harmed women's health," APHA Executive Director Georges Benjamin, MD, said in a Jan. 23 statement.
Indeed, the global gag rule has been associated with an increase in maternal deaths and unsafe abortions, as women are less able to get referrals to safe care. In a Jan. 30 statement, Amy Gopp, MDiv, MA, vice president for external relations at IMA World Health, a faith-based nonprofit organization providing health care in vulnerable communities around the globe, said, "Women will die because of this order."
The global gag rule's effects go beyond reproductive health, however. Because the rule applies to all NGOs, more organizations will be silenced or risk losing funding — leaving some communities without any health care, including efforts to fight HIV, malaria and tuberculosis, said Jonathan Rucks, MS, director of advocacy at PAI. He noted that in 2003, Planned Parenthood Association of Ghana rejected the global gag rule. The organization lost $200,000 in U.S. Agency for International Development funding, leading to layoffs for more than 40 percent of its nurses and reducing health care for 1,300 communities.
"Any partner who's doing quality, innovative work is going to be adversely affected," Rucks told The Nation's Health. "It's going to do massive harm to family planning assistance."
The harm does not stop at U.S. borders, however. On Jan. 12, the Population Institute released its fifth annual report card on reproductive health and rights, downgrading the U.S. to an overall "D" grade. State restrictions on abortion — from targeted restrictions of abortion providers to efforts to defund Planned Parenthood — as well as national trends, such as the teen birth rate, which is at its lowest rate in history but still higher than any other developed country, led to the grade. So too did congressional efforts to roll back health access, including attacks on Title X funding, the only federal grant program dedicated to providing comprehensive family planning and preventive health services, and on Planned Parenthood.
Jennie Wetter, MA, director of public policy at the institute and an APHA member, said that in the past, the Senate could prevent such attacks from going into effect, though congressional inaction in the wake of the Zika outbreak in 2016 was troubling. But anti-abortion efforts at the state level, she said, are more likely to do immediate harm, and do not get the attention national news does.
"The states are becoming incubators for testing these things out," Wetter told The Nation's Health. "States are really where everything is happening, where you're seeing scary abortion laws passed. It's really important that advocates are lending their voice and letting officials know at every level that they care and that reproductive access matters."
Particularly worrisome, Wetter said, is the geographical burden many people face in accessing reproductive health care. Seven states have just one abortion provider, and while others may have more, they are sometimes clustered. Wisconsin, for example, has three providers, but they are in Milwaukee and Madison, in the southeast corner of the state. A woman living in the north part of the state might have to drive more than five hours to get to a clinic. Texas saw the same thing happen after it passed H.B. 2, a law that required abortion clinics to meet hospital-level standards and providers to have admitting privileges at local hospitals, effectively shutting down all but a few clinics. The law was struck down by the Supreme Court in 2016, as it placed an undue burden on patients.
Economic burdens also play a role, Wetter added. A recent Texas rule would require fetal remains to be given a burial or cremated, adding to the increasing costs of abortion care, as well as the issues of travel — particularly if states have waiting periods — and childcare, wages lost and more. The rule is being challenged by the Center for Reproductive Rights.
There is some good news: The Guttmacher Institute on Jan. 17 reported that due in part to increased education and access to contraceptive care, the U.S. abortion rate fell to a historic low since the passage of Roe v. Wade in 1973. Heather Boonstra, director of public policy at the institute, said the evidence points to fewer unintended pregnancies among U.S. women. The Affordable Care Act, targeted for repeal, offers no-copay contraceptive options, including long-acting reversible contraceptives, which are the most effective at preventing pregnancy.
"Women today are better able to prevent unintended pregnancy than in the recent past," Boonstra told The Nation's Health.
She also noted that such improvements are likely to take a hit politically, possibly rolling back progress.
The Guttmacher Institute report also noted that some of the decline in the abortion rate might be attributed to the restrictions that have been increasing in recent years. Advocates noted that a lower abortion rate is not necessarily a win for public health, as it may indicate barriers to access.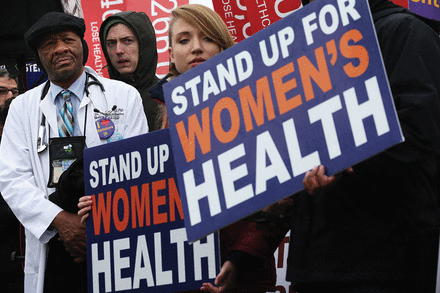 Also at risk: Sexual health education. Without a vocal proponent of comprehensive sex education in the White House, advocates are concerned that the steps that have been made to reduce teen and unplanned pregnancies, as well as sexually transmitted infections, could be lost.
Chitra Panjabi, MA, president and CEO of the Sexuality Information and Education Council of the United States, said advocates are concerned that funding for abstinence-only programs, which have already received $2 billion in federal funding in the past three decades, may continue to gain backing.
"Sexuality education is the foundation of sexual and reproductive health and rights," Panjabi told The Nation's Health. "Unfortunately, we know that advances for sexuality education face severe challenges under this administration and current Congress; fighting the further entrenchment of misinformation and 'alternative facts' is sadly nothing new when it comes to the pursuit of sexual health, rights and justice."
For the Population Institute's report card on reproductive health, visit www.populationinstitute.org.
Copyright The Nation's Health, American Public Health Association