Public health advocates are often encouraged to think big. Oktawia Wojcik wants them to think small. Really small.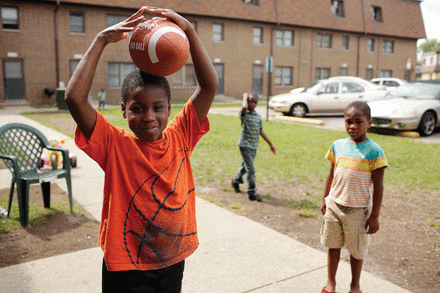 Wojcik, PhD, a program officer for the Robert Wood Johnson Foundation, oversees the 500 Cities Project, a partnership between RWJF, the U.S. Centers for Disease Control and Prevention and CDC Foundation. It is the first data analysis of U.S. Census Bureau tracts within the 500 largest American cities that identifies, analyzes and reports on indicators of multiple measures of chronic disease, down to the neighborhood level.
Launched in February 2016, the 500 Cities Project is designed to offer stakeholders in cities and neighborhoods across the U.S. the information that will help them make better decisions on allocating funds to target key areas of public health, spanning behaviors, outcomes and prevention. Using the data available online, stakeholders can map their cities and see where the greatest needs are when addressing heart disease, diabetes, nutrition and physical activity — and they are able to see where those needs overlap.
Maps were first made available online in December, and they got an interactive update this spring. As of mid-February, more than 400 of the cities' map books had been downloaded for local use.
"We've heard a need for this kind of data, and we continue to hear that need," Wojcik told The Nation's Health. "It seems like the data is really being taken up by folks."
CDC, funded through a RWJF grant offered through the CDC Foundation, used data collected through the Behavioral Risk Factor Surveillance System, a system of health-related phone surveys of U.S. residents and their health and health behaviors, to model predictions of the prevalence of health issues and outcomes at both city and neighborhood levels.
James Holt, PhD, MPA, team leader for analytic methods at CDC and an APHA member, said most health data are available at the county or state level, which is fine for broad programming, but could miss key areas where risks are higher for certain diseases or behaviors. The 500 Cities Project data go deeper. Public health officials at the city or county level who want to establish public health prevention programs, but have limited resources, can make efficient use of their time and money by using the data, he said.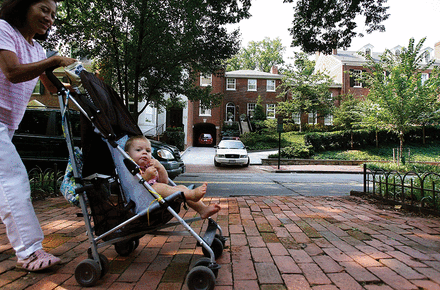 "We think it provides a lens that was just not available to health officials previously," Holt told The Nation's Health. "You want to go where the need is highest — this will point you toward parts of the city where you might want to start your intervention efforts."
The updated maps also allow users to sort by social demographics, which Holt noted offer some telling information: Social determinants of health are "very pronounced" in nearly every city, where poorer neighborhoods have particularly poor health outcomes.
For example, in Washington, D.C., asthma rates have the highest concentration in the lowest-income neighborhoods — particularly near a shelter for families who are homeless.
Chronic obstructive pulmonary disease among adults was highest in that neighborhood and a few others. And the neighborhood also showed the highest rate of adults who said they had 14 or more days where their physical or mental health was "not good."
That neighborhood also had the highest uninsurance rate in the district, according to the 500 Cities Project data. While the association between social determinants of health and health outcomes are well established, there is value in having that predicted data illustrated so explicitly.
The 500 Cities Project is not the only public health program focusing on the hyper-local level. For more than 20 years, the Urban Institute has partnered with local organizations to connect local health leaders with neighborhood data in its National Neighborhood Indicators Partnership. The partnership aims to build local capacity for data-driven decision-making, inform local and national policy based on what has worked on local levels and grow support for community information systems.
Unlike the 500 Cities Project, the National Neighborhood Indicators Partnership does not have a single dataset for people to use. Rather, the partnership has ties to independent data organizations in 32 cities across the U.S. that have a shared mission to collect and organize community-level data to help the stakeholders there make choices that will improve local health, said Kathryn Pettit, MPP, senior research associate at the Urban Institute.
Pettit said the Urban Institute serves as the intermediary, connecting those who have the data with those who want them, facilitating peer-learning among the cities and helping cities that do not have a local data intermediary, but want one, to start building their own.
"The network started because we really believe neighborhood-level data is essential," Pettit told The Nation's Health. "Conditions are not equal across cities. You will overlook a lot of deep disparities if you are just looking at a city- or a county-level number."
Moreover, Pettit said, getting hyper-local buy-in is essential for public health programs to work. The people who live and work in a neighborhood know it best. Adding science to the mix, and bringing people together, supports success.
"It's a touch point to get people talking, if you have housing people and police at the table, and medical professionals, and teachers, who all know different parts of the community, who can think about causes and solutions to different topics," Pettit added. "Data's a great way to structure that conversation."
The partnership was tapped by RWJF in December to help organize its 500 Cities gathering in Dallas, showing how data might be used on small and large scales, Pettit said.
Some public health advocates are casting their nets a little wider, looking at how city- and county-based policies can lift all communities, including those most in need. On Feb. 15, the de Beaumont Foundation released its CityHealth ratings set, the result of a two-year study of best policy practices. The ratings include a package of nine science-backed policies that have worked to improve health in the 40 largest cities in the U.S., said Ed Hunter, MA, president and CEO of the de Beaumont Foundation and member of APHA. Hunter called policy "one of the most important tools we have, a lever that can effect tremendous positive change for many numbers of people."
Of the cities included in CityHealth, Hunter said only five got overall gold ratings, earning high marks in five out of nine policies reviewed: New York City, Boston, Chicago, Los Angeles and Washington, D.C. So even in the healthiest cities, there is still room to improve, in policies such as zoning for alcohol sales, city planning, complete streets, affordable housing and strong education systems, said Jonathan Fielding, MD, MPH, MBA, MA, a professor at the Fielding School of Public Health and the Geffen School of Medicine at the University of California-Los Angeles and APHA member. Fielding served on the expert advisory committee for CityHealth and is the former director of the Los Angeles County Department of Public Health.
"What most people don't realize is how much can be done at the local level to improve health," Fielding told The Nation's Health. "Policies are basically the way we make the greatest improvement over time in public health."
One area requiring efforts from public health: Income inequality. In December, the Census Bureau issued its latest findings in its Small Area Income and Poverty Estimates, which provides single-year income and poverty statistics for all counties and school districts in the U.S. The findings showed some improvements in income and reducing poverty, though some communities showed declines in income. And more than 37 percent of U.S. school districts had a school-age poverty rate that was higher than 20 percent.
Meanwhile, updates to the 500 Cities Project were made in March, and more cities are accessing and using the data. The funding for the project ends in the fall, though Wojcik said RWJF will be coming out with more hyper-local data at that time, and urged public health advocates to "stay tuned."
That is good news for communities, because Pettit, at the Urban Institute, said she sees people are hungry for data below the city level. Building such information out nationwide is "a heavy lift," she added, but offerings like the National Neighborhood Indicators Partnership and 500 Cities Project are "training wheels, or a first step" toward such a goal.
"(Communities can) build these muscles about how they will deal with problems in their community through different kinds of data," Pettit said. "Data (will provide) a factual base to start advocating for people and areas in their community."
To access the 500 Cities Project data, visit www.cdc.gov/500cities. For the CityHealth ratings, visit www.cityhealth.org.
Copyright The Nation's Health, American Public Health Association