For many transgender people, accessing quality, gender-affirming health care is out of reach, a fact that Danielle Castro, MA, MFTi, knows well.
As the project director for community-based research at the Center of Excellence for Transgender Health at the University of California-San Francisco, and a community advocate, Castro is no stranger to the hurdles that transgender people regularly face in seeking health care, from derogatory comments to physical violence.
"We've made great progress but we're still not at a point where trans people living in the United States have access to competent health care," Castro told The Nation's Health.
Where Castro lives in the San Francisco Bay Area, transgender people have access to a range of community health initiatives, she said, such as Tom Waddell Health Services — which in 1993 created Transgender Tuesdays to offer a safe space just for transgender people to seek care. And the San Francisco Department of Public Health has expanded health coverage options for transgender city residents who receive public insurance.
"All of those things happened because of the drive of community leaders and the commitment to not back down in the face of the adversity that exists," Castro said.
Historically, community-based initiatives that cater to the LGBTQ population were borne out of a need to fill the gaps in traditional health care. Many providers still lack the training and knowledge necessary to treat transgender patients. Transgender people — who face on average higher rates of physical and sexual violence, mental health issues and suicide than their cisgender counterparts — are in great need of spaces that are not only welcoming, but also offer medically necessary services, such as gender-affirming hormones.
One such space is Fenway Health in Boston, which has served the local LGBTQ community since 1971. The multi-branch health care center is also the largest provider for and employer of transgender people in Massachusetts.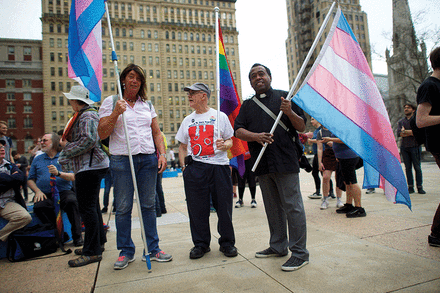 Serving such a large transgender patient base can be attributed to Fenway Health's dedication to cultural competency regarding transgender health issues, according to Alex Keuroghlian, MD, MPH. He is director of education and training programs at the Fenway Institute, a center for education, training and policy development. Keuroghlian works with health care centers throughout the U.S., sharing evidence-based best practices for transgender health care.
"We have to provide gender-affirming medical care to align people's bodies with their gender identity," Keuroghlian told The Nation's Health, such as Pap smears for transgender men and prostate exams for transgender women.
Providing appropriate care is heavily dependent upon collecting comprehensive, accurate data that include basic information such as patients' gender identity, as well as proper names and pronouns, as opposed to the ones they were assigned at birth. In general, few data are collected on sexual orientation and gender identity in electronic health records. But without such information, providers may make incorrect assumptions about patients. Not only are negative experiences with medical providers uncomfortable for transgender patients, but such occurences may also deter transgender people from accessing care they need.
Transgender-affirming health care is far from mainstream practice. According to the 2015 U.S. Transgender Survey conducted by the National Center for Transgender Equality, one-third of respondents reported at least one negative experience related to being transgender when visiting a health care provider, including verbal harassment or refusal of treatment. About one-quarter did not seek out needed health care in the year before they took the survey out of fear of mistreatment.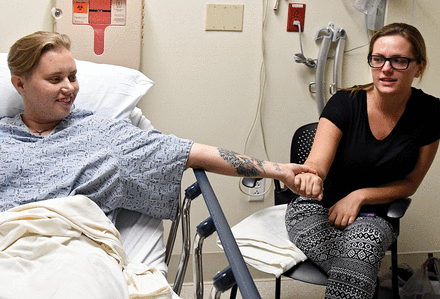 "Being transgender isn't a disease that requires a specialty clinic," Keuroghlian said. "It's a community and a minority population, and we need to include them in the fabric of health care ubiquitously."
However, many transgender people may feel safer receiving health care at an organization with a strong reputation for serving transgender and LGBQ patients, such as the Ruth Ellis Center in Highland Park, Michigan. The center offers a safe haven for LGBTQ youth, an especially vulnerable population. According to the Centers for Disease Control and Prevention, such young people are at higher risk for depression, substance use and engaging in risky sexual behaviors.
The organization collaborated with the Detroit-based Henry Ford Health System to bring primary care services to the same place that youth go for meals, shelter and socializing with friends.
"This is a space that was built for them," Maureen Connolly, MD, a pediatrician in the Henry Ford Health System's school-based and community health program, told The Nation's Health.
Beginning in May 2016, providers from the Henry Ford Health System brought one of its mobile units — a "big blue bus with a clinic on it," as described by Connolly — to the center. Every Wednesday, the mobile clinic brings primary care services directly to young patients. And through a partnership with Henry Ford Pharmacy, all out-of-pocket medication costs are covered.
"These people really are at the center of a lot of systems of oppression," Connolly said. "There's just a lot going on in their lives."
Social and economic disadvantages have a negative impact on health outcomes for transgender people, evidenced by disproportionately high rates of HIV among the population, for example. Transgender women of color in particular face multiple forms of oppression that threaten their lives. In 2016, 27 transgender people were reported killed in the U.S., most of whom were transgender women of color.
"The underlying philosophy that we use in terms of our approach to care is first and foremost utter joy and celebration of our patients," Connolly said. "We recognize that even to walk through the door of a health care space is an achievement for them."
It is especially an accomplishment for LGBTQ youth, a demographic that Lance Hicks, an intern at the center, focuses on in his work as a community organizer and youth advocate. He works closely with young people who are homeless and precariously housed, many of whom are transgender. The 2015 U.S. Transgender Survey found that 30 percent of respondents had experienced homelessness at some point.
"These limited resource systems mean (transgender people are) sort of forced to put ourselves at risk," Hicks told The Nation's Health.
Members of Detroit's transgender community often rely on one another for support. According to Hicks, many transgender people use word-of-mouth referrals for health providers to ensure that they will be safe when seeking care. One such system is the Transgender Michigan online directory of resources for health and other services, with input by and for transgender people.
Some health care providers may assume that they do not have to invest in more resources for transgender people because organizations such as the Ruth Ellis Center already offer such services, Hicks said. But larger health care systems and providers must carry some of the burden to create better outcomes for transgender people.
"What happens a lot of the time is staff says, 'We're not serving trans people and we need to,' but they haven't done any work to ensure that they're a safe place for trans people," Hicks said. "There needs to be efforts to make the systems that we have in place affirming of trans people."
Change will come about through centering transgender people in decisions about health care, advocates such as Castro say.
"Hire us to be a part of the systems and support us to create changes that are necessary and learn about what it means to be a trans person in a cis-dominated society," she said. "Em-power us and strengthen our movement and figure out ways we can advocate for these changes together."
For more on the Center of Excellence for Transgender Health, visit www.transhealth.ucsf.edu.
Copyright The Nation's Health, American Public Health Association