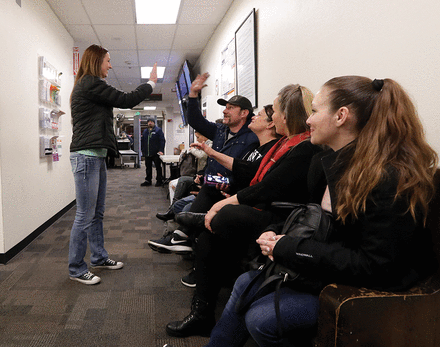 In January, the public health workforce received seemingly good news: After three years of decline, life expectancy in the U.S. increased slightly in 2018, with the improvement at least partially associated with falling opioid overdose deaths, officials said.
But life expectancy in the U.S. is still too low compared to other high-income countries around the world, and it is not nearly as high as it should be based on past trajectories for the nation. And when it comes to reducing U.S. opioid overdose deaths, it may be premature to celebrate.
The one-year life expectancy uptick is "welcome, but certainly does not represent a definitive reversal of recent trends," said Howard Koh, MD, MPH, a professor at the Harvard T.H. Chan School of Public Health and former U.S. Health and Human Services assistant secretary.
"We need much evaluation and years of evidence before we can say that the country has returned to a norm of steadily rising life expectancy," Koh told The Nation's Health.
The new life expectancy data was released Jan. 30 by the National Center for Health Statistics. "Mortality in the United States, 2018" reported that overall U.S. life expectancy is now 78.7 years. From 2017 to 2018, U.S. life expectancy at birth increased 0.1 year, and the age-adjusted death rate decreased 1.1%, according to the data brief. Another NCHS data brief released in January, "Drug Overdose Deaths in the United States, 1999–2018," found that overdose deaths decreased by 4.1% between 2017 and 2018 — an early sign that interventions may have slowed the nation's opioid crisis. The rate of overdose deaths has increased rapidly since 2013, with an average increase of 14% through 2016.
Increased access to naloxone and improved attention to medication-assisted treatment for people with opioid use disorders is reflected in the decrease in deaths, Koh told The Nation's Health, "but we need much more societal effort to overcome the longstanding stigma attached to substance use and build a true system of care and prevention."
While the decline was heralded widely as a hopeful sign that progress was being made in combating the U.S. opioid epidemic, the applause may have come too soon. Provisional data released by NCHS on Feb. 12 showed that over the first half of 2019, fatal overdoses across the nation were rising again, with much of the increase in the western U.S., where fentanyl overdoses are a growing problem.
Though provisional drug overdose death data are often incomplete, the February release shows that the U.S. may still have a long way to go to get back on course with increasing its life expectancy.
For decades, U.S. life expectancy had been on the rise, increasing steadily between 1959 and 2014. However, the rate of growth fell behind other wealthy nations around 1980 and has since lagged behind. The U.S. ranks 28th in life expectancy among other high-income nations, according to the latest edition of the "America's Health Rankings Annual Report."
Though the U.S. Census Bureau reported Feb. 17 that life expectancy should continue to inch up in the U.S. over the coming decades, it will still lag internationally. Even with a projected increase of 6.6 years for men and 5.3 years for women by 2060, growth will continue to fall behind other wealthy nations. The census report projects that the U.S. will rank 43rd among all other nations in life expectancy in 40 years.
An increase in deaths among working-age adults — ages 25 to 64 — has heavily contributed to the slowing expectancy growth in the U.S., according to a November 2019 study in the Journal of the American Medical Association by Virginia Commonwealth University researchers Heidi Schoomaker, MEd, and Steven Woolf, MD, MPH. They found the deaths were growing at a higher rate in Rust Belt states, Appalachia and northern New England at a pace fast enough to offset medical gains in other areas.
Finding a causal link for the changes in mortality was beyond the scope of the study, but Woolf suggested a potential reason could be something that falls outside of health — the economy. Major shifts in industry during the 1980s and 1990s, when many U.S. domestic manufacturing jobs disappeared, could have had sweeping impacts on stress, drug and alcohol use, and access to health care, Woolf said.
"The question of why mortality rates are increasing for some 35 causes of death does push you upstream to think about whether there is something systemic going on," Woolf, an APHA member and director emeritus of the university's Center on Society and Health, said. "This problem really can't be understood without thinking about changes in labor markets and industry and other policies that fall outside of the traditional public health discipline — but they are clearly relevant here."
Other data in the NCHS mortality brief found that the slight increase in life expectancy was reflected equally among men and women. In 2018, the average U.S. life expectancy was 81.2 years for women and 76.2 years for men.
Beyond overdose deaths, most of the upturn in life expectancy was linked to decreases in deaths from cancer, unintentional injuries, chronic lower respiratory diseases, and heart disease, NCHS reported.
The 10 leading causes of death remained the same from 2017, accounting for 73.8% of all deaths. Heart disease, cancer and unintentional injuries topped the list. While death rates fell for most of the leading causes, deaths by suicide increased to 14.2 deaths per 100,000 people. And deaths from influenza and pneumonia increased to 14.9 deaths per 100,000.
The infant mortality rate dropped 2.3% from 2017, NCHS reported. There were 566.2 infant deaths per 100,000 births in 2018.
For more information on the NCHS data, visit www.cdc.gov/nchs.
Better maternal mortality data offer key insights on US disparities
In addition to the information on overall U.S. deaths, NCHS released new data on maternal mortality for the first time in more than a decade.
While the new statistics showed that maternal mortality has increased — 17.4 maternal deaths per 100,000 live births in 2018, versus 12.7 in 2007 — CDC linked the increase to changes in reporting.
NCHS found that maternal deaths were highest among black women, with 37.1 deaths reported per 100,000 births — 2.5 times the rate of white women and 3.1 times the rate of Hispanic women.
By including a pregnancy checkbox on a national standard death certificate, significantly more instances of pregnancy-related death were identified. The new method adheres to World Health Organization guidelines, which measure deaths to be pregnancy-related up to 42 days after pregnancy ends.
The new reporting method is a promising step toward achieving more accurate estimates, Whitney Witt, PhD, MPH, chair of APHA's Maternal and Child Health Section, told The Nation's Health.
"(The report) further confirms the public health significance of these largely preventable deaths," said Witt, dean of Lehigh University's College of Health.
For more information, visit www.cdc.gov/nchs.
Copyright The Nation's Health, American Public Health Association