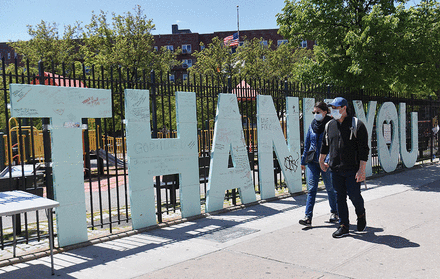 U.S. public health has long been considered a behind-the-scenes operation, working across all areas of American life to protect communities, despite little recognition and diminished funding. But in some ways, the coronavirus pandemic changed that.
Suddenly, public health terms became common household phrases: flattening the curve, physical distancing, contact tracing, herd immunity and even R naughts. Public health leaders have been mulling what lasting effects the growing public awareness will mean for the field, if any.
Public health has an invisibility crisis, according to APHA member Umair Shah, MD, MPH, executive director of the Harris County Public Health Department in Houston. For too long, he said, public health has been like the offensive line in American football: No one pays attention to the linemen unless the quarterback is sacked or something else goes wrong.
But public health now has an opportunity to raise its visibility. By doing so, people will understand the value of public health, which will lead to validation and pro-health policies and more funding, Shah said.
"I think it's time that we remind everybody (in public health) that we have to have our collective heads up because people do not understand what we do," Shah told The Nation's Health. "And when they do not know what we do compared to fire, EMS, police or health care delivery, unfortunately, public health suffers."
Tom Frieden, MD, MPH, former director of the U.S. Centers for Disease Control and Prevention, said that now is the moment for public health to show how effective and critical it is for the U.S.
"If this isn't a teachable moment, there will never be a teachable moment," he told The Nation's Health. "Our livelihoods depend on it."
Leaders say the pandemic could inspire young people to choose careers in public health. While bachelor's and master's degrees in public health have continued to climb this century, many graduates have been less likely to choose careers in governmental public health. However, Laura Magaña, PhD, MS, president and CEO of the Association of Schools and Programs of Public Health, said she believes there will be renewed interest in those roles too.
"Hopefully now people are more interested in seeing the importance of government's responsibility and jobs in terms of helping the national strategy, the state strategy and the local strategy," she told The Nation's Health.
She also predicted there will be more public health content taught at all levels of education — from kindergarten through high school and beyond.
"Now we need citizens that are more educated in terms of public health issues," Magaña said. "The world has taught us with this experience that we better start early."
There will also be a greater focus on core cross-cutting educational competencies, she said. Skills such as leadership, systems thinking, decisionmaking, creativity and collaboration will be increasingly important for students so they can respond to public health crises.
But "you cannot have everything possible in the curriculum," Magaña said. Instead, public health programs can focus on teaching students how to be self-learners who seek out new knowledge as challenges arise.
Universities will also need to be more flexible in how they deliver a public health curriculum. In addition to offering a four-year bachelor's degree, for example, a university may also develop online courses, a modular program or summer-only courses, she said. And schools in general will need to embrace new technology, as illustrated this spring when classes went online-only.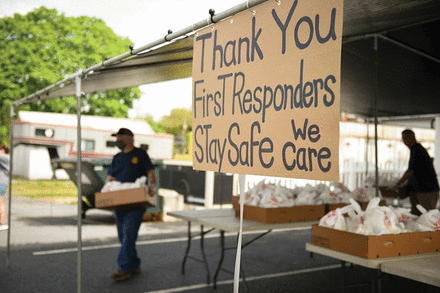 Another area that changed during the pandemic was more collaboration between the health care community and public health professionals, which could continue in the future.
"In almost every other nation, there is not a discriminator between medical care services and governmental public health," APHA Executive Director Georges Benjamin, MD, told The Nation's Health. "We're really the one nation in the world that has such a clear division between the two."
But during the coronavirus crisis, that division has evaporated, Benjamin said. Doctors and nurses working on the front lines are working as — and being recognized as — public health practitioners.
APHA member Kaye Bender, PhD, RN, FAAN, former president and CEO of the Public Health Accreditation Board, said that the collaboration has not been entirely smooth throughout the pandemic. However, there have been some bright spots that suggest better collaboration in the future.
"It really isn't a competition," Bender, who is a consultant and executive director of the Mississippi Public Health Association, told The Nation's Health.
Bender pointed to two other essential public health areas that have strengthened during the pandemic: technology use and the speed of information. Using technology for contact tracing is not a novel concept, but it was not universally embraced and used before, Bender said.
Typically, contact tracing for diseases such as tuberculosis and sexually transmitted infections has been done on foot, with follow-up by phone. But using technology for effective COVID-19 contact tracing is helpful, she said. Because the disease is so widespread and so contagious, on-foot contact tracing could put workers at risk.
Perfecting a surveillance system using apps can benefit contact tracing for other communicable diseases, such as TB and STIs, as well as future virus outbreaks, Bender said.
State and local health departments have also developed new ways to release information quickly during the pandemic. Again, releasing critical data — such as the number of COVID-19 infections and deaths per city, region or state — rapidly and broadly to all communities has long been discussed in public health. But the pandemic elevated the need, Bender said.
"The experience with COVID has shown us that with the right technology and the right experience of the workforce, you can get accurate statistics out every day if you need to," she said.
To ensure all communities have access to that data, the United States will need to focus more attention on expanding broadband internet access, she added. Broadband access is also critical for the increased use of telehealth. Last year, 73% of people in the U.S. had broadband access, compared with only 63% in rural communities, according to the Pew Research Center.
Technology could also play an important role after a COVID-19 vaccine is created, as government public health workers will need to collaborate with vaccine providers to develop a vaccine distribution plan and establish policies that prioritize who gets vaccinated first, Bender said. State and local health departments will be tasked with equitably distributing a vaccine quickly and managing vaccine registries for the long term.
"That's the back end of surveillance," Bender said. "COVID-19 is going to impose increased work for government public health workers for quite awhile."
State health departments will also need to continue to play a critical role in protecting the public's health throughout and after the pandemic.
"State health departments have a unique role to coordinate, strategize, facilitate and function at the state level as that chief public health expert and strategist," Bender said.
However, public health remains chronically underfunded, with spending declining over the past 20 years. Despite the increased attention to public heath, it remains unclear whether policymakers will increase investments in the public health infrastructure and workforce.
Local health departments alone lost more than 56,000 jobs since 2008 because of budget cuts, according to Trust for America's Health. While the U.S. spends about $3.6 trillion each year on health, less than 3% of that goes to public health and prevention, according to the organization.
In November, as part of the Public Health Leadership Forum, a group of experts created a plan for supporting U.S. public health infrastructure. The forum outlined core principles and criteria to establish a sustainable financing structure, said Bender, who was a part of the group.
The forum concluded there was a $4.5 billion shortfall below what was needed to support core public health capabilities, and that was before the pandemic reached the U.S. The nation spends $19 per person annually on public health, but it needs to spend at least $32 per person, the forum said.
Frieden is now president and CEO of Resolve to Save Lives, which works to prevent epidemics as one of its goals. He and other public health leaders called on Congress in May to create a "permanent budget cap exemption for public health functions that are critical to prevent, detect and respond to infectious diseases."
They suggested the creation of a health defense operations budget designation that would exempt critical functions from spending caps.
"This is a potential road for very stable and increased funding for public health for the long term," Frieden told The Nation's Health.
Reversing the funding decline and shoring up public health will require leadership, Benjamin said.
"It's going to take someone in Congress to say, 'This is going to happen, and I'm not going to give up,'" he said.
For more on the Public Health Leadership Forum, visit www.resolve.ngo/site-healthleadershipforum.
Copyright The Nation's Health, American Public Health Association