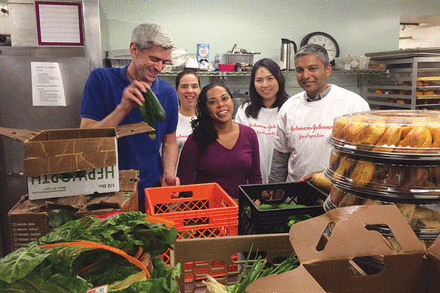 In June 2019, the community kitchen at Elijah's Promise served just shy of 7,000 meals. The same month this year, as the U.S. COVID-19 outbreak stretched into its fifth month, the New Brunswick, New Jersey, nonprofit organization served over 17,000 meals.
For public health services big and small, 2020 has been a difficult year. As job unemployment rose during the pandemic, more people turned to services such as Elijah's Promise for assistance. Fortunately for New Brunswick, the community organization will get a boost.
On July 15, APHA, the National Association of Counties and the Aetna Foundation announced that Elijah's Promise was one of 20 organizations chosen for the Healthiest Cities & Counties Challenge. Each organization in the initiative will receive $100,000 to implement multi-year projects to advance health equity in their communities.
For Elijah's Promise, that will mean both more meals and a larger impact. The organization will use the challenge grant in part to provide paid fellowships to students who work to improve food systems in schools by reducing waste and improving quality.
"It's a 'you give a person a fish' versus you 'teach a person to fish' scenario," Anthony Capece, MCRP, associate director of Elijah's Promise, told The Nation's Health. "It also can give something for a resume. It may not be much, but it could be the difference between a minimum wage job and something closer to living wage."
The 20 organizations in the challenge have a range of projects — from mentoring students to building robust data sets to informing heath policy — but all are focused at improving community health from the inside.
"Addressing the health challenges communities face requires a local approach," Eileen Howard Boone, MBA, president of the Aetna Foundation, told The Nation's Health. "We believe the Healthiest Cities & Counties Challenge will make a meaningful impact on social determinants of health at the local level because it builds on strong connections that organizations have in local communities. (It) gives them the resources they need to instigate meaningful change when it comes to access to healthy food and health care services."
For Jesse Mestrovic, MS, director of parks and recreation for the City of Wheeling, West Virginia, the challenge inspired a coalition of local partnerships and stakeholders to work together to improve the health of youth.
"No one is denying the value of grant dollars, but getting one-on-one advice from big national organizations like APHA and NACo is a huge benefit," Mestrovic told The Nation's Health.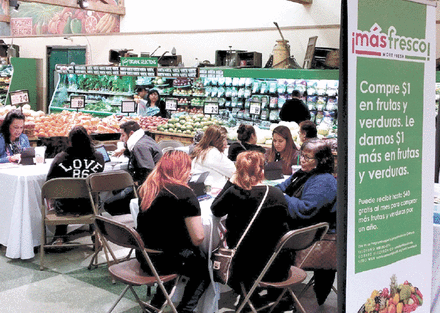 Mestrovic will work with a team to create Edible Mountain, a holistic youth health program that aims to improve access to local food as well as fitness and creative programs. While providing a social outlet, the program will also capture data and hear stories from the city's Black community, which has been historically underserved.
"The vision is to make Wheeling the healthiest place for youth in West Virginia, but we need to break down the walls so that we can learn to help each other," Mestrovic said.
One of the goals of the Healthiest Cities & Counties Challenge is for participants to serve as examples for other similarly sized cities and counties. The challenge helps community residents have a seat at the table with local decisionmakers, building opportunities for grassroots change, according to Brittany Perrotte, MPH, Healthiest Cities & Counties Challenge project director at APHA.
"They are the experts in their communities — they are the ones who know their context," she told The Nation's Health.
Each of the 20 challenge organizations will spend two years bringing together diverse partnerships, working with local health systems and possibly changing policy. Challenge participants will be part of a peer-learning network led by Healthy Places by Design, an organization that specializes in supporting community partnerships.
"There is no one-size-fits-all approach to achieving health equity," said APHA Executive Director Georges Benjamin, MD, in a news release. "Successful, lasting change comes from cross-sector partnerships and engaging affected individuals and communities, which is why this challenge is so powerful."
For the challenge team in Chula Vista, California, building a healthier community means finding ways to bolster systems that connect people directly with fresh foods.
In Forsyth County, Georgia, the challenge team is building an information warehouse to provide policymakers with information on the needs and challenges of people who come into contact with law enforcement. By filling in gaps in the system, county residents will be better able to connect with appropriate health and civil services, Angela Johnson, grant coordinator for Forsyth County, told The Nation's Health.
Other teams in the challenge represent Cambria County, Pennsylvania; Cincinnati, Ohio; Cleveland, Ohio; Collier County, Florida; Cumberland County, North Carolina; Deerfield Beach, Florida; Dougherty County, Georgia; Greenbrier County, West Virginia; Kerrville, Texas; Orange County, New York; Paterson, New Jersey; Perry County, Kentucky; Pittsburgh, Pennsylvania; Rochester, New York; Tompkins County, New York; and Wilkes County, North Carolina.
For more information on the Healthiest Cities & Counties Challenge and the team projects, visit www.healthiestcities.org.
Copyright The Nation's Health, American Public Health Association