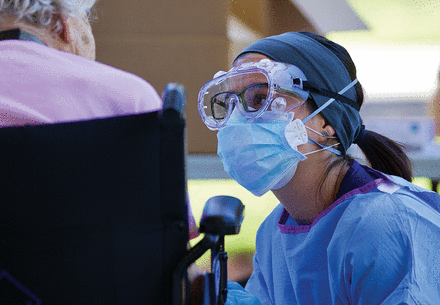 The battle against COVID-19 has transformed the lives of U.S. public health workers, many of whom have been working in crisis mode since late winter. In some health agencies, especially those at the local level that were already underfunded before the pandemic hit, the containment effort leaves little room for other public health work.
Public health workers on the ground spoke with The Nation's Health about their experiences during the pandemic.
Guadalupe Valdovinos, COVID-19 contact tracer
In the early days of the COVID-19 outbreak, Guadalupe Valdovinos would come home from work in tears, having spent the day tracking people down and telling them they may be infected with the deadly virus.
"Some people go into shock when they get that news," said Valdovinos, a public health investigator at the Houston Health Department in Texas. "There's a lot of fear and emotions."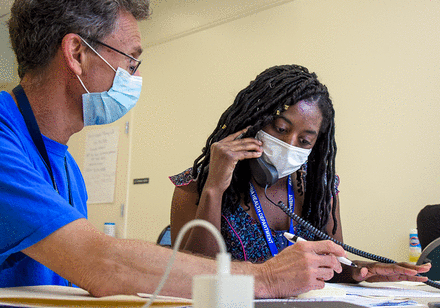 An STD contact tracer before the pandemic, Valdovinos was activated in March to use her skills to track COVID-19 instead. As of late July, each COVID-19 tracer — of which there are hundreds at the Houston agency — were working on 20 to 30 cases on any given day.
After years of tracking STDs, Valdovinos is adept at getting people to engage with her in difficult conversations. But the sheer volume of cases and suffering makes COVID-19 much harder in other ways.
"Sometimes you ask for someone who's already passed," she said. "Lots of people ask for help, they've lost their job, they need to pay rent. It's frustrating because you feel really limited."
The two types of tracing have a lot of similarities, she said, but it is still too risky to do the kind of face-to-face work tracers did to find people who may be infected with syphilis or HIV. COVID-19 tracing is done remotely.
To surge its COVID-19 response, the agency had to suspend its STD fieldwork. Valdovinos said she "can't imagine" the backlog of STD cases waiting for her when she returns to her everyday job.
Jessica Bauer, public health lab manager
After 18 years inside a public health lab, Jessica Bauer has a lot of emergency experience to draw on. But she said little of that prepared her for COVID-19.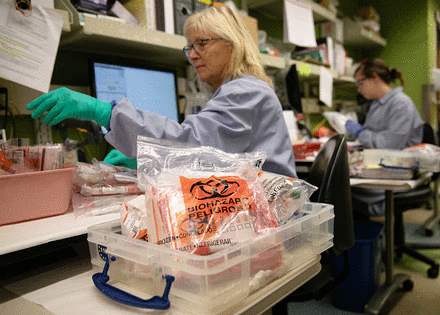 The Molecular Unit manager at the Missouri State Public Health Laboratory, Bauer spent the last five years on the administrative end of keeping the lab running, rejoining the bench in March to help fight COVID-19. The unit can receive hundreds of COVID-19 specimens in a typical day — the highest so far was about 400 — with a goal of turning around diagnostic results in less than 24 hours.
That kind of volume puts a significant strain on the lab, which Bauer said is not equipped to do the high-volume testing that commercial labs do. Until just recently, lab staff had been working seven days a week to keep up. And for much of the pandemic, the unit has been working split shifts — meaning fewer staff are on hand at any given time — to make sure one infected person does not put the whole unit into quarantine.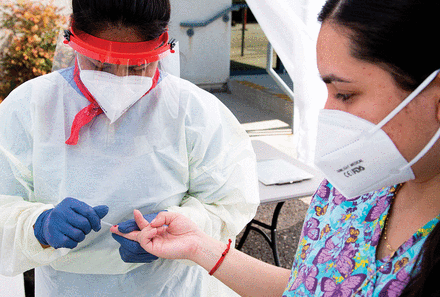 Typically in a novel outbreak, public health labs fill the diagnostic testing void until commercial labs can get up to speed and then fall back into their critical surveillance mode, Bauer said. As of mid-summer, she said the lab was still in full diagnostic mode.
"It's really hard for people mentally to continue working like this," said Bauer, noting that Missouri state workers are among the lowest paid in the U.S.
Local health director Jennifer Kertanis
By mid-summer, COVID-19 cases had dropped dramatically in the Farmington Valley region of Connecticut, but keeping the numbers low remained an overwhelming task for the local health department.
"There's no such thing as a typical day anymore," said Jennifer Kertanis, MPH, director of health at the Farmington Valley Health District, which serves about 110,000 residents with a staff of 15.
Restricting the virus' spread is eating up nearly all of the department's capacity. In addition to tracing and monitoring confirmed and suspected cases, the department gets dozens of calls a day, many from local businesses and schools looking for guidance on how to implement state reopening rules.
Small health departments are used to doing more with less, but COVID-19 leaves little wiggle room, forcing Kertanis into a daily cycle of having to re-prioritize competing health needs, many of them also potentially life-threatening.
"The response has significantly diminished our work," she said. "We just don't have the bandwidth. It is exceedingly stressful."
As of late July, many months into the pandemic, Farmington Valley Health District had received just $40,000 in emergency federal response funds. Kertanis, an APHA member, said it "hasn't even put a dent in what we need.
"The demands are so great and the resources so minimal. Yet our work can determine whether someone does or doesn't get COVID-19."
Environmental health worker James Breiten
With most businesses closed this spring, James Breiten's work was much quieter than usual.
An environmental health specialist at Rockaway Township Division of Health in New Jersey, Breiten, MPH, REHS, is usually out in the community inspecting local businesses and facilities, such as restaurants, tanning salons, public beaches, tattoo studios or youth camps.
For him, the hectic days began a few months in, as the state reopened and calls started pouring in with questions from employers and residents: What exactly does outdoor dining mean? How many people can be in a pool at a time? Can customers use the bathroom? Is it safe to let my teenager go to work at the grocery store?
"We want to be a resource for businesses — they're in a really hard place, they're hemorrhaging," he said. "The challenge was everything was evolving so fast. There were so many moving parts, it could be really chaotic."
As of late summer, Breiten was spending much of his time helping businesses and facilities keep their customers and workers safe — everything from distributing face mask signs to responding to workplace exposures to measuring the distance between restaurant tables.
Typically, Breiten and two other full-time inspectors do about 400 restaurant inspections a year, which will mean a big backlog once they pick back up again.
"We definitely have some stressful situations coming," he said.
Veronica Aguilar, service coordinator, and Elizabeth Berry, promotora
COVID-19 has pushed telehealth to new heights. But for some community health workers, the online shift makes things more difficult, especially if the work depends on building face-to-face trust.
Elizabeth Berry, a promotora and care coordinator at the Chula Vista Community Collaborative in southern California, works with the state's Health Homes Program to help Medicaid patients with severe chronic diseases such as diabetes and heart disease better manage their illnesses at home and avoid repeat visits to the emergency room.
Berry used to meet with people in person, oftentimes in their homes, which helped her better understand the social and environmental conditions contributing to their health struggles and "makes it easier to read what is not spoken," she said.
With COVID-19, Berry is helping patients safely access basic needs — such as dropping off groceries at their door — but prevention work has gone completely online, making engagement a lot more difficult.
"Especially for Hispanic clients, everything is traditionally done in person — people are more comfortable that way," Berry told The Nation's Health. "Doing it on the internet instead is really challenging."
Her colleague at the collaborative, Veronica Aguilar, a service coordinator who helps people enroll in state Medicaid and food assistance programs, is facing the same challenge. Demands for her assistance have gone up in recent months. But whereas she used to meet people in her office to help them navigate enrollment, everything is now done from a distance, which not only affects the ease of enrollment, but peoples' ability to take advantage of the telehealth services they need.
"Many may not even know what Wi-Fi is, some don't have access to a computer, only a smartphone," Aguilar told The Nation's Health. "It's thrown all of us out of our daily routines."
County epidemiologist Palak Panchal
Palak Panchal used to spend her days working to protect residents from viruses such as measles, whooping cough and chickenpox. That was pushed aside when COVID-19 arrived.
For months, Panchal, MPH, manager of the Vaccine-Preventable Diseases Program at the Cook County Department of Public Health in Illinois, has been one of a few dozen staff tracing and investigating COVID-19 in a jurisdiction of 2.5 million people.
She typically gets 10 to 12 new COVID-19 cases each day, calling until she can reach and talk to each person. The interviews are extensive, designed to capture detailed information about where people have been and who could be exposed so epidemiologists can map the virus' path.
"It can be really hard," Panchel said. "A lot of times, you end up being a counselor as well."
The Cook County agency is busy hiring hundreds of new COVID-19 contact tracers, hoping to quickly scale up its tracing staff from about 25 to 400. Once those new hires come online, Panchal can return more of her time to controlling vaccine-preventable diseases — a threat that could become even worse, as people have been skipping childhood immunizations during the pandemic.
For now, Panchal is bracing herself for flu season.
"We're expecting lots of co-infections, just a general onslaught of more calls and cases," she said. "The best we can do is just deal with it as it comes."
Jennifer José Lo, agency medical director
In Boston — a city of nearly 700,000 — cases of COVID-19 were down to about 20 or so a day as of mid-summer. A large part of that success was due to widespread and persistent testing, the backbone of disease control.
Beyond dealing with supply issues in the pandemic's early days, a key to the city's testing progress was acting quickly to engage and support places already embedded in vulnerable communities, said Jennifer José Lo, MD, who helped lead testing efforts as medical director at the Boston Public Health Commission.
For example, the agency partnered early with 18 of the city's community health centers to scale up, expand and maintain testing capacities It works with the centers to direct and grow mobile testing services and organizes pop-up testing sites in hotspot neighborhoods. Thousands of city residents are getting tested every week — about 7,500 the last week of June, for instance — with a goal of expanding capacity to 1,500 tests a day, Lo said.
At some sites, the health department not only coordinates, but administers the COVID-19 tests. After the initial wave of mass protests following the police killing of George Floyd, the agency hosted a pop-up event directed at demonstrators, testing 1,200 people in two days. Lo said just 14 came back positive. Other pop-up testing sites have focused on first responders and COVID-19 antibody surveillance.
"Keeping it at 20 new cases a day requires so many partnerships," Lo told The Nation's Health. "When everyone was at home, we could focus everything on the virus. But now with things opening back up, it'll be a huge undertaking to keep it that low."
For more insights on the challenges faced by public health workers on the ground in the battle against COVID-19, visit www.naccho.org and www.astho.org. To help support emergency staffing at U.S. public health agencies during the pandemic, increase lab capacity, address public health communication needs and more, visit www.give4cdcf.org.
Copyright The Nation's Health, American Public Health Association