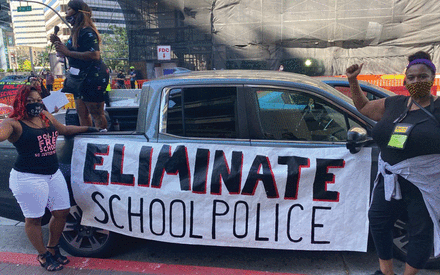 Ten years ago, Jackie Byers set a goal: police-free schools in Oakland, California, by 2020. This June, a resolution making that dream a reality was approved by the school board.
Byers' years of advocacy and data collection on aggressive school policing aligned this summer with a national conversation about police violence toward Black Americans, sparked by the killing of George Floyd May 25 in Minneapolis.
"Without the organizing, the moment can just become a reaction," Byers, founder and executive director of the Black Organizing Project in Oakland, told The Nation's Health. "But when you connect the moment and the emotions and the conditions that people are going through with actual work, it makes a difference."
Oakland joins Denver, Minneapolis, San Francisco, Seattle and other cities in reimagining authority on school campuses. But while other schools had contractual relations with city police, Oakland is the first to disband an entire school district police force — nine officers and 45 unarmed security guards patrolling 118 campuses. Until recently, about 20 police strode district hallways, but Byers' work over the years helped reduce the number of officers. Complete withdrawal is expected by January.
Police are largely trained to enforce law and order, not understand the psychology of why a 13-year-old is acting out or why a middle schooler refuses to park their bike in a school rack. The disconnect led to hundreds of altercations, arrests, beatings, shootings and even deaths on U.S. school campuses, Byers said. Byers came to the cause in 2011 when a school district police officer killed Raheim Brown, a senior at Oakland's Skyline High School, shooting him five times after he had already been incapacitated by another officer.
Studies show that law enforcement presence at schools does not reduce crime and instead represents a threat to the physical and mental health of students, APHA's 2018 policy statement, "Addressing Law Enforcement Violence As a Public Health Issue," notes.
And race is a factor in police violence, science shows. In Oakland public schools, Black students account for 73% of arrests since the 2015-16 school year, but 26% of enrollment.
"The moment we are in has exposed in America what we have known in Black communities for a long time — that there is predatory policing in our communities, and aggressive policing," Judith Browne Dianis, executive director of the Advancement Project, which advocates for racial justice, told The Nation's Health. "Police carry the same aggressive ways into our school hallways."
Organizers want to transform Oakland school culture so that nurturing, understanding and mutual respect replace forced compliance, Byers and other advocates said. Meetings are underway to hire social workers, psychologists and restorative justice practitioners. The process is community-driven with a goal of creating a revised district safety plan with strategies for student learning, safety and well-being.
Right now, there is a window of opportunity to get it right. Oakland and other U.S. public schools are practicing remote or semi-remote learning this academic year due to the COVID-19 pandemic. Transitioning schools have more time to reimagine a campus without police.
But a downside exists. Many disadvantaged students are learning remotely in households of illness, death, stress and food insecurity wrought by COVID-19, and children have the added trauma of witnessing continuing violence against Black Americans in the media, Dianis said. Mental health aid will likely be needed when students finally return to campus.
As for Byers, she understands her hard-won victory to remove police from Oakland schools is only a step on a journey.
"We are excited we won this victory and that we won it together as a city with so much love and solidarity between us," she said. "But we also understand that it doesn't end here, it is kind of just the beginning."
For more information on school policing, see APHA's statement at www.apha/policy.org.
Copyright The Nation's Health, American Public Health Association
View Preview