It has been the most tremendous honor of my career to have served as your president this year. A mentor taught me that we give back to our profession through organizations such APHA. In my 26 years of increasingly active membership in APHA and the Georgia Public Health Association, I have gotten more from the experience than I can ever give back.
I married into a public health family, so APHA is personal to me. Over all of these years, you — my APHA colleagues — have also become my family. You teach, encourage and challenge me, especially as I've had the privilege of working with so many of the people who make APHA shine.
This tumultuous year has brought many challenges, and you have made me even more proud of our work together in this APHA family. To all of you, members and staff, I am humbled at the privilege of having served as your president.
The notion of friends as chosen family is one that is dear to me personally. The impact of our social connections on overall health is garnering increasing recognition. Social relationships can "change your cardiovascular system, your immune system, how you sleep, your cognitive health...whether you're likely to catch a virus," writes Lydia Denworth, a journalist who explores the science of friendships.
Being connected to people matters. Amid the challenges of the COVID-19 pandemic, connection is critically important. Take time today to reach out to a good friend or colleague. It's good for your health and theirs. What can you do today, this week and next month to stay connected? How can you nurture and strengthen those connections?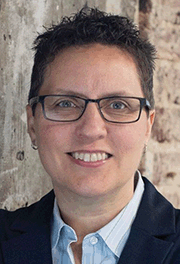 You have improved my health this year as I have talked with so many of you. Although COVID-19 kept me from traveling among you, I have Zoomed, written and tweeted exchanges with even more of you than I could have met in person. Thank you, friends. You have expanded my APHA family and I am honored to be among you.
I am especially grateful to APHA staff and to my Emory School of Medicine and Rollins School of Public Health colleagues. These teams supported me, made this year possible and continue to make my work such great fun.
On a personal note, I trusted I would be able to move freely around our APHA landscape this year because I am so firmly rooted at home. I owe the most thanks to my wife, Johanna Hinman, an APHA leader in her own right. Johanna, thank you for being with me on what has been yet another great adventure in our lives together.
One last note — for now — to my APHA family: Keep doing the good work of public health. Keep changing the world. And keep me posted. Thank you.
Copyright The Nation's Health, American Public Health Association
View Preview