Work requirements lower enrollment
Medicaid work requirements are associated with higher disenrollment rates, especially among people with chronic health conditions, a study in the August issue of APHA's American Journal of Public Health finds.
Researchers designed the study to learn about the impact of Arkansas' decision to enact work requirements for people who use Medicaid. More specifically, they wanted to identify the risk factors that led to thousands of Arkansans losing Medicaid coverage.
Arkansas implemented work requirements in June 2018. By the end of that year, more than 18,000 Arkansans had been disenrolled from the state's Medicaid program. Medicaid work requirements have since been struck down in court.
The study is based on data from a 2018 telephone survey of about 1,200 low-income adults ages 30 to 49 in four states: Arkansas, a Medicaid expansion state with work requirements; Kentucky, an expansion state with work requirements that never went into effect; Louisiana, an expansion state with no work requirements; and Texas, a state that rejected Medicaid expansion.
Overall, Medicaid disenrollment was highest in Texas, at 12.8%, followed by Arkansas, at 10.5%; Kentucky, at 5.8%; and Louisiana, at less than 3%. However people who lived in Arkansas had significantly higher disenrollment rates compared to the three other states. Among Arkansas respondents, having a chronic condition was associated with higher disenrollment.
"Access to care is an important public health challenge, and improving Medicaid retention is a key strategy to increase access," study authors wrote.
Employers can play role in opioid fight
Workplace settings and policies are promising intervention points for tackling the country's ongoing opioid crisis, according to a new analysis in the August issue of AJPH.
A growing body of research underscores the associations between working conditions, chronic pain and initiation of pain medication, authors wrote. For example, opioid overdose rates are highest among occupations with the greatest physical demands and the least access to paid sick leave. One study cited in the analysis found that 57% of opioid-related overdose deaths occurred after a work injury.
Psychosocial work stressors, such as job insecurity, may also be a factor in opioid use. For example, temporary and seasonal workers may feel added pressure to work while in pain or risk losing critical income, authors noted.
While engaging employers in reducing opioid addiction and overdose is challenging, the authors offered a number of recommendations, including stronger regulatory guidance, better employee education and expanded health benefits that include nonpharmacological pain management.
"The workplace is an important public health venue and, to date, employers have not been adequately included in state and local efforts to combat the opioid crisis," they wrote. "We believe that that this is a critical gap in prevention efforts."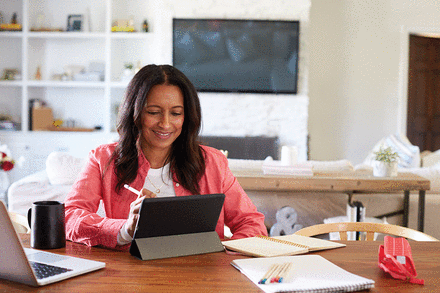 Most in US cannot work from home
The vast majority of U.S. workers cannot do their jobs from home, putting tens of millions of people at greater risk during a disease pandemic, finds a study in the August issue of AJPH.
Study author Marissa Baker, PhD, an assistant professor at the University of Washington, set out to characterize which U.S. workers could likely work from home during a pandemic. Using employment, wage and workplace data from the U.S. Bureau of Labor Statistics, she found that only about 25% have jobs that can be done at home.
The remaining 75% — including workers in fields such as health care, manufacturing and retail — cannot easily do their jobs at home. Workers least able to face some of the highest health risks during a pandemic — such as those who labor in the food and beauty sectors — also had the lowest annual median wage.
Baker noted that such workers also tend to lack protections such as paid sick leave and employer-based health coverage, which could exacerbate their vulnerability during a pandemic.
For studies and podcasts from AJPH, visit www.ajph.org.
Copyright The Nation's Health, American Public Health Association