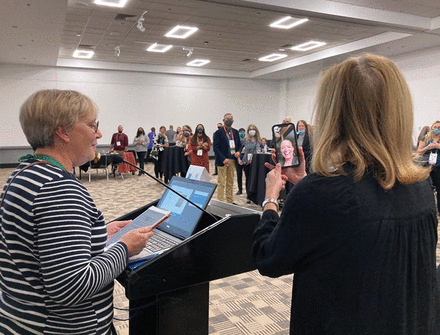 "That we could gather for the event itself is a recognition of the hard work of public health workers, our members."

— Lindsey Wahowiak
After 19 intense months of work battling the COVID-19 pandemic, members of APHA-affiliated state and regional public health associations came together in October to celebrate their colleagues and reconnect.
While the Council of Affiliates Awards Reception is the unofficial social kickoff for the Annual Meeting every year, the event carried special importance this year, said Teresa Garrett, DNP, RN, then-COA chair. It was "like a hug!" she told The Nation's Health.
"It was so wonderful to see dear friends and colleagues," she said. "The usual buzz in the room was a bit more of a muffled murmur, but everyone had a wonderful time catching up, sharing good news and celebrating the award recipients."
Held in conjunction with APHA's 2021 Annual Meeting and Expo, the event followed health department recommendations for gatherings during the pandemic.
"That we could gather for the event itself is a recognition of the hard work of public health workers, our members," Lindsey Wahowiak, APHA Affiliate affairs director, told The Nation's Health. "Without fighting for vaccines, for masks, for sound public health policy, this would not have been possible."
Among those recognized for extraordinary achievement was Kim Boyd, ND, RN, NP, a former president of the Colorado Public Health Association. She was recognized for outstanding organizational leadership and forming partnerships during the COVID-19 pandemic.
The Chair's Citation was given to Moose Alperin, EdD, MPH, MCHES. Alperin was recognized for tirelessly working for the COA, promoting excellence at state and local public health associations and being a reliable source of institutional knowledge.
"She is an amazing human being, always quick to help, and is full of great ideas to make things better, simpler and more effective," Garrett said.
Since 2019, Alperin has received the award twice. She was recently named to APHA's Executive Board.
The Outstanding Affiliate Staff Award was presented to Kim Dittmann, operations officer for the North Carolina Public Health Association.
Every year, COA recognizes an exceptional student member who contributes to their local public health association while maintaining academic excellence. This year, the COA Student of the Year was Delanie Anderson, co-chair of the Minnesota Public Health Association Membership-Communications Committee. Anderson is a student worker for the Minnesota Department of Health's Pregnancy Risk Assessment and Monitoring System.
For more information on APHA's Affiliates, visit www.apha.org/apha-communities/affiliates.
Copyright The Nation's Health, American Public Health Association