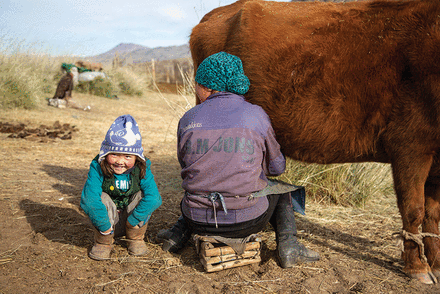 Climate change harms children's nutrition
Rising global temperatures caused by climate change are worsening child malnourishment around the world, a new study finds.
Published in the January issue of Environmental Research Letters, the study drew its findings from 30 years of climate, ecological, socioeconomic and geographic data. Researchers examined data on 19 countries in Asia, Africa and South America on more than 107,000 children, finding a link between hotter temperatures and high numbers of underfed children.
"Certainly, future climate changes have been predicted to affect malnutrition, but it surprised us that higher temperatures are already showing an impact," study lead author Meredith Niles, PhD, an assistant professor of nutrition and food sciences at the University of Vermont, said in a news release.
Temperature increases outweighed other harmful factors known to contribute to malnutrition, such as low education, poverty, polluted water and unsafe sanitation. When examining diet diversity, the researchers found that children in resource-poor countries scored half as high as children in high-income countries.
The study found that improved diet was linked to increased rain, though the climate change link suggests harmful effects over time.
Stockpile established for Ebola vaccine
International health and humanitarian organizations have come together to establish a global Ebola vaccine stockpile.
The World Health Organization, UNICEF, International Red Cross and Doctors Without Borders are planning to create a stockpile of 500,000 Ebola vaccine doses within the next three years. The initial inventory of vaccine supplies comprised almost 7,000 doses.
While other vaccines may be considered in the future, the Switzerland-based stockpile will initially only be used for Ebola-related supplies. Decisions to allocate vaccine distribution can be made within 48 hours.
"This Ebola vaccine stockpile is a remarkable achievement, one that will allow us to deliver vaccines to those who need them the most as quickly as possible," Henrietta Fore, MS, UNICEF executive director, said in a February news release.
Weeks after the stockpile announcement, the Democratic Republic of Congo reported a new Ebola outbreak. As of mid-February, Congo health officials had not requested stockpile access.
For more information, visit www.who.int.
Child health goals at critical juncture
The next five years are critical for determining if sustainable development goals for children will be met by 2030, a January UNICEF report predicts.
Issues such as economic inequality, governmental instability and the COVID-19 pandemic have upended global goals for children's health, according to the report. While new technologies, access to education and living standards have helped improve health of kids, those gains are in jeopardy, said "Prospects for Children: A Global Outlook 2021-2025."
"This state of the world today threatens to overshadow two decades of historic progress that has shaped the lives of children for the better," the report said.
The report provides an overview of current issues affecting children's health, as well as those that could define the next five years. Looking ahead, UNICEF expects that vaccine hesitancy, antibiotic resistance and global misinformation are among the issues that could create barriers.
For more information, visit www.unicef.org.
New TB definitions released by WHO
To help people with tuberculosis receive better treatment, the World Health Organization has updated its definitions for two drug-resistant forms of the disease.
In January, WHO's Global TB Program released new definitions for extensively drug-resistant tuberculosis and pre-XDR-TB. The definitions were changed to help clinicians determine which TB patients require complex treatment regimens. In addition to better treatment, the revisions are expected to improve reporting, surveillance and monitoring.
Pre-XDR-TB is now broadly defined as multidrug-resistant and rifampicin-resistant TB that is also resistant to fluoroquinolone. XDR-TB is the same, except there is also resistance to at least one additional Group A drug.
The updated definitions reflect growing TB severity and drug resistance and the decreasing number of available treatments. The WHO definition of multidrug-resistant tuberculosis was unchanged.
For the full definitions, visit www.who.int/tb.
Copyright The Nation's Health, American Public Health Association