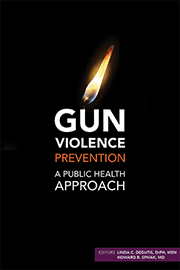 With an estimated 390 million guns in America, the weapons exact a heavy toll on U.S. health and well-being. But instead of focusing solely on eliminating the weapons, health advocates should work to make people safer from them, according to a new book from APHA Press.
To avoid the millions of injuries and deaths caused annually by gun violence, prevention and risk evaluation must be taken into account, according to "Gun Violence Prevention: A Public Health Approach." Just as the U.S. did with automobiles and other consumer products, science and policy can be used to make society safer from firearms, the book concludes.
"It is a pragmatic, science-driven, data-driven presentation of what we know and what we don't know, what we believe may work, what we believe may not work, what makes sense and what doesn't," said book co-editor Howard Spivak, MD, a pediatrician and APHA member who has studied youth gun violence for decades.
The book explores the dire consequences of gun violence, including homicide, suicide, intimate partner violence and unintentional shootings. It also examines important related issues, such as social justice, institutional racism and criminal justice. Other discussions examine police violence and federal funding for gun violence research. There is also a chapter on gun violence during pandemics and other emergencies.
The book takes a public health approach to gun violence, meaning the focus is on prevention. The need for good data and partnerships with multiple organizations, agencies, health departments and law enforcement is emphasized. A public health approach to gun violence can help communities create and adopt appropriate violence prevention strategies, according to book authors.
"Unless you do the prevention end, you are constantly playing catch-up," Spivak told The Nation's Health. "You are constantly dealing with a problem that is overwhelming the (law enforcement) system rather than reducing the problem in the first place."
The book is co-edited by Linda Degutis, DrPH, MSN, former director of the Centers for Disease Control and Prevention's National Center for Injury Prevention and Control, who is also a past APHA president.
Degutis shares ways to effectively communicate to fervid gun owners. Finding common ground is a good start, such as agreeing that reducing deaths by firearms is a positive. Dialogue is more constructive when controversial phrases such as "gun control" and "take away your guns" are not used, according to Degutis.
"Just because someone owns guns does not mean they are violent or an irresponsible gun owner," Degutis, an APHA member, told The Nation's Health. "Most gun owners are responsible."
Given the recent rise in U.S. gun sales, the new book is an important resource. During the COVID-19 pandemic last year, background checks for gun sales rose 40%, with nearly 40 million checks conducted, according to the FBI.
Current events "have been a driving force for firearm purchasing, which, as we know from a public health perspective, increases risk in communities when there are more guns out there," Spivak said.
To learn more about the book, which will begin shipping in May, visit www.aphabookstore.org.
Copyright The Nation's Health, American Public Health Association