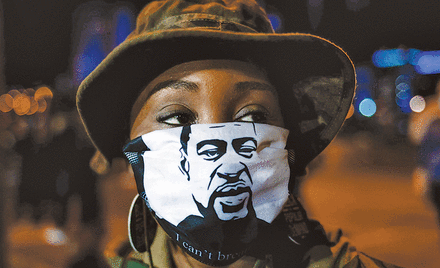 Since summer 2020, more U.S. communities have been redirecting police funds to programs that take a public health approach to public safety. And even as some cities backpedal on promises and raise rather than reduce police budgets, increments of change are occurring in racial justice, reform advocates say.
"There has been progress made and there is progress to be made," said Melina Abdullah, PhD, MA, a professor of Pan-African Studies at California State University-Los Angeles.
Police reform became a rallying cry in the U.S. one year ago as civil rights demonstrations erupted in response to police violence toward Black Americans, prompted in part by the murder of George Floyd by a Minneapolis police officer. Police violence and systemic racism entered the national conversation on a bigger scale than ever.
"One of the immediate shifts was a willingness to embrace the idea that Black lives matter," Abdullah, co-founder of Black Lives Matter-Los Angeles, told The Nation's Health. "We had been fighting for almost seven years."
In quick succession, over 30 states passed new police oversight and reform laws, according to the National Conference of State Legislatures, including limiting officer immunity, mandating body cameras and restricting neck restraints and no-knock warrants. In January, the organization launched a database of police reform bills, documenting more than 700 bills on police accountability that were introduced in 2020, at least 100 of which were enacted.
More than 20 cities and municipalities have redirected funds from police budgets for 2021, according to a Bloomberg City-Lab analysis. Funds are gradually shifting to community-based programs in mental health, affordable housing, work-force development and other areas that address social determinants. APHA recommends many such upstream actions under its 2018 policy statement on law enforcement violence.
According to the January Bloomberg CityLab analysis, the cities that have reallocated the most resources from law enforcement are Austin, New York, Seattle and Denver. Austin has redirected $20 million to mental health first responders, services for people who are homeless, workforce development, substance abuse programs and more.
Reducing police interaction with the public is a common theme in city and local proposals. Berkeley, California, restricted the reasons city police can stop drivers, which can be a pretext for racial profiling and escalate into violence. Officers can no longer pull drivers over for not wearing a seat belt, failure to dim high-beams or vehicle registration expiration, for example.
Situations in which police officers interact with people who are experiencing a mental health crisis can quickly become violent as well. Some states and cities have created protocols in which mental health professionals, working with police, are dispatched on appropriate 911 calls.
Denver, Colorado, which trimmed its 2021 police budget by $25 million, has used money from ballot initiatives to dispatch mental health first responders in cases where a person is nonviolent but is behaving unusually.
Schools are also working to distance themselves from policing. In 25 cities since last summer, school districts have worked to remove police from on-campus security and enforcement duties, according to an analysis by Interrupting Criminalization, an initiative at the Barnard Center for Research on Women. Multiple instances of police violence against students have been reported. In December 2019, for example, a video showed a police officer assigned to Vance County Middle School in Henderson, North Carolina, slamming an 11-year-old boy twice to the ground.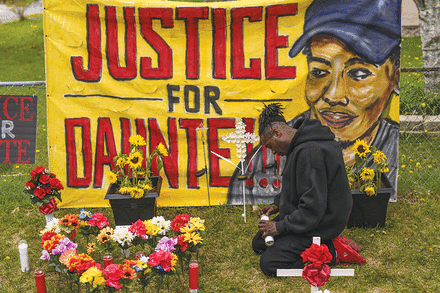 "When police don't know what to do, they use force," said Rashawn Ray, PhD, MA, a sociology professor at the University of Maryland. "And we see that all the time."
Police reform has also focused on making officers more accountable for their actions. In March, H.R. 1280, the George Floyd Justice in Policing Act, was passed by the House of Representatives. Among the provisions is demanding a higher level of police accountability.
Colorado, Connecticut, New Mexico and Massachusetts have passed laws limiting officer immunity, making it easier to prosecute those who inappropriately use violence. In April, Maryland lawmakers passed S.B. 626, the Maryland Police Accountability Act of 2021, which includes up to a 10-year prison sentence for officers who violate the state's useof-force policy. It also repeals the Law Enforcement Officers' Bill of Rights, a 1970s measure that gave sweeping legal protections in cases of police misconduct. Police unions across the country used the bill of rights as a template to double down on officer immunity.
Accountability means addressing police unions and associations that protect misbehaving officers from prosecution, said Keon Gilbert, DrPH, MPA, MA, an associate professor in behavioral science and health education at Saint Louis University's College for Public Health, and coeditor of "Racism: Science & Tools for the Public Health Professional," published by APHA Press.
"Without a structured system that holds officers accountable for what they do, we are never going to be able to get to the deep levels of reform," Gilbert, an APHA member, told The Nation's Health. "Without a structured system that holds officers accountable for what they do, we are never going to be able to get to the deep levels of reform."— Keon Gilbert
While some progress has been made, 26 large U.S. cities have increased police budgets for 2021, Bloomberg CityLab reported. Other cities have backtracked on promises. Seattle initially embraced advocates' demands to cut the police budget in half, but ended up reducing it by 18%. Meanwhile, police unions and departments undercut budget reform with campaigns claiming that reducing officers makes the public less safe.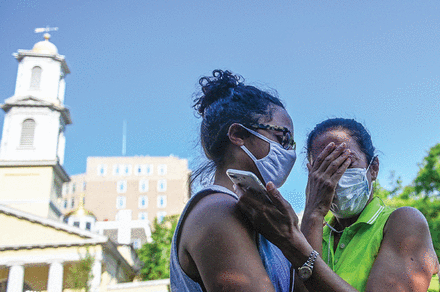 Data contradicts the notion that more officers mean less crime, however. Between 1997 and 2016, the U.S. police force dropped from 242 to 217 officers per 100,000 residents, according to the Bureau of Justice Statistics. But during those two decades, the national violence crime rate dropped by 37%, data from the Federal Bureau of Investigations show.
Many advocates held out hope that a jury conviction of former Minneapolis police officer Derek Chauvin for Floyd's murder would be a watershed moment for racial justice. When Chauvin was convicted on April 20, Ray said it was important, but he did not believe it would significantly change interactions between police and Black Americans.
"Chauvin's verdict was about one person," Ray told The Nation's Health. "What people want is systemic change, and we don't get that in courts at that level."
Still, progress was evident at the trial, Ray said. Nearly a dozen police officers testified against Chauvin, crossing the thin blue line of not reporting improper conduct of an officer on duty. Other city employees and bystanders also testified, helping build the prosecution's case. Sixty-four percent of Americans agreed with the verdict, a poll from The Economist/YouGov found.
In general, the racial justice movement that began last summer has made solid progress, Ray said. Dramatic changes in law enforcement policy have occurred at the city, county, state and federal levels, and Congress is realizing that "transformative police reform is going to happen," he said.
"We are in a moment, a new era of racial awakening," Ray said.
For more information on the National Conference of State Legislatures' Law Enforcement Statutory Database, visit www.ncsl.org.
Copyright The Nation's Health, American Public Health Association