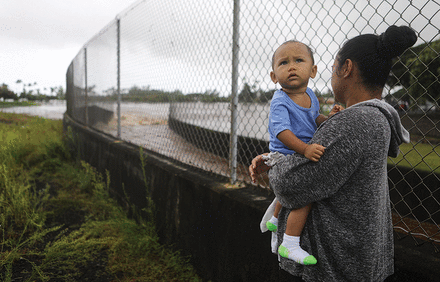 Hawaii first state to declare climate crisis
Recognizing the threat to the health of its residents, Hawaii became the first U.S. state to declare a climate emergency this spring.
On April 29, state legislators passed a resolution acknowledging that "an existential climate emergency threatens humanity and the natural world," becoming one of nearly 2,000 jurisdictions around the world to make such a declaration.
The tropical state faces extreme risks from climate change, including coastal erosion, diminishing freshwater supply and dangerous weather.
The resolution requests statewide collaboration "toward an immediate just transition and emergency mobilization effort to restore a safe climate." People in the state are encouraged to engage in climate mitigation and adaptation.
Hawaii was one of the founding members of U.S. Climate Alliance, a coalition of states and territories that committed to upholding the objectives of the Paris climate agreement after former President Donald Trump announced U.S. withdrawal from the accord in June 2017. The U.S. rejoined the agreement in January under President Joe Biden.
For more information, visit www.hawaii.gov.
West Coast quake system expanded
Washington residents have a new tool to help prepare and protect themselves during an earthquake.
In May, ShakeAlert, a service that sends earthquake warnings to mobile phones, expanded to Washington. The rollout means that 50 million people in California, Oregon and Washington — the mostly highly populated region for U.S. earthquakes — now have access to the free service.
Operated by the U.S. Geological Survey, the system operates similar to a severe weather warning. ShakeAlert gives residents early notice of an earthquake, which, depending on how close users are to the quake's epicenter, can offer up to a minute to find shelter.
ShakeAlert gathers information from a network of seismometers throughout the region. The system is also connected to critical infrastructure, such as utilities and transportation systems, allowing computerized responses to minimize potential damage by slowing or shutting down systems.
For more information, visit www.shakealert.org.
Iowa documents cancer disparities
Black Iowans face disproportionately high risks of getting cancer and dying from it, according to the 2021 "Cancer in Iowa" report.
The report, released in March by the University of Iowa College of Public Health, found that Iowa's Black residents face a significantly different threat from cancer than their white neighbors, including a 25% higher mortality rate. The researchers also found that Blacks were more likely to get cancer at a younger age than whites.
"The causes of these disparities are deeply ingrained in our society, and it will take significant effort at many levels over a long period of time to address them," George Weiner, MD, director of the University of Iowa's Holden Comprehensive Cancer Center, said in a news release.
Weiner cited disparities in access to quality health care and cancer as contributors to the increased burden of cancer.
Iowa is one of the least diverse states in the U.S., with whites accounting for 90% of the population, according to U.S. Census Bureau data.
Life expectancy for Black residents is 74.8 years, which is 4.5 years less than that of whites.
For more information, visit https://uiowa.edu.
Houston combats surge of syphilis
As rates of sexually transmitted infections continue to climb nationwide, Houston has experienced a sharp increase in fetal deaths caused by congenital syphilis.
In April, primary data found that syphilis-related prenatal deaths increased from four in 2019 to 14 in 2020. The findings added urgency to the Houston Health Department's new "My Prenatal Promise" campaign to educate pregnant women on STD risks and take action. The campaign is centered on three actions: Talk, test and treat.
"The 'My Prenatal Promise' campaign is designed to educate, encourage and equip women with the information and resources they need to receive the best prenatal care for themselves and their babies so that they can stay healthy during their pregnancy," Marlene McNeese, assistant director of the the department's Division of Disease Prevention and Control, said in a news release.
For more information, visit https://myprenatalpromise.com.
Copyright The Nation's Health, American Public Health Association