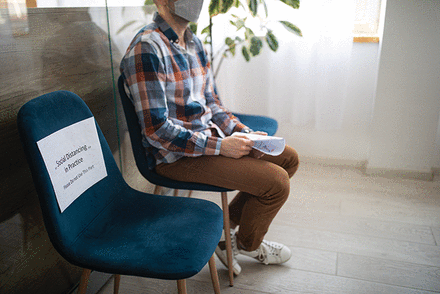 As opioid-related deaths surged across the nation this year, Rhode Island took action, becoming the first U.S. state to officially authorize safe drug injection sites.
Embracing the concept of harm reduction, state Gov. Dan McKee signed legislation in July that would create a pilot program for supervised drug use sites. The facilities would provide people who use opioids or other illicit drugs a clean, safe environment.
Though they have sometimes been met with controversy, harm reduction sites are a way "to tackle this epidemic while saving lives in the process," state Rep. John Edwards said in a news release.
"The opioid epidemic has become a tremendous public health crisis, with overdoses of prescription and non-prescription opioids claiming a record number of lives," Edwards said. "Not only do harm reduction centers severely mitigate the chance of overdose, they are a gateway to treatment and rehabilitation of people with substance abuse disorder. These locations will be under the supervision of trained medical staff who can direct (people) toward substance use disorder treatment."
Research shows that safe injection sites can help prevent the spread of infectious diseases, reduce deaths and improve health. In 2018, a multistate outbreak of hepatitis A was linked in part to injection drug use. Because they often share needles and other paraphernalia, injection drug users are also at increased risk for HIV and other diseases.
While other harm reduction facilities have existed in the U.S., the Rhode Island program will be the first to be sanctioned by a state government. In 2018, there were more than 267 drug overdose deaths in the state, with opioids involved in 70% of them. Nationally that year, there more than 67,000 such deaths.
In 2020, U.S. drug overdose deaths rose to a total of 93,000, according the National Center for Health Statistics. More than 400 of those deaths were reported in Rhode Island.
"We're such a small state, so you had instances of lawmakers losing friends and family to opioids — no person, no community is left unaffected," Brandon Marshall, PhD, an associate professor of epidemiology at Brown University School of Public Health and an opioids prevention researcher told The Nation's Health.
Creating harm reduction centers has been years in the making, Marshall said. A strong community of harm reduction advocates who appealed directly to lawmakers helped set the wheels in motion.
"Harm reduction centers work," Marshall said. "It's not the only tool in the toolkit, but studies have found time and again that they benefit communities,"
The new law establishes a two-year pilot program that begins in March 2022. The Rhode Island Department of Health will create regulations for the facilities and is charged with managing their licensing. While health advocates are celebrating the initiative, potential challenges remain. The largest threat comes from the federal government, which has argued that harm reduction facilities are illegal under a 1986 statute that makes it a felony to knowingly use a place for the use of any controlled substance.
Another potential snag could come from state communities. While the legislation passed the statehouse with overwhelming support, the bill requires local leaders to approve of facilities being placed in their jurisdiction.
"We have not seen a lot opposition yet, but it's when the planning begins — saying this center will go in this neighborhood or on this street — that a lot of these issues can bubble up," Marshall said.
For more information visit www.ricares.org.
Copyright The Nation's Health, American Public Health Association