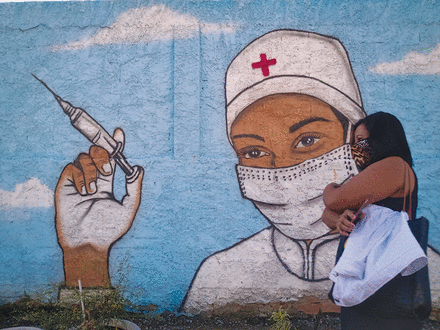 Few people were surprised last year when wealthy countries were first in line to secure COVID-19 vaccines, followed by widespread vaccination rollouts. By August, most of those countries — including the U.S. — had fully inoculated half or more of their eligible adult population.
And yet some middle-and low-income nations have matched or surpassed several wealthy countries in population vaccination. No country has been without setbacks, as inability to obtain vaccines and outbreaks among unvaccinated people have led to COVID-19 surges.
But the fact that a handful of economically developing nations could vacci-nate tens of millions of people offers lessons during the second year of the worldwide health crisis.
While "think globally, act locally" is a common saying, it should be set aside during the pandemic, said Ruth Faden, PhD, MPH, a professor at Johns Hopkins Berman Institute of Bioethics. Unless all countries are able to vaccinate their populations, no country around the world is safe, given how easily variants spread, she said.
"This may be a time where we should be acting and thinking globally," Faden told The Nation's Health.
Beyond wealth, geography and population size have played a role in the success of vaccinations. Island, peninsula and isolated countries with small or dispersed populations have an advantage. Two wealthy island countries, Bahrain and Malta, and two wealthy peninsula countries, Qatar and Singapore, had fully vaccinated at least 66% of their population against COVID-19 as of mid-August, according to the Our World in Data tracker from Oxford University. But also high on the list was Bhutan, a low-income country of 800,000 in the Himalayas, with 62% of eligible adults fully immunized by that time.
Among the reasons that some economically developing nations are succeeding are early planning for a diversified vaccine supply, leaving politics out of public health, having good public health infrastructure, having strong leadership and following science. In some countries such as Bhutan, partnerships are helping, too.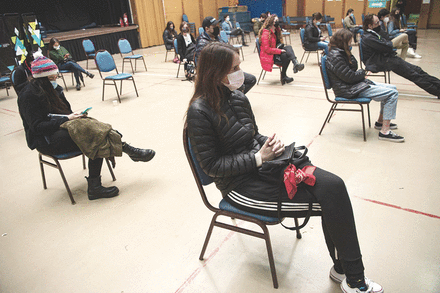 Bhutan has been aided by donations of Moderna and AstraZeneca vaccines from individual countries and COVAX, a global initiative to equitably deliver COVID-19 vaccines, tests and treatments. But Bhutan also has science-driven leadership. The nation's prime minister, Lotay Tshering, MD, was a surgeon before entering politics, and several of his officials are former doctors.
In South American countries, the situation is more dire, as infections increase and nations struggle to obtain vaccines, a spokesperson from Pan American Health Organization told The Nation's Health in August. Most of the region is made up of low- and middle-income nations that rely on COVAX, from which they have received limited doses.
Brazil is among the countries struggling, despite being upper middle income, diversifying its vaccines and having a public health infrastructure with a history of organizing mass immunization campaigns. As of mid-August, only 24% of the eligible population had been fully vaccinated.
Mark Dybul, MD, co-director of the Center for Global Health Practice and Impact at Georgetown University Medical Center, highlighted one reason for the lagging rates: lack of leadership.
Brazil's president, Jair Bolsonaro, has stoked vaccine hesitancy throughout the country, spreading misinformation and publicly stating he will not be vaccinated. He has also disparaged CoronaVac, a vaccine developed by a Chinese company that is one of several formulas in use in Brazil, Dybul said. Science has shown CoronaVac significantly reduces COVID-19 hospitalizations and deaths, yet some in Brazil refuse it because of misinformation.
Chile and Uruguay have done much better at delivering doses. Though not wealthy, they are middle-income South American countries with strong leadership and a growing middle class. Both countries secured a diverse portfolio of vaccines early, reintroduced mitigation protocols when needed, and have a much better public health infrastructure than neighboring nations, PAHO's spokesperson said.
Chile and Uruguay had each fully vaccinated at least 68% of their eligible populations by mid-August, surpassing many wealthy countries. Among those that trailed behind the two countries were the U.S., at 50%; the U.K., at 60%; and Germany, at 57%.
Morocco outpaces other African nations
COVID-19 cases are increasing in African nations, where vaccines have been severely lacking. By late summer, the highly contagious delta variant was the third variant to sweep the continent, said Benjamin Kagina, PhD, MSc, a senior research officer and vaccinologist at the University of Cape Town in South Africa.
Most African countries have fully vaccinated less than 2% of their population, and vaccine donations to the nations have been slow. Wealthy and upper middle-income countries secured 80% of all COVID-19 vaccines when they initially became available, according to Oxford University. Only a fraction have been donated to low-income countries.
"Issues such as vaccine hesitancy are not thought about in African countries, because they don't have any vaccines to be hesitant about."

— Benjamin Kagina
"COVAX and individual donations have been insufficient," Kagina told The Nation's Health. "Issues such as vaccine hesitancy are not thought about in African countries, because they don't have any vaccines to be hesitant about."
Morocco is Africa's exception in acquiring and delivering doses of COVID-19 vaccines. Despite being a low-income nation, Morocco placed orders in the vaccine marketplace alongside wealthy countries in 2020, using a $3.6 billion pandemic fund created by King Mohammed VI, according to a report in African Business. Morocco diversified its purchases, buying multiple vaccine formulas, and deployed messaging to residents.
"Authorities have reassured the vaccine-hesitant about the robustness of the country's regulatory process for vaccine approval (and) deployed a large communications campaign to provide information, reassure and encourage people to get vaccinated," a study in May's Journal of Travel Medicine said.
In recent months, Morocco has experienced a surge in cases linked to the delta variant and is running out of pandemic funding and vaccines. Still, by late summer it had immunized 31% of its population. South Africa, at 6.8% immunization, runs a distant second on the continent.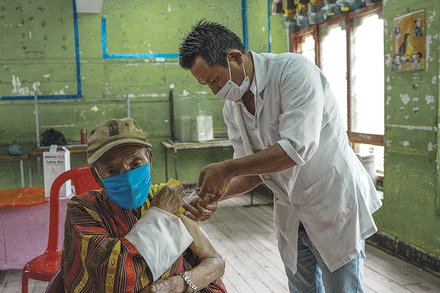 South Africa is a good example of how setbacks can upend a rollout, especially for non-wealthy countries where setbacks are financially felt.
South African President Cyril Ramaphosa launched the rollout in February, sitting publicly for a Johnson & Johnson vaccine and announcing the arrival of 80,000 doses to the country. A shipment of AstraZeneca vaccine was on its way.
But a larger Johnson & Johnson shipment was scrapped in March because of ingredient contamination at a Baltimore factory, Kagina said. About the same time, a South Africa study found that the AstraZeneca vaccine was inefficient against the beta variant, then the dominant strain. South Africa received other Johnson & Johnson batches and added Pfizer's mRNA vaccine. But a study in New England Journal of Medicine at the time showed the Pfizer vaccine was not highly effective against the beta strain either.
Though South Africa has good public health infrastructure, the variant surges, vaccine delays and shortages, and controversy over vaccine effectiveness stymied rollout. South Africa had to retool.
In August, Kagina said he was optimistic about the country's recent vaccine acquisitions, saying the country expected to inoculate a large number of its 58 million residents by the end of the year. But he said he was worried for the rest of Africa.
"We need to think about global health equity," Kagina said. "We need to think about getting the world vaccinated and benefiting everyone."
For more information on the global vaccine rollout, visit www.who.int.
Copyright The Nation's Health, American Public Health Association