Thanks to effective vaccines, many Americans are safely resuming some of the activities they put on hold due to the COVID-19 pandemic, which include the much-missed tradition of summer vacation. If you're looking for a fresh read to take to the beach, lake, park, mountains or long-awaited family reunion now that you're vaccinated, check out our latest public health-themed Summer Reads picks.
Waste: One Woman's Fight Against America's Dirty Secret
Catherine Coleman Flowers
Too many U.S. communities still lack access to basic sanitation, leaving people without an affordable and safe way to dispose of their waste. In her new book, environmental health researcher and activist Flowers tells the stories of people who live with that burden day to day and the systemic class, racial and geographic prejudices that facilitate such inequitable conditions. Flowers lays bare the injustice and explores solutions.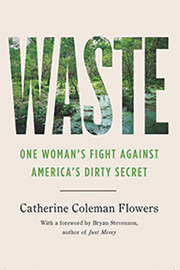 2020, The New Press, 256 pages
America on Fire: The Untold History of Police Violence and Black Rebellion Since the 1960s
Elizabeth Hinton
Historian Hinton delves into the recent history of Black rebellions and police violence that preceded the nationwide protests in response to the police murder of George Floyd in 2020. She charts the persistence of structural racism since the civil rights movement of the 1960s and shows how Black rebellion was born in response to poverty, exclusion and police brutality.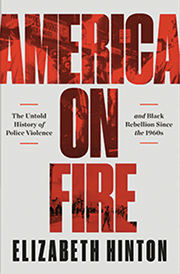 2021, Liveright, 408 pages
Preventing the Next Pandemic: Vaccine Diplomacy in a Time of Anti-Science
Peter Hotez, MD, PhD
Hotez, a vaccine scientist and tropical medicine expert, says that vaccine diplomacy is key to combating the rise of vaccine-preventable disease and recounts his global travels to facilitate vaccine partnerships and help stop outbreaks before they start.
He also explores recent declines in global cooperation and cohesion, and stresses the value of engaging people on the importance of embracing science during crises.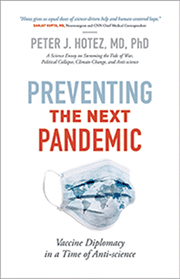 2021, Johns Hopkins University Press, 208 pages
My Quest for Health Equity: Notes on Learning While Leading
David Satcher, MD, PhD
A former U.S. surgeon general, current professor and lifelong advocate for civil rights and equity, Satcher takes a look back at his 50-year career in public service, medicine and public health, and sheds light on the challenges and burden of leadership. He touches on a variety of topics — including leading from the science — and also offers a template for using leadership roles of all types to eliminate health disparities. Find out more during his keynote address at the closing session of APHA's 2021 Annual Meeting and Expo.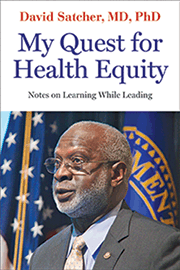 2020, Johns Hopkins University Press, 240 pages
Preventable: The Inside Story of How Leadership Failures, Politics and Selfishness Doomed the U.S. Coronavirus Response
Andy Slavitt
Slavitt, who recently served as a member of President Joe Biden's COVID-19 response team, chronicles the nation's failures in responding to the COVID-19 pandemic and the cultural, political and economic factors that contributed to an unnecessary sickness and loss of American lives. The book takes readers inside the rooms where fateful decisions were made and to the front lines where health workers and patients faced the pandemic firsthand.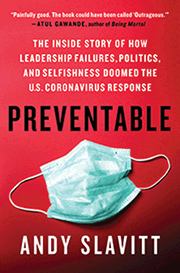 2021, St. Martin's Press, 336 pages
From a Whisper to a Rallying Cry: The Killing of Vincent Chin and the Trial that Galvanized the Asian American Movement
Paula Yoo
Yoo examines the killing of Vincent Chin, who was beaten to death by two white men in Michigan in the early rsquo80s during a surge of anti-Asian hate related to layoffs in the U.S. auto industry. The two men pleaded guilty to manslaughter and received just three years of probation and a fine. The trial helped galvanize Asian Americans. The book's insights are especially important given the wave of racism and hate against Asian Americans during the COVID-19 pandemic and as it ebbs.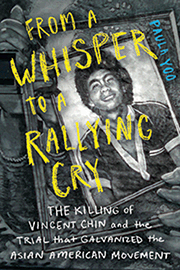 2021, Norton Young Readers, 384 pages
The Sum of Us: What Racism Costs Everyone and How We Can Prosper Together
Heather McGhee
In her new book, McGhee chronicles the costs of racism and the stories of people living with its consequences. She also writes about the mental toll of racism on the people who wield it. An expert on the economy, she argues that racism is at the root of many of its failures, whether it is rising student debt or crumbling public infrastructure, and details how public goods such as parks and high-quality schools have become inaccessible luxuries for many Americans. McGhee, who will keynote the opening session at APHA's 2021 Annual Meeting and Expo in October, offers hope that such barriers can be overcome.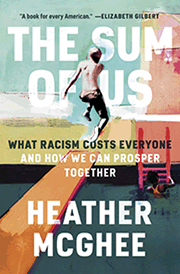 2021, One World, 448 pages
Gun Violence Prevention: A Public Health Approach
Linda Degutis, DrPH, MSN, Howard Spivak, MD
With U.S gun violence on the rise, Degutis and Spivak offer an approach that focuses on preventing gun injuries and deaths and making communities safer, not on eliminating guns. They explore ways to foster productive conversations around gun safety that engage all stakeholders, including gun owners, and emphasize strategies that leverage policy, programs, technology, research and education. The authors emphasize that finding common ground with gun owners is a good way to broaden the conversation. The book is accessible to all readers, but is geared toward public health practitioners, advocates, students and policymakers.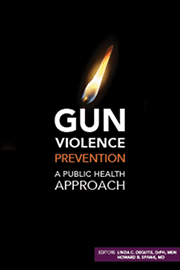 2021, APHA Press, 174 pages
Take Us To a Better Place: Stories
Various authors
Published by the Robert Wood Johnson Foundation and available free as an e-book or audiobook, this collection of 10 short fiction stories is meant to spark conversations about building a culture of health — a major mission of the foundation — and ways to achieve that goal. The stories, which also come with free conversation guides, hit on diverse themes, from immigration and climate change to gentrification and health care. For example, "Flotilla at Bird Island," by Mike McClel-land, tells the story of two long-lost lovers, Kyle and Bobby, as they face the catastrophic effects of climate change. "The Plague Doctors," by Karen Lord, about an infectious disease sweeping the world in 2079, offers a dystopian yet hopeful future.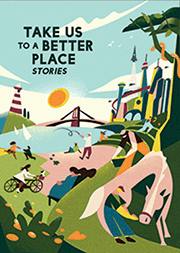 2020, Robert Wood Johnson Foundation, www.rwjf.org/fiction
Copyright The Nation's Health, American Public Health Association