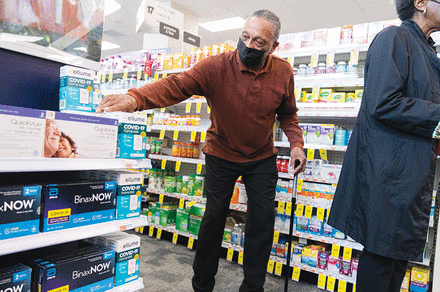 "We need to be more creative — not just about getting people vaccinated, but helping them understand why it's important. It's really easy to succumb to vaccine fatigue."

— Patricia D'Antonio
COVID-19 deaths in the U.S. are a fraction of what they were at the beginning of the pandemic. But older Americans continue to bear the brunt, making up nearly all of the COVID-19 fatalities that still occur every day across the nation.
In the first week and a half of 2023, 1,125 COVID-19 deaths were reported to the Centers for Disease Control and Prevention. All but 17 of the deaths were among people ages 50 and older, and nearly three-quarters of the people were 75 or older. Of the more than 1 million COVID-19 deaths in the U.S. since the novel coronavirus arrived, about three-quarters have been among people 65 or older.
"The pandemic has wreaked havoc on older adults," Ramsey Alwin, MA, president and CEO of the National Council on Aging in Washington, D.C., told The Nation's Health.
Because of their weaker immune systems and higher likelihood to have chronic health conditions, older people have faced a higher risk of severe health complications throughout the pandemic. The first documented COVID-19 death in the U.S. happened in a nursing home in Washington state in February 2020. In the months that followed, the virus swept through long-term care facilities, killing tens of thousands. One federal study found that by April 2020, daily nursing home deaths were up by 1,000 people per day.
COVID-19 deaths and hospitalizations have since dropped considerably, thanks to vaccines and other interventions like masking. But the virus still poses a disparate threat to older Americans, and advocates say more can be done to make sure they stay protected as the pandemic evolves. The No. 1 tool: remaining vigilant about vaccination. That advice goes for seniors as well as people of all ages, as their immunity can help stop the disease from being spread to older adults.
"We need to be more creative — not just about getting people vaccinated, but helping them understand why it's important," Patricia D'Antonio, MS, MBA, co-chair of the Adult Vaccine Access Coalition, told The Nation's Health. "It's really easy to succumb to vaccine fatigue."
In general, far fewer people of every age have gotten the COVID-19 booster than lined up for the original shots. Older adults have the highest COVID-19 vaccination rates overall, but their booster uptake is also relatively low. As of mid-January, about 39% of Americans 65 and older had received the bivalent booster, versus a 94% uptake in that age group for the two initial vaccine doses.
Evidence shows the booster shot makes a significant difference. In November 2022, according to CDC, the COVID-19 hospitalization rate for unvaccinated adults ages 65 and older was more than 13 times higher than for their peers who had received the bivalent booster. The rate was 2.5 times higher for older adults who only received the two primary vaccine doses.
A number of factors are likely contributing to the uptake difference, D'Antonio said, including confusion about the need for a booster and less government support aimed at reducing vaccine barriers and getting shots in people's arms.
"We created such a great network of trusted messengers (earlier in the pandemic) who know how to talk about vaccines in their communities," said D'Antonio, who is also vice president for policy and professional affairs at the Gerontological Society of America. "It's really important that we continue that work."
Advocates are urging federal officials to remember the ongoing COVID-19 risk that older Americans face, even as the nation winds down its emergency response.
In December, for example, AARP called on the U.S. Centers for Medicare and Medicaid Services to ensure Medicare keeps covering at-home COVID-19 tests, even after the national public health emergency expires. The organization also urged CMS to more strongly enforce its COVID-19 vaccine requirements for nursing home staff. Last year, the agency relaxed enforcement penalties for not complying with the vaccine mandate.
As of mid-December — more than three months since the bivalent booster was first available — fewer than half of nursing home residents and just 22% of staff had received the new vaccine, according to AARP. At the same time, COVID-19 cases and deaths in such settings were on the rise.
Denny Chan, JD, managing director for equity advocacy at Justice in Aging, said many of the vaccine barriers older Americans faced before the pandemic — from mistrust to lack of transportation — are still hampering booster uptake today. He said lessons from earlier in the COVID-19 response show one-on-one efforts go far to boost vaccination rates, but the work is resource-intensive and requires ongoing support.
Chan said he is "not optimistic, unfortunately," about the sustainability of such work going forward, given the Biden administration's recent unsuccessful attempts to secure more COVID-19 relief funding from Congress.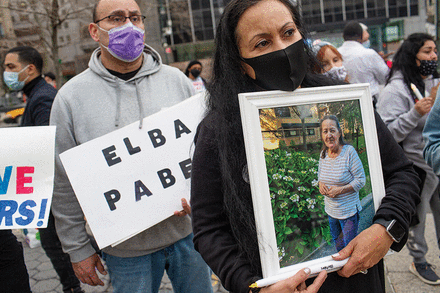 During the height of the pandemic, Chan helped challenge crisis standards of care — guidance that hospitals use to determine who gets limited resources such as beds and ventilators — that used age as a tiebreaker. He said COVID-19 fed off and exacerbated age-related inequities, just like it did other forms of discrimination.
"Older people were the first group of people to be deprioritized — people were open about devaluing their lives," Chan told The Nation's Health. "Now we've gotten so busy getting back to normal we've forgotten about the issues that COVID-19 exposed."
Some new funds are coming down the pike. In December, the U.S. Administration for Community Living awarded two grants, totaling $125 million, to rapidly increase the number of older adults and people with disabilities who receive updated COVID-19 vaccines and flu shots. The National Council on Aging received one of them, worth $50 million, and plans to use it to help hundreds of diverse community-based groups reach older adults with vaccine education and services.
"If booster adoption was as high as initial doses, we'd see fewer hospitalizations, fewer illnesses, fewer deaths," said Alwin, the council's president and CEO. "It provides an extra layer of protection — the science bears that out."
By early January, Alwin said the council had identified its first grantees: a senior center in Los Angeles County working with low-income older adults; a senior center in Central Florida working with homebound adults; and a senior center in Washington, D.C., that is working to engage Hispanic residents.
Alwin said it can be challenging for all people, older adults included, to cut through the noise and find good information about staying up to date on COVID-19 vaccinations. But for older adults, who make up nearly all COVID-19 deaths, the stakes are much higher.
"It's all hands-on deck," Alwin told The Nation's Health. "We need to get these resources out the door."
For more information on COVID-19 and older adults, visit www.ncoa.org and www.aarp.org.
Copyright The Nation's Health, American Public Health Association