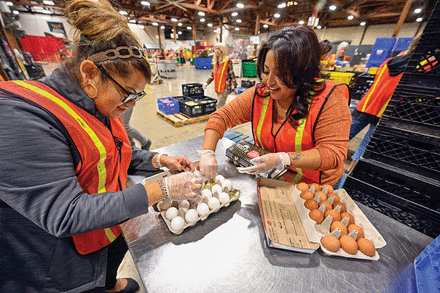 "Many of our neighbors are living right on the edge of not having enough resources to meet all their basic needs, and any setback can put them in harm'sway."

— Kyle Waide
Paula Siguenza hoped to retire last year, but inflation forced her to reconsider. At 75, Siguenza holds two jobs and has no plans to stop working. During the day she works in a school cafeteria. Afternoons and weekends she is at a hospital, filling and delivering patient trays.
"Prices have gone up for everything," the Montgomery County, Maryland, resident told The Nation's Health. "Food is so much more expensive now, and I worry about falling behind on my mortgage. I wish I could stop working, but I can't."
Like many Americans, Siguenza struggles to make ends meet in an economy that has been severely impacted by high inflation. In June, the cost of goods and services surged nationwide at the swiftest rate in more than 40 years, squeezing the budgets of U.S. households and forcing many Americans to choose between buying food or refilling a prescription. The overall picture is slowly improving, but prices for necessities such as food, heat and shelter remain elevated, leading many Americans to forgo things that are important for their health.
"Inflation is a public health crisis," Brian Castrucci, DrPH, MA, president and CEO of the de Beaumont Foundation, told The Nation's Health. "Until we understand that health is like the foundation of our house, and every decision that is made is on top of that foundation, we're not going to make the real progress we need to protect the health of the public."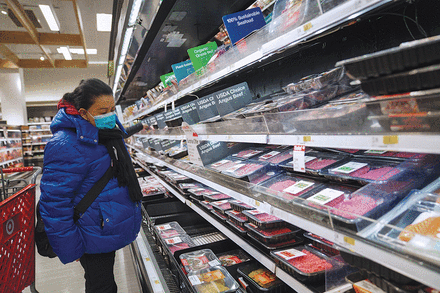 An October Nationwide Retirement Institute survey found inflation has forced many Americans to make tough tradeoffs that impact their health. The survey of 1,140 adults ages 18 and older found that 40% of American households — 22% of them millennials — received food or goods from a food bank in the previous 12 months. One in five said they skipped meals or did not buy groceries due to high inflation, and many reported canceling or postponing plans to visit a specialist, see a mental health professional, take a prescribed medication or get an annual physical.
"Inflation increases the number of people who have to make difficult choices among paying for their rent, their groceries or their medicines," Shelby Reed, PhD, RPh, a professor in the Department of Population Health Sciences at Duke University, told The Nation's Health. "There's a vast amount of scientific research over the past few decades demonstrating that increases in the amount people have to pay for medical care and medicines lead to poorer health outcomes."
Studies of past periods of inflation reinforce how economic downturns can affect health and well-being. A paper published in 2018 in the Proceedings of the National Academy of Sciences found fewer people took their blood pressure and diabetes medications during the Great Recession, which lasted from late 2007 to mid-2009. Another survey from Blue Cross Blue Shield conducted in 2008 found economic worries prevented people from seeking regular physical exams and routine dental visits, and many postponed refilling prescriptions, if they filled them at all. And studies about food insecurity during the Great Recession show striking similarities to what is occurring today at food banks around the nation.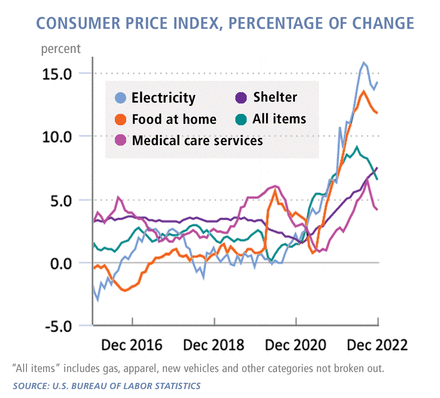 A recent survey from Feeding America, the largest network of food banks and food pantries in the U.S., shows heightened demand from people needing help to put food on the table, which comes as donations have fallen and more than 90% of network food banks are experiencing supply chain challenges related to higher costs for food and transportation. Kyle Waide, MFA, president and CEO of the Atlanta Community Food Bank, said the organization is distributing about 30% more food now than last year at this time. The holidays brought even longer lines, including families with young children.
"Food-insecure families have been hit heavily by the rise in inflation and by the discontinuation of a variety of pandemic-era enhancements to public benefit programs," Waide told The Nation's Health. "Many of our neighbors are living right on the edge of not having enough resources to meet all their basic needs, and any setback can put them in harm's way."
Some welcome news came in September when the U.S. Department of Agriculture announced it will provide close to $2 billion in additional funding to food banks and school meal programs for purchasing American-grown foods.
"Food-insecure families have much higher rates of diabetes, heart disease and high blood pressure," Waide said. "As a result, they face higher medical needs and costs, and when they can't afford those costs it adds to their food insecurity. If we don't think about health care affordability and prescription drug affordability as part of addressing food insecurity, then we're not thinking about the full problem."
Many Americans are struggling to pay for their prescription drugs. According to the U.S. Department of Health and Human Services, Americans pay higher prices for medications than any other country in the world. Numerous studies show that about 30% of adults fail to always take their medicines as prescribed because of the cost. Skimping or rationing is higher for those using name-brand drugs, even among those with insurance.
Medicare recipients received a boost in August with the passage of the Inflation Reduction Act, which caps the cost of insulin at $35 for seniors enrolled in Medicare Part D. Another provision in the act, a $2,000 cap on annual out-of-pocket costs, will take effect in 2025. But the bill leaves out millions of Americans with private health insurance as well as those who are uninsured. The average list price for a vial of insulin in the U.S. is $98.70, while across the border in Canada, the same drug costs about $12. Studies show the high cost leads many U.S. adults with diabetes to either skip, delay or use less insulin than needed.
"While we have more work to do to expand this benefit to all people with diabetes who rely on insulin to survive, this first national copay cap is a significant step in the right direction and a potentially life-saving policy change for seniors," Lisa Murdock, chief advocacy officer for the American Diabetes Association, said in a news release.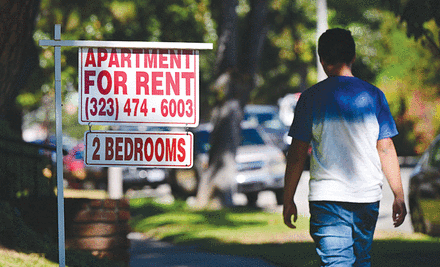 While the final health impact of the current inflation period is yet to be known, December data from the Bureau of Labor Statistics showed small signs of promise. Prices fell 0.1% overall compared with the previous month, according to the consumer price index, with costs for food, cars and gas dropping. But on the flip side, prices for critical needs such as electricity, medical care and housing increased. And though food prices as a whole fell slightly, egg prices reached a new high following an avian flu outbreak.
Health advocates said that taking action to help Americans before the economic situation worsens further is critical.
"Protecting the health of the public means protecting the health of our economy and protecting the health of everything we hold dear in our nation," Castrucci said. "That's the piece we still miss collectively as a nation."
Learn more about the link between income, poverty and health from Healthy People 2030 at bit.ly/hp30income.
Copyright The Nation's Health, American Public Health Association