Access to care, eliminating disparities and reducing infection rates are the overarching goals of America's new National HIV/AIDS Strategy, which calls for a more coordinated response to the nation's ongoing HIV epidemic.
Three decades into the U.S. HIV epidemic, it is the first such strategy of its kind and comes at a time when more Americans than ever are living with the virus and 56,000 new infections are reported every year. Released in July at a White House news conference and developed by the Federal HIV Interagency Working Group, the strategy's vision sees a future in which "new HIV infections are rare and when they do occur, every person, regardless of age, gender, race, ethnicity, sexual orientation, gender identity or socioeconomic circumstance, will have unfettered access to high quality, life-extending care, free from stigma and discrimination." According to recent data from the Centers for Disease Control and Prevention, U.S. HIV infection and diagnosis rates have remained relatively stable over the past few years. However, the virus disproportionately affects certain populations, such as men who have sex with men, Hispanics and blacks.
"We have learned what we can do to stop the spread of the disease," said President Barack Obama at the White House news conference. "We've learned what we can do to extend the lives of people living with it. And we've been reminded of our obligations to one another — obligations that, like the virus itself, transcend barriers of race or station or sexual orientation or faith or nationality. So the question is not whether we know what to do, but whether we will do it."
Public health and HIV/AIDS advocates are hailing the strategy for its comprehensive, inclusive vision that specifically recognizes the virus' impact among gay and bisexual men and targets the social stigmas that often help fuel the epidemic's spread.
"The domestic (HIV) epidemic has been neglected for far too long," said Chris Collins, director of public policy at amFAR, also known as the American Foundation for AIDS Research. "We haven't done as good of a job as we should in targeting our resources. We have a concentrated epidemic by population and geography and we haven't had a federal response that matched that epidemic."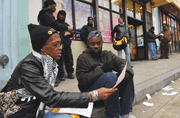 Among its desired outcomes by 2015, the strategy aims to cut the number of new annual infections by 25 percent, up the number of people quickly linked to care after initial diagnosis and increase the proportion of HIV-diagnosed gay and bisexual men, blacks and Hispanics with undetectable viral loads by 20 percent each. In terms of prevention, much of which falls in the public health arena, the strategy calls for supporting evidence-based prevention and education tactics, strengthening HIV screening and surveillance, and targeting resources toward communities most at risk, including injection drug users.
The strategy also recommends increasing HIV/AIDS coordination across the federal government and between federal, state, local and tribal agencies. Within 150 days of the strategy's release, certain agencies, including the Department of Health and Human Services and Department of Housing and Urban Development, are required to report back to the White House on how they will implement the recommendations. Along with the National HIV/AIDS Strategy, the White House also released a federal implementation plan.
Collins said that the agency-specific implementation plans will be "crucial" to the strategy's overall success, noting that "business as usual is not going to get us where we want to be in the domestic AIDS response."
Marjorie Hill, PhD, CEO of Gay Men's Health Crisis, an HIV care provider founded in 1981, said the strategy will not only help direct resources, but support the most effective interventions, noting that "what might work for a heterosexual woman in Alabama might not work for a gay man living in Minnesota." While the United States currently spends about $19 billion per year on HIV/AIDS domestically, Hill said that money is not being targeted in the most efficient way.
The new strategy did not come with additional or newly proposed HIV funds, though Obama said $30 million in prevention funds authorized under the new health reform law will be directed to support the strategy's work. But with state budgets struggling and efforts already under way to get more newly diagnosed people into treatment earlier, much more funding will be needed.
"HIV/AIDS is the most serious public health challenge of our time and the national strategy will point us in a better direction," Hill told The Nation's Health. "The biggest challenge now is how will the implementation be funded, where will the resources come from? There would need to be some significant infusions of new dollars in order for us to really get a handle on this epidemic."
Already facing critical budget gaps are the state-based AIDS Drug Assistance Programs, which provide medication for low-income people living with HIV. Waiting lists to get into the programs are at an all-time high, while federal funding for the programs has barely risen, state budgets are being slashed and more residents need assistance in meeting their health care needs. According to the National Alliance of State and Territorial AIDS Directors, as of early July, there were almost 2,300 people in 12 states on drug assistance waiting lists.
Just days before the national strategy was released, HHS Secretary Kathleen Sebelius announced the reallocation of $25 million to help states with drug assistance waiting lists, and the strategy's accompanying implementation plan notes that "ongoing attention will be required to bridge short-term gaps in health coverage until (health reform) is fully implemented." Earlier this year, the National Alliance of State and Territorial AIDS Directors called for an emergency supplemental funding increase of $126 million to help sustain current state-based HIV/AIDS services and eliminate drug waiting lists. Laura Hanen, director of government relations with the alliance, said advocates can use the new strategy to mobilize support for additional funding.
"We're generally pleased with the strategy and to see that states have a prominent role in implementation of the strategy," Hanen told The Nation's Health. "We're also very hopeful that the great coordination across the federal agencies will begin to harmonize the funding silos that make AIDS programs very complex to administer."
Hanen is among many advocates who praised the strategy's call to improve linkages between newly diagnosed patients and clinical care. By 2015, the strategy calls for increasing the proportion of newly diagnosed patients connected to clinical care within three months of an HIV diagnosis from 65 percent to 85 percent. In Washington, D.C., home to the nation's worst per capita HIV rate, local HIV care provider Whitman-Walker Clinic is proof that such strategies work.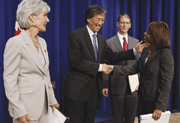 In 2008, the clinic introduced its Red Carpet service, which immediately connects someone preliminarily diagnosed with HIV to care, including meeting with a physician and nurse case manager. According to Don Blanchon, the clinic's executive director, the program has resulted in about 90 percent of patients who test positive for HIV returning for care — an increase from about 55 percent previously. Such efforts mean more patients receive treatment as well: Eighty-eight percent of the clinic's HIV patients are on antiretroviral treatments, compared with a city rate of about 50 percent.
"We have to find ways to keep people in care, target our resources and pay attention to what really works," Blanchon said. "I believe we have a responsibility to the people we lost to figure out a way to do this better."
For a copy of the strategy, visit www.whitehouse.gov/administration/eop/onap/nhas.
Copyright The Nation's Health, American Public Health Association