For decades, national data on the public health workforce fell short. Data was lacking on job satisfaction among public health governmental employees and where public health graduates were landing in the marketplace. But recent surveys have brought clarity — and raised some concerns about the future of governmental health.
Surveys show new public health graduates are generally not ending up at state and local health agencies, traditionally the bedrock of U.S. public health. Instead, graduates are seeking openings in the private sector — at hospitals, not-for-profits, for-profits and other areas outside government.
Data also show that many governmental workers plan to retire or leave public health for another field within the next few years. Because health departments are a community's front line of defense on health issues, an exodus of professionals and a scarcity of qualified replacements could create a crisis, according to Brian Castrucci, DrPH, MA, president and CEO of the de Beaumont Foundation.
"All of us who have a passion for governmental public health need to be alarmed that hiring is becoming more challenging," Castrucci told The Nation's Health.
Hiring and retention problems are impacting agencies already trimmed by job cuts. Since the Great Recession of the late 2000s, 50,000 jobs in local and state public health have disappeared, reducing the workforce to about 200,000, according to a study published in 2018 in the American Journal of Preventive Medicine.
Some health departments are pushing back with strategies for recruitment and retention. And public health schools and programs are working to prepare graduates for jobs in both the private and public health sectors.
"We don't need to just fill our (government) positions," Castrucci said. "We need to fill our positions with the best and the brightest."
The public health workforce has changed a lot in recent decades. In the 1950s and '60s, most in the field worked in government and tended to be men with an MD. But today, while the workforce is well educated, only 14% of public health workers have formal training in the field, and women make up 79% of the employees, according to the Public Health Workforce Interests and Needs Survey released in January.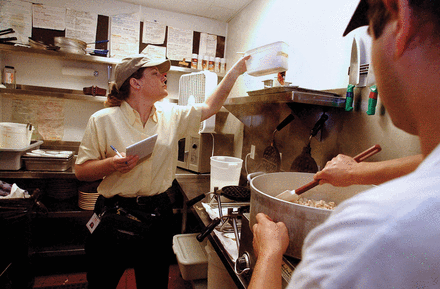 The survey, known as PH WINs, involved over 47,000 employees at 47 state agencies, 25 city health departments and 71 local health departments. Citing low salary, lack of opportunity for advancement, failure to reward creativity and a bureaucratic work environment, about a quarter of workers plan to leave government in the next five years for reasons other than retirement. Over one-third under age 35 are looking to exit.
Recent studies show that graduates are opting for careers outside government. A nationwide survey to be released later this year by the Association of Schools and Programs of Public Health examines where 2016-2017 public health graduates, holding degrees from bachelor's to doctorates, found employment. Among over 10,600 graduates who reported the sector they worked in, only 18.5% were in governmental public health.
In April, a Columbia University study in the Journal of Public Health Management & Practice included job outcomes for graduating classes of Columbia's Mailman School of Public Health from 2012 to 2016. Over 1,900 graduates indicated their employment after graduation. In 2012, only 15% of graduates had joined the public sector, and in 2016, only 11.5% had done so. The rest had taken positions in academia, technology, nonprofits and other sectors, with most working in the hospital and health care field. Other public health schools, such as at Boston University, Harvard and Tufts, show similarly low percentages.
Heather Krasna, MS, career services dean of the Mailman School and lead author of the Columbia study, said low government salaries and bureaucracy are deal breakers for many graduates. Additionally, the government job application process is convoluted and confusing, she said. Half of states require a civil service exam, for example, that until recently applicants took not online but at a testing center with a pencil.
Another barrier to graduates filling state and local governmental public health positions is that many openings require years on the job and supervisory experience — a vestige of an era when workers learned public health on the job rather than in the classroom, said APHA member Paul Halverson, DrPH, FACHE, dean of the Indiana University School of Public Health in Indianapolis. Through internships and field projects, Indiana's School of Public Health tries to close that gap to improve the marketability of students.
"The challenge for public health schools is that we can't forget about the importance of preparing students for government public health positions," Halverson told The Nation's Health, acknowledging the explosion of private sector jobs.
On the flip side, he said, government health agencies need to raise salaries to compete with those in the private sector and modernize job requirements: A public health graduate with an advanced degree and field experience should be considered a good candidate for a supervisory position.
APHA member Lainie Rutkow, JD, PhD, MPH, co-director of the Center for Law and the Public's Health at Johns Hopkins Bloomberg School of Public Health, finds it useful to follow up with Bloomberg-grad employers, including government, to learn what skills they wish the new hires had, such as the importance of field experience. The feedback helps the school develop coursework, field work and internship programs, resulting in students better prepared for the marketplace, Rutkow said.
Changes at public health agencies
But academia cannot do it all. That is why some state and local health agencies are changing recruitment strategies and workplace culture.
The Ohio Department of Health expects to lose 38% of its workforce to retirement over the next five years. Without qualified replacements, the agency would be severely compromised in its public health mission.
The department is taking steps to avoid that dire scenario. It has partnered with Ohio State University to create a pipeline of public health interns who, after getting a taste of mission-driven, front-line work, might decide to become employees, Belinda Kerr, the department's human resources administrator, told The Nation's Health.
To trim bureaucracy, the agency in recent years implemented flexible hours and some teleworking. And in a nod to workforce development, a 12-month supervisory training program for high-achieving workers was created. The public health mission is also emphasized to prospective and current employees, Kerr said.
In Boston, the city's Public Health Commission could lose 34% of its workforce over the next five years. In response, the commission unveiled a strategic plan in April with four priorities. One is workforce development.
Within it is the Emerging Leaders Program, created to develop the "future leaders in public health," David Pia, the commission's human resources director, told The Nation's Health. A second program to increase retention focuses on workforce resiliency, which will help employees navigate stresses outside of work.
For other city and state health agencies, change had to come the old-fashioned way: new leadership. In 2017, APHA member Colleen Bridger, MPH, PhD, was named director of the San Antonio Metropolitan Health District. Workforce issues were apparent, she said.
In her first year, Bridger created a survey based on the Gallup Q12 Index — 12 employee engagement questions developed by the management consulting company known for its public opinion polls. Among the Gallup questions: Do you know what is expected of you at work? Does your supervisor, or someone at work, seem to care about you as a person? Do you have a best friend at work?
When Bridger first read the last question, she thought "Why does that matter?"
"Turns out it matters a lot," Bridger told The Nation's Health.
Bridger's survey revealed that employees were planning to leave, departments were siloed and communication was a problem. So she convened groups of non-supervisor employees for feedback. Based on input, changes were made to engage employees and support workforce development.
Recently the city of San Antonio compared employee surveys across departments. The health department had many of the best employee scores among agencies, Bridger said.
"We've gone from having a higher turnover rate than city average to having a lower turnover rate than the city average," she said.
The next challenge is improving recruitment, a high hurdle in a big city department, Bridger admits. But she is in a good position to implement change: In April, she was promoted to assistant city manager.
For more from the PH WINs survey, visit www.debeaumont.org.
Editor's note: This article was corrected post-publication.
Copyright The Nation's Health, American Public Health Association