With summer's arrival, it's time to find a quiet beach, a shady grove, a comfortable corner on an inviting porch and relax with a good book. But which one? That's where we can help. The Nation's Health editors have searched online and brick-and-mortar book sellers to come up with a simmering hot collection of the latest public health-related books. Relax and take a cool dip into some hot summer reads.
Influenza: The Hundred-Year Hunt to Cure the Deadliest Disease in History
Jeremy Brown
One hundred years ago, a flu pandemic killed millions of people, including over 600,000 in the U.S. In this book, Brown explores the complex history of the flu virus, which today still claims between 12,000 and 80,000 lives each year. He examines the changing government policies, the chances of another pandemic and how researchers are trying to quell the disease. The book also explores vaccine hestitancy.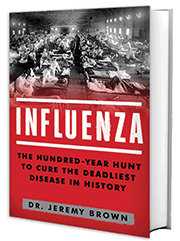 2018, Atria Books, 272 pages
We Live for the We: The Political Power of Black Motherhood
Dani McClain
In this deeply personal book, journalist Dani McClain turns her gaze inward to explore being a first-time black mother in America. McClain chronicles raising her daughter into her teenage years, and the many racist obstacles they both face. She interviews other black mothers about their experiences and explains the importance of community in a time when racism remains an everyday occurrence for many people of color.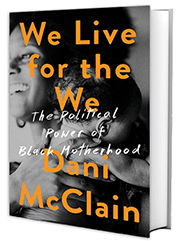 2019, Bold Type Books, 272 pages
Charged: The New Movement to Transform American Prosecution and End Mass Incarceration
Emily Bazelon
Prosecutors wield extraordinary power in criminal cases. In "Charged," Bazelon argues that the unchecked power of U.S. prosecutors results in extraordinary social injustices, especially for minorities. Much of the book follows two cases, that of a man in New Jersey and a woman in Memphis, Tennessee, revealing how criminal prosecutions can go awry. She also speaks with district attorneys trying to reform the office from within to effect meaningful change in social justice.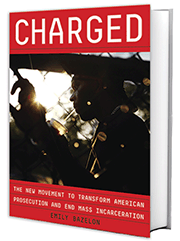 2019, Random House, 448 pages
Choked: Life and Breath in the Age of Air Pollution
Beth Gardiner
Air pollution has become a public health problem in cities and regions around the world. In "Choked," Gardiner travels the world, exposing the political decisions and economic forces that block clean air policies in the U.S. and other countries. She also talks with scientists about the research that has transformed understanding of pollution's effects on health and the global environment.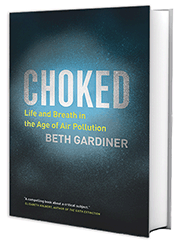 2019, University of Chicago Press, 312 pages
Superbugs: The Race to Stop an Epidemic
Matt McCarthy
Superbugs — bacteria resistant to medicine's most powerful antibiotics — are a critical problem to public health, threatening lives around the globe. In "Superbugs," McCarthy, MD, digs into the history of bacteria and medical research, from the discovery of penicillin to gene editing as a tool to overcome bacteria resistance. Along the way, McCarthy introduces the reader to patients with grave illnesses who don't respond to antibiotics.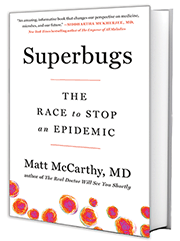 2019, Avery, 304 pages
Code Blue: Inside America's Medical Industrial Complex
Mike Magee
Despite being the world's richest nation, America has a dysfunctional health care system that is overly expensive and based on a tragic fallacy: cure over care. Magee, a doctor and medical historian, explains how America's health care system became entangled with the pharmaceutical industry, health insurance companies, hospitals and for-profit groups to maximize profits. This ballooned health care costs. Meanwhile, each health sector has pursued curing maladies to the detriment of preventive care, he writes. Magee argues for a multi-plan health insurance marketplace based on working models in other wealthy countries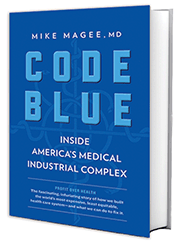 2019, Atlantic Monthly Press, 401 pages
Parkland: Birth of a Movement
Dave Cullen
On Feb. 14, 2018, a gunman entered Marjory Stoneman Douglas High School in Parkland, Florida, killing 17 and injuring over a dozen students and staff. Cullen, a veteran journalist and author of a book on the 1999 school shooting in Columbine, Colorado, tells the story of Parkland's surviving students who refused to let politicians and the media define their story. Douglas students channeled their grief and anger into action, speaking out on gun violence and the need for gun-law reform. Cullen also explores reactions from the media and politicians toward the outspoken Douglas students, who rather than go silent have continued their fight for gun regulation.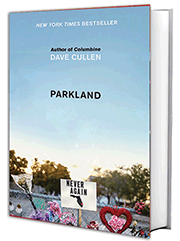 2019, Harper, 400 pages
The Opioid Epidemic: What Everyone Needs to Know
Yngvild Olsen, Joshua Sharfstein
America's opioid epidemic has influenced thousands of communities and millions of lives. The epidemic is a complex problem overflowing into health services, science, criminal justice, race and ethnicity, law enforcement, and family rearing. Olsen and Sharfstein offer a history of the disease, causes and treatments, while also presenting ways a community can take action to avoid the opioid spread. A comprehensive examination of perhaps the worst public health catastrophe in a generation, the timely book can be used as a reference to frequently asked questions by health workers and the public alike.
2019, Oxford University Press, 317 pages
Well: What We Need to Talk About When We Talk About Health
Sandro Galea
The U.S. spends more on health care than any other country, and yet Americans are on average less healthy and have shorter life spans than people in many other high-income countries. Galea explains how this happened and how, when it comes to health care, America gets a lot wrong. Politics, capitalism and the widening divide between the rich and the middle class are among the factors that make U.S. health care dysfunctional. Read the book before APHA's 2019 Annual Meeting and Expo, then attend Galea's lecture at the opening session and meet him at the book signing.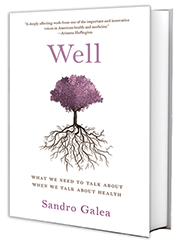 2019, Oxford University Press, 304 pages
Copyright The Nation's Health, American Public Health Association