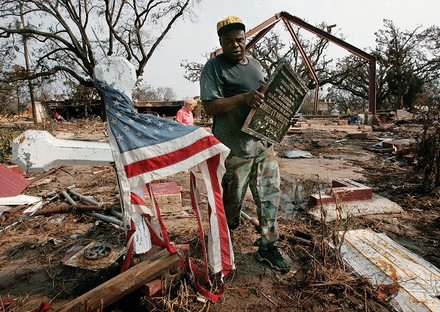 Communities of color are often on the front lines of the impacts of climate change. Adrienne Hollis, PhD, JD, is the senior climate justice and health scientist at the Union of Concerned Scientists, a nonprofit science advocacy organization. Hollis, an APHA member, works to monitor how rapidly the changing climate harms historically disenfranchised people.
Climate change has long been recognized as an environmental crisis. Why is it also important to acknowledge it as a public health crisis?
You can't talk about climate change without talking about public health. Climate change affects our health in a number of ways. Rising temperatures, sea levels, extreme weather — they affect us.
You see increased incidents of asthma in children. In adults, there are increased chronic obstructive pulmonary diseases, increased cardiac effects. It affects our food, and the ability to eat healthy foods. If you're allergic to certain things — in the presence of increased heat, those things may be exacerbated. Water quality is an issue. We could see more contaminated drinking water or the lack of drinking water.
I also want to point out that when we talk about public health, we also want to include mental health issues. People don't normally think about that, how forced migration can affect a person, increased depression and increased violence against women, increased civil conflicts, or how needed medications and medical care is unable to be accessed by the homeless population or people who are forced to migrate.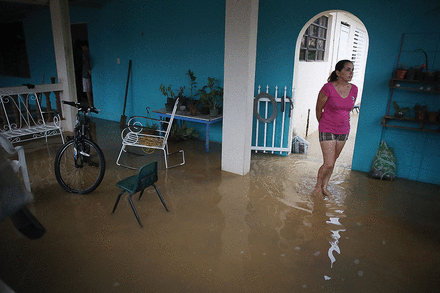 What is climate justice, and how does it relate to public health?
I view climate justice as a smaller part of environmental justice. If you could imagine an umbrella — and that would be environmental justice — climate justice, immigration justice, criminal justice and so on fall under that because those are the areas we live, play, pray, work and just carry on our daily lives.
When we talk specifically about climate justice, we're talking about the effect of manmade changes in our environment, like increased greenhouse gases, increased heat and melting glaciers. And how those changes have greater impact on vulnerable communities, communities of color and lower socio-economic communities.
People don't realize that contamination, climate change, water infiltration, rising seas don't stay contained in the environmental justice community. Just like contamination doesn't know to stay behind the fence line. If it's not impacting you now, it will. These communities are hit first and worst. It doesn't mean they'll be the only ones impacted. If for no other reason than to save yourself, we've got to save each other.
How are communities of color disproportionately affected by climate change?
Let's take a step back to how communities have been segregated into communities of color. It's mostly the way that we have been segregated and forced into certain areas of the country — and then to certain parts of a city or state — that has put us at risk. Through redlining and things of that nature, people have been placed in areas once considered to be less desirable.
For example, I'm from Mobile, Alabama, and a number of communities are located near waterways that have since become at high risk of flooding due to sea level rise and extreme weather. Some of my colleagues in the Carolinas along the coastline live in areas that were not originally designated as floodplains but are now because of sea level rise.
And not to mention the fact that because of those redlining issues, we have been victims of economic oppression.
We can't afford to raise our homes as required by some insurance companies. Or we live in areas that consist of high-rise buildings, so we are exposed to increased heat through the urban heat island effect. The areas we live in don't have, for the most part, access to green space, so we're not able to experience relief from extreme temperatures because we can go to the park or sit under a tree. And that is because of where we have been concentrated, either in cities or low-lying areas or places that just aren't really recognized as economically viable.
Is there anything that can or should be done from a policy standpoint?
Yes, there are things that can be done from a policy perspective. And to do that, policymakers first have to all accept that climate change is real, right? And once we've crossed that hurdle we're on our way to enacting the change that we need.
Policymakers are going to need to work with all of the stakeholders — the people who are going to be affected adversely by climate change. You've got to hear from people who are impacted. And then you work with the scientific community on ways we can mitigate the adverse effects of climate change.
The overall goal is to decrease the carbon dioxide in the environment and decrease the greenhouse gas production. These things affect everybody, really. We've got to make a concerted effort to work together to clean up the environment. That's really the bottom line.
How can people working in public health mitigate the dangers that climate change brings to these communities?
Education. Outreach and education is the first step. Part of that is health professionals recognizing what the threat looks like so that they can educate their communities. And in that way people have more information, and they can make more informed decisions.
For example, you would expect to see increased cases of asthma, say, in California, particularly during wildfires.
For public health professionals, no matter what area you are engaged in, make sure that an integral part of your work is environmental justice. Particularly as it relates to climate change, some of your activities need to be focused on vulnerable communities, homeless, those in prisons, gender issues and issues around the availability of shelters. I just want everybody to think outside the box and ask questions: "Who is most likely affected first? And what do we need to do to stop that? And what do we need to do to educate people and increase the whole base of people that we work with?"
For more information, visit www.ucsusa.org.
Copyright The Nation's Health, American Public Health Association